Julian Assange: Global Chess Game or Controlled Opposition?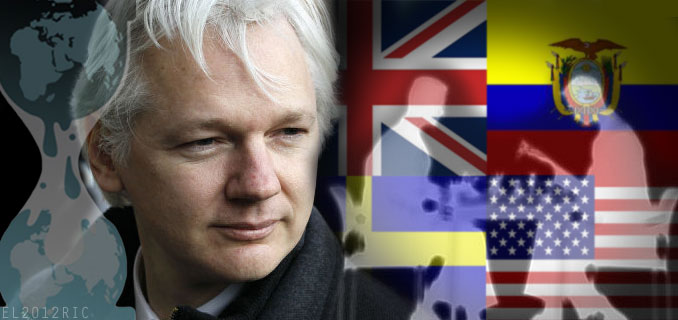 In what is playing out like a game of chess, WikiLeaks founder Julian Assange seems to have put the whole world in 'check' for the time being.

In summation:

Assange has sought and been granted political asylum in the Ecuadorian embassy in London, but British police await just outside door to arrest him should he try to leave the building.

Sweden is looking to interview (allegedly not detain or arrest) Assange regarding allegations of sexual misconduct during his time there in 2010. The UK wishes to extradite Assange to Sweden for those purposes, but cannot while he is in the Ecuadorian embassy.
It is feared that if Assange were extradited to the US, he could face espionage charges, indefinite detention, and even the death penalty.

Ecuador has granted diplomatic immunity to Assange (an Australian citizen), suggesting that the United States is behind the push to snag Assange from either England or Sweden, in retribution for WikiLeaks releasing embarrassing, compromising, and classified documents.

Many support WikiLeaks and Assange, saying that the released files revealed war crimes, military and government coverups, and other improprieties.
Still others question Assange's background. They wonder if Assange is 'controlled opposition', and examine his strange past - does it suggest connections to powerful and manipulative groups?

For now, the situation is at an impasse unless and until one of the players makes a move.

~Elizabeth Leafloor, RedIceCreations.com





---
Also tune into Red Ice Radio:
James Evan Pilato - Wikileaks, Julian Assange & the Pirates
Jim Marrs - Trillion-Dollar Bailout Conspiracy, American Revolutions & Wikileaks
RedIceRadio Commentary on Wikileaks & Julian Assange
---
---



'Operation Free Assange': Anonymous take down UK government websites


From: RT.com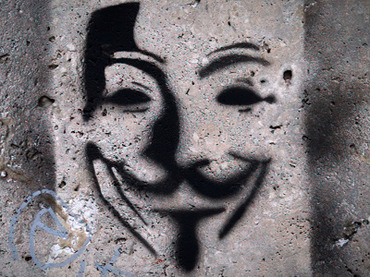 Several British governmental websites, including the Ministry of Justice, have been attacked by hacktivists in retaliation for Britain's handling of WikiLeaks founder Julian Assange.

Under the campaign, which was branded "#OpFreeAssange," Anonymous undertook a mission to take down justice.gov.uk and number10.gov.uk, the official site of the British Prime Minister's Office. The websites are now operating normally once again.

Several Twitter accounts associated with the loose-knit Anonymous collective have acknowledged that the UK Ministry of Justice and the PM Office's websites had been targeted with a distributed denial-of-service, or DDoS, attack.

"#OpFreeAssange: TANGO DOWN! http://www.justice.gov.uk/ [500 Internal Server Error] [#Anonymous #WikiLeaks]," reads one tweet sent from the @Anon_Central Twitter account.

The hackers also claim to have taken down the website of another British government department – the Department of Work and Pensions. "Gov. of UK Expect Us!" reads a related tweet by Anonymous.

Assange, the founder and editor of whistleblower website WikiLeaks, has been ordered by Swedish authorities to be extradited from the UK where he had been under house arrest. Two women from Sweden have accused Assange of sex crimes, although he has yet to be charged.

In fear of being sent to Sweden and then extradited to the US to be tried for his role with WikiLeaks, Assange applied for political asylum in Ecuador, which the Latin American country finally granted him last week after two months of waiting. Regardless, British authorities have refused to give Assange safe passage out of the Ecuadorian Embassy in London so that he may travel overseas.

Before Ecuador President Rafael Correa approved the asylum bid, British authorities threatened to storm the embassy last week, prompting supporters of Assange and WikiLeaks to surround the building overnight in hopes of deterring any attempt by the UK to follow through with the extradition.

"If the UK did not throw away the Vienna conventions the other night, it is because the world was watching. And the world was watching because you were watching," Assange told his supporters during his Sunday afternoon speech from London.

"So, the next time somebody tells you that it is pointless to defend those rights that we hold dear, remind them of your vigil in the dark before the Embassy of Ecuador."

In addition to lambasting the British for coming close to violating international law, Assange asked for US President Barack Obama to "do the right thing" and end his war on whistleblowing, saluting accused WikiLeaks contributor Private First Class Bradley Manning as a hero whose release from prison must be made immediately.

Article from: rt.com





---
---



Sweden: If Assange faces death row in US we won't extradite him


From: RT.com

The Swedish government will not extradite Assange to the US should he face the death penalty there, as any possible extradition request from Washington is then subject to strict conditions, an official from the country's Justice Ministry declared.

"We will never surrender a person to the death penalty," the deputy director of the Service for Criminal Cases and International Cooperation of Sweden's Justice Ministry said in an interview with the Frankfurter Rundschau newspaper on Tuesday.

This means there should be strict guarantees from the US government that "the prisoner will not be executed in any case," added Cecilia Riddselius. But, she added, so far her country has not received any extradition request from Washington.

In June, Cecilia Riddselius admitted there were opportunities for countries to request different types of guarantees in relation to extradition. Sweden may request that an extradited person will not be sentenced to the death penalty, he or she will not be tortured, should not be prosecuted for offences other than those which he or she was delivered for and not to be charged before a special court.

However, Riddselius then stressed, Sweden cannot guarantee in advance that Assange will not be extradited.

[...]

The decision has already become the epicenter of a diplomatic row between Ecuador and Great Britain, with London threatening to storm the embassy. Ecuador has already taken the issue to the Union of South American Nations (UNASUR), which unanimously backed the country's right to grant Assange asylum and condemned British threats to raid a sovereign state's embassy in order to arrest him.

Loz Kaye, leader of UK Pirate Party, thinks Assange's defense team will not settle for the guarantees given by the Swedish leadership.

"It's common practice that EU countries don't extradite when there's a question of the death penalty, so I don't think that these assurances…will be likely to actually satisfy the Assange camp. These assurances don't have a legally-binding nature."

While deciding on Assange's political asylum Ecuador also offered Sweden the chance to question him at the embassy, but Stockholm brushed away the possibility.

[...]

Read the full article at: rt.com





---



US: Assange trying to distract from sex case


By Matthew Lee | Associated Press

The Obama administration on Monday accused WikiLeaks founder Julian Assange of making "wild assertions" about U.S. persecution to deflect attention from sex allegations he faces questioning for in Sweden.

The State Department said Assange's case has nothing to do with the United States or WikiLeaks publication of secret U.S. documents and is solely a matter for Britain, where he is now holed up in the Ecuadorian embassy, as well as Sweden and Ecuador.

Spokeswoman Victoria Nuland also berated Ecuador for granting Assange asylum from possible U.S. persecution at its embassy in London. And, she said Ecuador's attempt to have the Organization of American States take up the matter was a "sideshow."

Assange "is making all sorts of wild assertions about us, when, in fact, his issue with the government of the United Kingdom has to do with whether he is going to face justice in Sweden for something that has nothing to do with Wikileaks." Nuland told reporters.

"He is clearly trying to deflect attention away from the real issue, which is whether he is going to face justice in Sweden," she said. "That case has nothing to do with us, it's a matter between the U.K., Sweden and now Ecuador has inserted itself."

In a speech from the Ecuadorian embassy on Sunday, Assange proclaimed himself the victim of an American "witch hunt" that he urged President Barack Obama to renounce.

"The United States must vow that it will not seek to prosecute our staff or our supporters," Assange said, referring specifically to Pfc. Bradley Manning, who awaits trial in the scandal. He said the U.S. risks "dragging us all into a dark, repressive world in which journalists live under fear of prosecution."

He made no mention of the sex case, for which he faces extradition to answer questions about allegations he assaulted two women. Assange and his supporters claim the Swedish case is the first move of a Washington-orchestrated plot to make him stand trial in the U.S. The U.S. and Sweden dispute this.

Assange took refuge in Ecuador's embassy in London two months ago and was last week granted diplomatic asylum by Ecuadorian President Rafael Correa. Assange praised Ecuador on Sunday as "a courageous Latin American nation (that) took a stand for justice" by offering him sanctuary.

[...]

Read the full article at: news.yahoo.com





---
---



Julian Assange: pawn in a diplomatic chess match


By Jim Wyss | MiamiHerald.com

Sweden wants him. Ecuador just granted him asylum. The British are blocking his exit. And the U.S, he fears, is scheming to get him.

WikiLeaks founder Julian Assange might live as a free man in Ecuador — if he can ever get out of England.

Shortly after the Andean nation granted Assange asylum Thursday, UK authorities said he would not be allowed to leave Ecuador's London embassy, where he has been holed up for 60 days.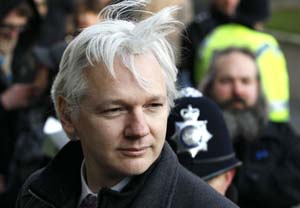 The controversial free-speech advocate, whose website has rattled governments and industries, took refuge in the red brick building June 19 to avoid extradition to Sweden, where he's wanted on allegations of sexual misconduct.

On Thursday, Ecuador Foreign Minister Ricardo Patiño said he shared Assange's fear that Sweden may send him to the United States where he said he would likely face "persecution" and "human rights violations" on espionage charges.

But Assange's newly acquired refugee status left UK authorities unmoved.

"Under our law, with Mr. Assange having exhausted all options of appeal, the British authorities are under a binding obligation to extradite him to Sweden," the Foreign Office said in a statement. "We shall carry out that obligation. The Ecuadoran Government's decision [Thursday] does not change that."

UK Foreign Secretary William Hague said Assange was being denied safe passage because was wanted for "serious sexual offenses" and not for his work with WikiLeaks , the Associate Press reported.

The impasse likely means that Assange will remain confined in the embassy for days or weeks, until an agreement is hammered out, legal experts said.

"The way out of this would be for the United States to clearly and unequivocally say they would not seek to extradite him and not seek to indict him," said Vince Warren, the executive director of the Center for Constitutional Rights, which represents WikiLeaks and Assange in the United States. "But I think that's unlikely to happen."

Ecuador said it had tried to win assurances that Assange would not be sent to a third country. It also said Sweden had turned down an offer to question Assange at the embassy.

On Wednesday, Patiño warned that British authorities might be tiring of diplomacy. He said UK authorities had informed him that they were entitled to raid the embassy to detain Assange.

"It's a clear and offensive attack" on Ecuador's right to provide asylum, Patiño said, "free of coercion, pressure or manipulation of any kind."

Ecuador has summoned the Union of South American Nations and the eight-nation ALBA bloc of countries, led by Venezuela and Cuba, to discuss the crisis. The Organization of American States called an emergency meeting Thursday.

While embassies are usually considered sovereign ground, the extent of that extraterritoriality is a matter of treaty, said David Abraham, who teaches immigration and citizenship law at the University of Miami.

"In some settings it would be conceivable that British authorities could rush the embassy to get him. … It's conceivable but unlikely," he said. "On the other hand, he can't live there forever."

As supporters chanted outside the embassy and waved banners in support of Assange, media outlets speculated how he might escape. Some said he might be smuggled out in an embassy car or a man-sized diplomatic pouch. One English legal expert said Ecuador's best bet was to give Assange diplomatic immunity by naming him ambassador to the United Nations.

Lengthy embassy stays aren't unheard of. Roman Catholic Cardinal József Mindszenty lived in the U.S. embassy in Budapest for 15 years, until 1971, to escape a treason conviction.

WikiLeaks was launched in 2006 as a whistle-blowing website where documents could be posted anonymously. But the organization and its platinum-haired founder caught global attention in 2010 when they began releasing millions of confidential and secret U.S. State Department cables. "Cablegate" roiled Latin America and led Ecuador to eject U.S. Ambassador Heather Hodges after she suggested in one of the communiqués that President Correa was turning a blind eye to police corruption.

In a statement accepting Assange's asylum request, Ecuador's Foreign Ministry accused the United States of persecuting Assange "for releasing compromising information sensitive to the U.S. government."

Assange has repeatedly said the Swedish allegations, including rape, are trumped-up and designed to silence him and his organization. His mother and supporters have said they fear he'll be sent to the United States on a secret indictment where he could be tortured or executed for espionage. But no indictment or extradition request is known to exist.

[...]

Read the full article at: miamiherald.com





---


SUSPICIOUS BEHAVIOUR
The strange case of the WikiLeaks editor and the Swedish prosecutor
[PDF]





---