Manchurian Candidates
Twelve years ago the parents of an autistic boy won $2.1 Million from the estate of a deceased neuropsychiatrist who had tried to turn the boy into a weapon. Doctor Donald Dudley began treating the boy in 1989 and, in 1990, started injecting him with sodium amytal, attempting to "erase" part of his brain. Dudley intended to fill these erased areas with murderous notions implanted through hypnosis.

The boy's condition deteriorated and


[w]hen Jeanie Drummond confronted Dudley about her son's treatment in November 1992, he told her he was going to take over hospitals, police forces and schools, and that she was fortunate he wanted her son to be one of his trained soldiers, attorneys said.


That was the end of Drummond's treatment by Dudley.

Following complaints by Mrs. Drummond and others, Dudley's license to practice was revoked. He himself was diagnosed as manic-depressive. Among his patients was a suicidal fifteen-year-old who had threatened people with a gun, possibly supplied by Dudley from his huge stash of weapons.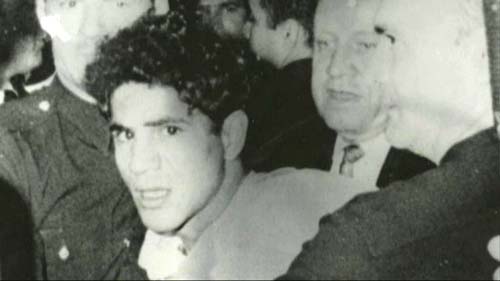 Sirhan Sirhan under arrest.



Doctor Dudley claimed to be working for the CIA and he may have been involved in the CIA's investigation into human manipulation via psychotropic drugs. Some people died in these experiments, some became artists, one became the Unabomber. In 1973, Richard Helm, panicked by Watergate, ordered the CIA files on these experiments destroyed, but a number have survived and been declassified. Still, no smoking gun linking the CIA to mind-altered assassins has been found.

Meanwhile, the lawyers for Sirhan Sirhan claim that their client was hypnotized into murdering Robert Kennedy in 1968. At that time and for years later, Sirhan claimed that he shot Kennedy out of anger over US policies in Palestine. Now he claims not to remember that confession. But a year ago, illusionist Derren Brown claimed to replicate Sirhan's programming in a test subject who was sent to murder Stephen Fry.

In 1971, Jerome Johnson, an African-American admirer of Hitler, shot mobster Joe Colombo to death. Colombo's associates blamed Joey Gallo and went to war against the Gallo faction. Although the FBI called Johnson a "lone assassin", Colombo's friends said that he was a tool used by others. Knowing mafiosos claimed that the practice of manipulating some "yoyo" to commit murder was a very old one. We will never hear from Johnson, who was shot to death by Colombo's bodyguards at the scene of the assassination.

[...]

Read the full article at: shrineodreams.wordpress