"Monster" Washes Ashore in Montauk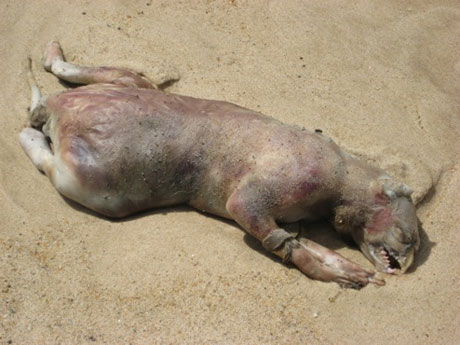 Ed Comment: Why is the "buzz" around the so called "Montauk Monster" interesting? Well, if you listen to our interview with Stewart Swerdlow as he explains the background story on the mind control projects that went on at Montauk and the experimentation with something called the "Montauk Chair" or the "Alien Chair", then this recent find or discovery becomes very interesting.

The "monster" could be a genetic cross breed that escaped or it might be a fraud. We'll see how the story develops; it's interesting enough to keep an eye on.

Listen to our program with Stewart Swerdlow here.

CNN: 'Montauk Monster' Creature Found!




PlumTV interviews the three women who discovered, photographed, and began the web hysteria over the alleged "Montauk Monster".






Sea monster washes up on Gawker (updated)


July 31, 2008 | From: nationalpost.com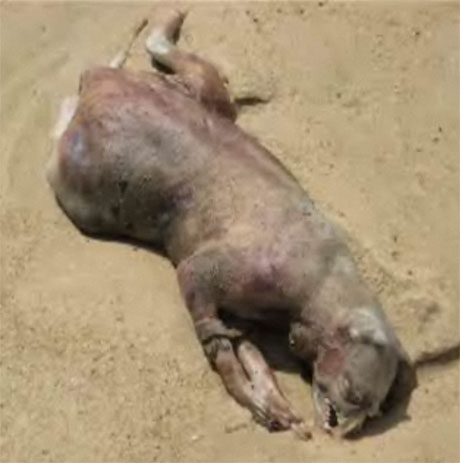 Gawker posted the photo above earlier this week under the headline: "Dead Monster Washes Ashore in Montauk".

The site doesn't mention where the photo came from, but does state "This is an actual monster, some sort of rodent-like creature with a dinosaur beak."

Hamptons-based site Plum is reporting the photo as well. In a post they quote unnamed government biologists as concluding that "no such creature exists". And also quote a graphics specialist at the U.S. Fish and Wildlife Services, who says that if it is fake, it's a "really good Photoshop job."

More from Plum:

The validity of the picture has been further established by the numerous eyewitnesses who saw the animal on the beach in front of Montauk's Surfside Inn. Theories abound as to what the animal is and where it came from. Marci Caplis of the U.S. Fish and Wildlife Service noted that rare and unknown sea animals did surface after the Asian tsunami, and although the recent East Coast storms are not of comparable magnitude, the animal did wash up on a particularly stormy day in the Hamptons. Others have speculated that the animal escaped from Plum Island Animal Disease Center.

Plum also notes that they will have interviews with the photographer, Jenna Hewitt of Montauk, and two eyewitnesses on their show "The Juice" this Friday.

Already, speculation is rampant. Just check out the comments thread on the original Gawker post, or here on their update. Guesses range from the "monster" being a known animal (a turtle without its shell? Or a dog, a thought introduced in a comment left by an alleged forensics expert) to an elaborate viral campaign.

UPDATE (07/31, 1:30pm)

So the Montauk Monster (or "Monty", or "eagle-dog") is taking over the internet.

Already, the marketing folks at Venom energy drinks have jumped on the monster's back with their new campaign. From their press release:

Dedicated to enabling the most thrill-seeking conquests known to man or beast, Venom energy drink is offering free product for life and a corporate monster-hunting sponsorship to the first person badass enough to capture a live Montauk Monster.

Venom might be the first to start a Montawk Monster blog: here.

In other updates, Gawker has recapped the theories that are surrounding the creature.

And NY Magazine gets deeper into the story here, including a quote from an eyewitness, 22-year old Michael Meehan:

I saw the monster. I just came walking down the beach and everyone was looking at it. No one knew what it was. It kind of looked like a dog, but it had this crazy-looking beak. I mean, I would freak out if something like that popped up next to me in the water.

They also have uncovered, what's apparently become of Monty: "An old guy came and carted it away. He said, 'I'm going to mount it on my wall.'"

Meanwhile, Newsday petitioned William Wise, director of Stony Brook University's Living Marine Resources Institute, to take a look and comment on the photo. While he couldn't say what it is, he knows what it's not:

A raccoon. ("The legs appear to be too long in proportion to the body.")
A sea turtle. ("Sea turtles do not have teeth.")
A rodent. ("Rodents have two huge, curved incisor teeth in front of their mouths.")
He said the general body shape looks like a dog or other canine ("Coyote?"). But that the "prominent eye ridge and the feet" don't match.
He said the feet and face look "somewhat ovine" - that would be like a sheep - but sheep don't have sharp teeth.

Wise's best estimation: "A talented someone who got very creative with latex."

Photo via Gawker.