Munition blast kills HUNDREDS in Republic of Congo, 3 days later no rescue effort


"I experienced the apocalypse," said Jeanette Nuongui, the soul survivor from a family home that was destroyed in one of the blasts that rocked Brazzaville.

"It is by the grace of God I am here. My mother died, my father, my two brothers and my two sisters also. There's nothing left," she added.

At least 100 people, possibly many more, were killed and hundreds more wounded when a weapons depot caught fire, triggering a series of at least five explosions.

Firefighters were finding it hard to fight blazes because of ongoing blasts, officials said, with a military barracks and the area around the munitions depot devastated.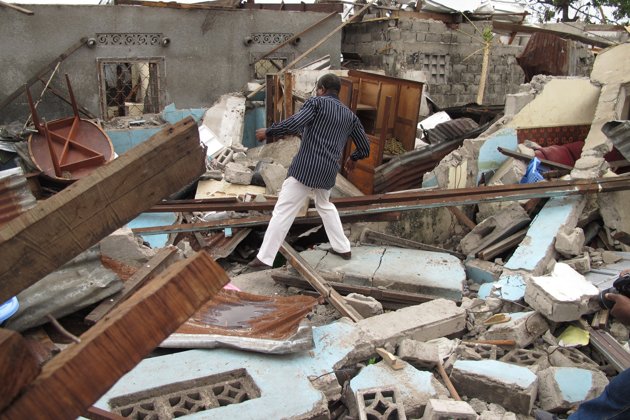 Louis Okouli, a 65-year-old retiree, surveys the ruins of his home, Wednesday, March 7, 2012 three days after a series of deadly explosions at a munitions depot devastated surrounding residential neighborhoods and killed at least 246 people, in Brazzaville, Republic of Congo . (AP Photo/Rukmini Callimachi)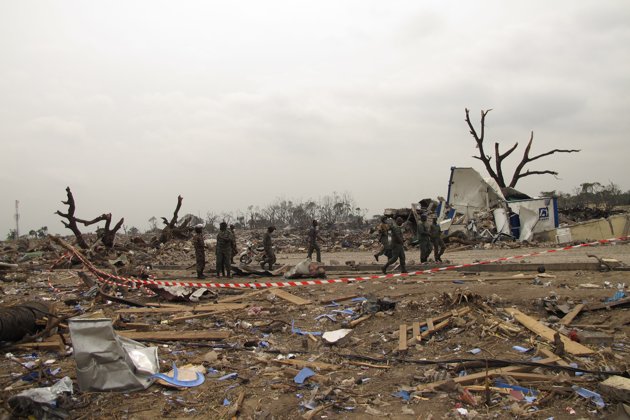 Soldiers walk through the blast zone where a series of deadly explosions at a munitions depot devastated adjacent residential neighborhoods. (AP Photo/Rukmini Callimachi)



"It was the first explosion that blew everything up," said Victorien-Constant Obani, a soldier whose house was located opposite the barracks. His wife was injured in the arm.

"What happened here was more than a typhoon, more than a civil war," Obani said. "My house was destroyed, I don't know what I am going to do."

The blasts were even felt across the Congo River in the neighbouring city of Kinshasa, capital of the Democratic Republic of Congo, where windows shattered on some buildings.

Munition camp destroyed

Soldiers said a blaze in two munition depots in the Mpila armoured brigade barracks, in east Brazzaville, had triggered the explosions.

"I was terrified by the smoke climbing into the sky," said Willy Kaba, who arrived soon after the first explosion at about 08:00 GMT. "After plucking up courage, I approached the scene and saw the whole munition camp destroyed - the buildings, the walls."

Resident Dutroc Messengo said a young man had lost both legs and another was killed when their house collapsed.

[...]

Read the full article at: kenya.news24.com


Video from: YouTube.com


Video from: YouTube.com





---




Munitions blasts kill hundreds in Republic of Congo



Blasts rocked the capital of the Republic of Congo Sunday morning after a weapons depot caught fire, officials said, killing more than 200 people, wounding dozens and forcing thousands to flee their homes.

Another explosion struck the area in Brazzaville early in the afternoon, causing panic among those gathered there, including journalists.

The explosions shook houses in Brazzaville and echoed across the Congo River to Kinshasa, capital of the neighbouring country Congo.

Officials at hospital morgues said 206 people were killed in the blasts, while Didier Boutsindi of the presidential office said the dead included churchgoers who were killed in the debris of the collapsed building.

"Many of the faithful are trapped in the debris of the church," he said. "Several of the dead have been taken out and I confirm there are more deaths inside."

He said his uncle was killed when his home collapsed on him.

Other witnesses said the wounded may have included hundreds of Chinese workers.

Many buildings in the area had collapsed.

"It's like a tsunami passed through here," said Christine Ibata, a student.

Defence minister Charles Zacharie Boawo appeared on national television Sunday to urge calm in Brazzaville and in the neighbouring capital of Kinshasa.

[...]

Read the full article at: cbc.ca





---




3 days after Rep. of Congo blast, no rescue effort



Families desperately crowded outside morgues on Wednesday while others tried to get past the police tape blocking access to the wasteland that now stretches over one-square-mile of this African capital.

It's a tableau of twisted metal, punctuated by the unmistakable smell of death. More than three days since a fire inside an arms depot set off a series of catastrophic explosions, officials say no coordinated rescue effort has yet been launched, making it increasingly unlikely that any more people will be pulled alive from the flattened homes, churches, businesses and government buildings.

"God, have pity on me. What will become of me without my husband? Why, Lord?" wept 26-year-old Gisele Nseka outside the municipal morgue where she had gone to search for his body.

The force of the detonation was so strong that even the leaves were blasted off the trees. The affected area looks like a field in winter, the tropical hardwoods still standing denuded of vegetation. It's a landscape of blasted walls and children's shoes, of buckled homes and pieces of paper, including one woman's grocery list and another's sonogram.

At least 246 people were killed after the fire in the armory catapulted shells, mortars, rockets and other munitions into the densely populated neighborhood of Mpila, according to national radio.

The death toll is likely to rise as the debris is removed, and a simple walk across the site indicates why: At frequent intervals you can smell the odor of decomposing flesh. You can see concentrations of flies on top of slabs of cement. In one spot, the flies were crawling over a patch of earth, stained with what appeared to be blood.

The Red Cross has been barred from entering the blast zone because of the risk of another explosion, said spokesman Delphin Kibakidi. And the columns and columns of soldiers that are allowed in are concentrating on extinguishing the flames still burning after the country's cache of war-grade weapons caught fire Sunday.

"The only rescue effort was by the people who lived here themselves, and who came back and dug out the bodies of their loved ones," said an army captain who accompanied a team of reporters inside the roped-off disaster area and who asked not to be named because he had not been authorized to speak on the subject. "I doubt that anyone is still alive, but if they are, they'll need to wait until we put out the fire, because it's too dangerous. There are still unexploded bombs," he said.

The threat of further explosions remains. After the London-based Mines Advisory Group inspected the blast site on Wednesday, they said in a statement that the area over which the unexploded rockets and mortars are spread is "huge."

[...]

Read the full article at: news.yahoo.com