Mysterious bubble-like "portal" light burst seen over Hawaii


Footage of this incredible bubble-like burst of light in the night sky was captured by cameras at an astronomical observatory in Hawaii.

Sky watchers have been flooding internet forums with speculation about the burst, filmed by a webcam mounted on the Canada-France-Hawaii Telescope on Mauna Kea.

Captured in time-lapse footage, the glowing sphere takes several minutes to expand until it virtually fills the frame - then it vanishes as mysteriously as it appeared.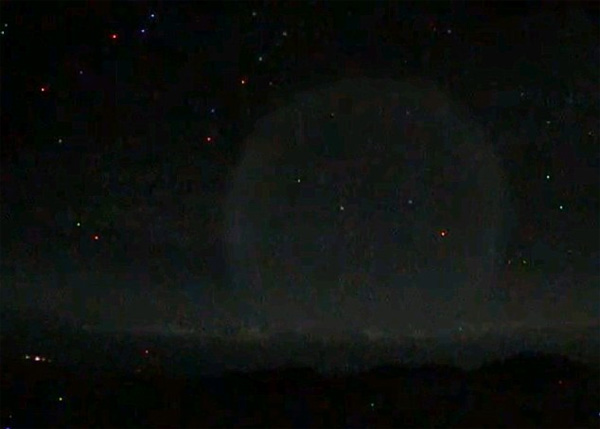 Inter-dimensional time portal: The burst was captured on time-lapse video by a webcam mounted on an astronomical observatory in Hawaii



Theories as the cause of the mysterious luminous sphere have ranged from the opening of an inter-dimensional portal to the future to a battle between two alien starships.

But the most likely explanation is that is shows a U.S. Minuteman III inter-continental ballistic missile (ICBM), ejecting fuel as it enters the upper reaches of the Earth's atmosphere.

The time-lapse footage shows the night horizon filled with stars, when suddenly an ethereal arc pops into view.

It rapidly expands, forming a circular shell which grows as it travels across the horizon, then fades as it fills the view.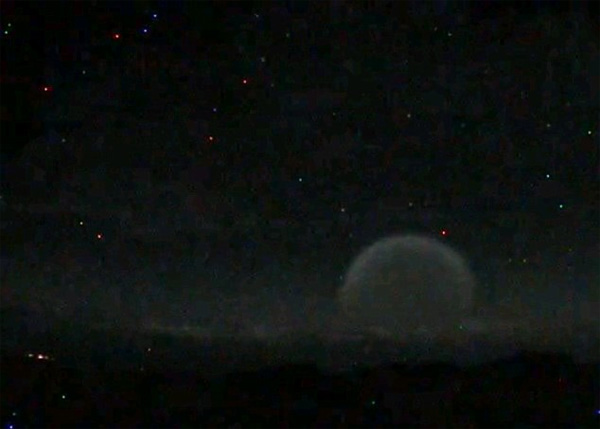 Growing and moving: This frame shows the burst as it begins in the corner of the horizon seen north-east from Mauna Keai



According to Discover Magazine's Bad Astronomy blog, the soap bubble-like characteristics of the light burst indicate that it has been caused by a 'sudden impulse of energy and rapid expansion of material'.

Citing online astronomy forums, Bad Astronomy reveals that a Minuteman III ICBM had been scheduled to launch from Vandenburg Air Force Base, California, three minutes before the burst was observed, at about 3:35am Hawaii time.

The stars of the Cassiopeia constellation are visible in the horizon behind the burst, indicating that the webcam was pointed north-east - towards the base and the missile's probable flight path.

Again citing internet forums, the blog speculates the burst could have caused by a charges in the missile's third stage detonating to kill its thrust as it arcs across the Earth.

At a pre-determined moment, ports in the side of this section of the missile are blown open by explosive charges, allowing remaining fuel to be dumped fast.

This rapid fuel dump cuts the missile's thrust at precisely the right time allowing the warhead to be targeted with devastating accuracy at the right spot back on the surface of the Earth.

As the missile is above most of the Earth's atmosphere at this point, when the fuel gas is suddenly ejected it blows away from the missile in a perfect sphere - which could explain the bubble-like characteristics of the light.
For this explanation, the timing seems to be right. However, it is only a theory and there has not yet been any official confirmation of the claims.

Source: dailymail.co.uk