Photography under threat: The shooting party's over
Did you hear the one about the mother banned from taking a snapshot of her baby in the pool? Or the student prevented from photographing Tower Bridge at sunset? Be warned. The authorities now have the power to confiscate your camera — or even arrest you — for daring to take a picture in public.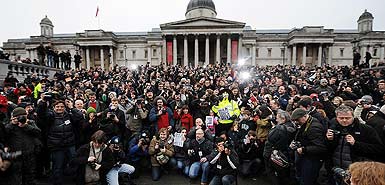 A protest at Trafalgar Square, January 23, organised by the group I'm a Photogapher, Not a Terrorist!
(Ben Stansall/AFP/Getty Images)


Put that camera away. Yes, you, put it away right now. This is a public place, you can't take pictures here. What right have you got to take photographs? People might not like it. Did they say you could take photographs? Did they? No. Are you some sort of paedo? A terrorist? Gimme that camera. Delete those images. Delete your rights, delete trust, delete innocence before guilt. You're nicked.

Perhaps I exaggerate a little: nevertheless, the days when you could photograph freely in public spaces are disappearing fast. In the eyes of many, the camera has become an offensive weapon, as Peter Dunwell discovered when he travelled from Grimsby to London in January. Coming down by train with a work colleague, Dunwell planned to make a photo-journal of their trip. At King's Cross he took out his Sony Handycam and started to photograph the arrivals board and station. Two police community-support officers approached and told him to stop. Sure, PCSOs are agents of the state whose job it is to stand by while others drown (as happened in the case of a 10-year-old boy) but intervene in anything none too dangerous. And yes, King's Cross is sensitive to the threat of terrorism because the London bombers arrived there before going their separate ways on the Tube to murder 52 people in 2005. But Dunwell, a middle-aged man of middle build with middling-brown hair, doesn't look much of a terrorist. He looks more like the manager of a Jessops camera shop, which is what he is. Though his colleague has dyed blonde hair and pierced ears, there's no law against that, yet.

In fact, the PCSOs did not suspect him at all of plotting to blow King's Cross to smithereens. They told him to put his camera away simply "because people don't want you taking their photographs". Kamera verboten.

Nobody had complained or objected. Authority had taken its own decision that the British public did not wish to appear in Dunwell's photograph, even if only in the background. Dunwell was shocked and embarrassed. "It made me feel like I was a paedophile," he says. "I wasn't doing anything wrong or illegal. It says something about our attitudes, our freedoms and restrictions on life that you can't even take a photograph."

In the most spied-on country in the world, with an estimated 4.2m CCTV cameras tracking our moves, people are now suspicious if Joe Nikon presses his shutter button. In one way Dunwell's incident was so bittersweet it was almost comical. He had come to London to attend a demonstration in Trafalgar Square about precisely this: the rising tide of restrictions on public photography. That day hundreds of photographers gathered in the square — where you can now only take a commercial photograph if you pay for a special permit — to protest that they are not terrorists, paedophiles or paparazzi invaders of privacy. They're just enthusiasts pursuing life through a single-lens reflex. The protestors came in all shapes and sizes: tall, short, fish-eyed and wide-angled. Some were as tatty as their cameras, bandaged together with tape, others were in cashmere and corduroys with the latest kit. Among them was Jane Hobson, a photography student. Shortly before Christmas, Hobson was on a student exercise taking pictures in central London. Outside City Hall, security guards ordered her to stop. "They just said it wasn't allowed, even though I was on a public highway. Another time I was stopped while taking pictures of Tower Bridge at twilight."

Many photographers believe more is at stake than a few lost shots of iconic buildings. Eyeing up the fading light, they see darkness falling on personal freedoms and a whole strand of social history. "Look at the Victorians and Edwardians," says Hobson. "Photographs tell us so much of what it was like then. We're in danger of losing that." And Simon Moran, a photographer who hosts the UK Photographers' Rights Guide on his website, says: "Some of the greatest pieces of photographic art we have — reportage and street photography and cityscapes — wouldn't be possible if people didn't have the freedom to go around and take pictures without being stopped."

One of the most beguiling properties of photographs is their ability to expand over time. When you capture an image, often spontaneously, it is a single moment framed in stillness. A child's innocent smile, perhaps, a lover's glance, a silhouette etherised against a sundown sky. Look again in 5, 10 or 50 years and that image will have grown far beyond a 7x5in print into a lost world all of its own: a life that might have been; a culture vanished; a childhood of happy, crazy days. Did we really wear those fashions? And look at that hair!

From animals daubed on cave walls to Martin Parr painting modern life with a camera, man has always recorded the world around him. It's personal memory and public history, and, say photographers, it's under threat.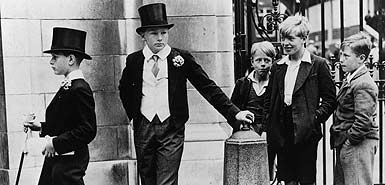 Jimmy Sime's famous picture of boys in their Eton garb being gawped at by local lads.
(Jimmy Sime/Getty Images)


If such claims seem alarmist, consider a famous image by Jimmy Sime from 1936. It shows a group of five boys standing by the road in Eton and brilliantly portrays the social divide of the time. Three are local boys in open-neck shirts and scruffy trousers or shorts, looking agog at the other two, who are Eton pupils immaculate in top hats, ties and waistcoats, walking canes in hand. The facial expressions still speak across the years. To capture such an image now, you would need the permission of all the boys, via their parents or the school. Without it, the pixel police step in, either in person or in the form of self-censorship. When a recent BBC programme filmed Eton pupils walking along the road outside the college, it blurred the faces of every one.

Photographing adults, even our most taxpayer-funded figureheads, is also becoming off limits. In December some of Her Majesty's loyal peasants tried to snap the Queen and members of the royal family as they were going to church near Sandringham. A heinous crime obviously — so the police moved in and confiscated their cameras. Kate Middleton, a royal-in-waiting as Prince William's on-off girlfriend, threatened legal action after being snapped at Christmas on a tennis court close to a public footpath. Her lawyers sought damages for invasion of privacy. At the time of writing the case was unresolved, but was expected to be settled in Middleton's favour

Many photographers blame changes in the law for the antipathy that has developed towards them. One European court ruling, involving Princess Caroline of Monaco, judged that taking photographs of her was an invasion of her privacy even when she was in a public place. Yet other celebrities court such pictures. Some photographers complain they are now uncertain where the boundaries lie.

In photography journals and blogs, professionals and keen amateurs also take aim at the Terrorism Act of 2000. Section 44 of the act gave police more power to stop and search people in specified areas. That might sound reasonable — until you learn that large tracts of London, every big rail station in the UK and many other sites have been quietly designated specified areas. To make matters more confusing, details of which areas have been designated are often not disclosed in case it might help terrorists. It's 1984 meets Catch-22. Previously the police had at least to cite reasonable grounds for suspicion in order to stop and search you; now they don't. If you're wearing a loud shirt, walking on the pavement cracks, or carrying a camera, you're fair game.

Read the full article at: TimesOnline.co.uk