Randy Quaid: "Star Whackers in Hollywood"

Randy Quaid reads a prepared statement to the media following his Oct. 28 appearance before the Immigration and Refugee Board of Canada in Vancouver BC.

Video from: YouTube/bulletproofcourier



Randy Quaid gangstalked by "Star Whackers" - he names players but ABC/GMA declines, TMZ runs out of tauntz this time; financial & probate crimes in underbelly of Hollywoodland



From: hongpong.com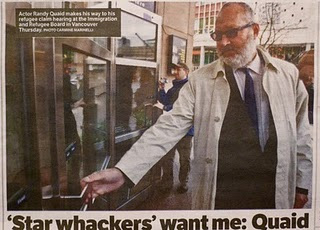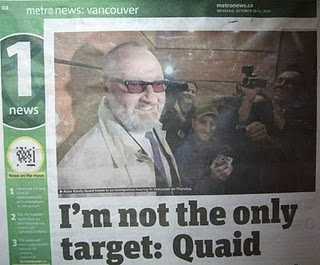 It's no surprise California is in tough straits – Hollywood ain't a great place, and they can even trap corruption whistleblowing attorneys like Richard Fine in jail easily over there (Fine got tangled in LA's enormous immunized bribery system). But Randy Quaid, of all people, has suddenly turned up in Canada claiming a nasty grifter conspiracy wants to kill him.

Alleged Hollywood conspirators according to Quaid - let's see if we can try to determine who these people are:

* City National Bank, Roxbury Branch - Beverly Hills, Gavin Purdue former head of entertainment division

* Warner Bros. owes him

* Ex-Quaid Business manager Warren Grant

* Ex-Quaid Attorney Lloyd Braun

* Ex-Warner Bros executive Bruce Berman

* Apparently extremely creepy Alan Watenmaker -- who setup Michael Jackson's estate. BIO

* Mariam Zakarian - ?

* Paul Krasnow - paulkrasnow.com- Wilshire Blvd Beverly hills Northwest Mutual

* Lauren Braun - wife of Lloyd Braun who co-signed something early on says Quaid

* Sandy Bresler - agent- anchor client Jack Nicholson, player in the Association of Talent Agents (founded 1937), on Finance Committee & Co-Chair Political Committee

* John Kelly - ?

StevenArcieri - IMDB - wow this guy was at some point Jon Stewart's voice talent agent (source)!

Arcieri & Associates

* Joel Mandel - Owner of The Management Group (nice name) manta.com estimated annual sales $5-10 million

* Barry Hirsch - noted as entertainment lawyer in mess with estate of Collin Higgins

* Sean Shenassa - this site

http://shenassa.com and duly noted epic LA house

* Mickey Segal - (mentioned here) a former manager, not sure which one he is on teh googl

* Kimberly Buffington - Dennis Quaid's wife?

Interesting sounding cast of characters? Again the shady thing is the media won't report what Quaid is actually even saying in detail.

Quaid demands the IRS investigative units swarm anything and everything under his name – hardly the demand of a charlatan or a whiner. Things named in the lawsuit include allegedly

* Stolen life insurance policy from City National safe deposit box used to collateralize more fraudulent loans

* Falsified probate file for late Santa Barbara woman named Ronda L. Quaid

* Fake trust account

* A house sold- or not sold - by Quaid in 1991 and sort of used by the executives to push money through because it was still in Quaid's name

Here's a full story naming the names -- we can see basically there is indeed a weird star-undertaker financial nexus going on, some kind of almost predatory financial necrophila going on. It's great that Quaid is getting this out there:


Actor Randy Quaid and his wife, Evi, claim their former lawyer and estate planner created a fake living trust in their name, stole their money and disqualified future lawyers from acting on their behalf.

"We believe the trust documents being used to steal our assets at the bank contain language that makes it possible for a new attorney(s) representing us to be disqualified," according to the complaint filed in Superior Court. "Since it is our money, property and assets at issue here we cannot be disqualified by the document language so we represent ourselves Pro-se here."

Quaid claims he and his wife bought a house in Montecito, Calif., in 1989 for $1.35 million. Quaid says he handed the details of the transaction off to his business manager, Warren Grant and his lawyer, Lloyd Braun, who is not listed as a defendant.

The next day, Quaid claims Braun and his wife, Lauren, attached their names to the deal's escrow account.

That got Braun access to Quaid's assets through a "pooled loan," allowing Braun to use Quaid's home equity for his own real estate deals without Quaid's knowledge, according to the complaint.

City National Bank allegedly played along with the plot because Braun designated it as the beneficiary of properties he bought with Quaid's equity.

In 1991, Quaid says he sold his Montecito home to then-Warner Bros. executive Bruce Berman, again letting Grant and Braun handle the sale.
But Quaid claims he recently found out that the home is still in his name.

He says the head financial officer at the Chase Bank's Pasadena branch told him the home never sold, that the loan was paid off, and that Quaid and his wife were still the rightful owners.

Quaid says Braun, Berman and Grant concocted the scheme in order to secure a "clearing house" through which they could steal Quaid's earnings from Warner Bros. projects.

Quaid claims Warner Bros. still owes him for a number of movies.
The Quaids claim Braun, Berman and their estate planner, Alan Watenmaker, set up a fake trust in 1983 in order to steal more of Quaid's money.

The men allegedly used a falsified probate file for a deceased Santa Barbara woman named Ronda L. Quaid and a fake driver's license to cash Quaid's checks at City National and deposit the money into the fake trust account.

Quaid says he discovered evidence of the alleged fraud this June.
He claims he went to City National Bank in Beverly Hills to request information about two mystery loans that were made in his name, but says bank staff refused to give him any information. He says they instead called the police when he demanded to see the loan statements.

Quaid says he discovered that the paperwork for a $1 million life insurance policy was missing from his City National safe deposit box. Quaid claims someone used it, along with his forged signature, to secure more loans in his name.

Quaid says Gavin Perdue, former head of City National Bank's Roxbury branch entertainment division, had "full knowledge" of the theft of his life insurance policy.

The 220-page lawsuit, which mixes attachments with notes scrawled over the pages in black marker alternating with the pages of the lawsuit, also suggests that someone had a plot to kill Quaid and his wife.

After City National Bank's estate planner allegedly told Evi Quaid that the bank preferred to manage the assets of "dead actors," she heard a man's voice on her cell phone in Texas saying, "'If you kill her, there's a lot of money in it for you.'"

"Evi wasn't sure if this was an actual threat on her life or meant to intimidate her as a witness, but this together with the stolen life insurance policy and the estate planner's insensitive remark, and now Alan Watenmaker, the estate planner acting very evasive when we request trust ID numbers and the fact that Watenmaker's firm did Michael Jackson's will and life insurance policy trust, has us very suspicious of their motives," the lawsuit states.

Quaid says his case has a few "striking similarities" to the situation Michael Jackson was in before his death.

"Aside from the fact that we both used the same law firm to do our wills and trusts, one of Jackson's music attorneys was David Braun, Lloyd Braun's father. David Braun resides in Santa Barbara County where Jackson had a series of legal troubles brought on by false accusations before his death.

"Recently Evi and I have also been the subjects of false accusations in Santa Barbara over a paid hotel bill (the hotel tried at least five times to charge my wife's Chase credit card $73,000 for a $10,000 bill) ... Knowing what we know about them now, we firmly believe that Lloyd Braun, his father, David, and Watenmaker had something to do with our arrest in Santa Barbara County."

Quaid also claims his "'trusted advisors'" merged his assets with those of his brother, the actor Dennis Quaid, in an attempt to expand the theft.
Randy Quaid also blames his lawyer for talking his brother into buying two adjacent properties located on a sewage easement.

Quaid demands the criminal investigation unit of the IRS perform an immediate tax audit of all trust accounts, bank accounts and lines of credit in his name; an immediate revocation of all powers of attorney and all trustees of all of his accounts and trusts.

Quaid and his wife sued City National Bank, Gavin Perdue, Mariam Zakian, Paul Krasnow, Lauren Braun, Bruce Berman, Sandy Bresler, John Kelly, Steven Arcieri, Warren Grant, Joel Mandel, Barry Hirsch, Sean Shenassa, Mickey Segal and Kimberly Buffington.


Let's just say with this one, you can see by the edges around it, and the turbo-defamation machine (TMZ, Radar, etc.) that fail to dig around in anything remotely resembling the ugly financial realities of the entertainment industry. Who is pointing away from this, towards the spectacle? Good luck Quaids!

Source: hongpong.com



Why actor Randy Quaid and wife Evi fled the Hollywood 'star whackers' to Canada



From: telegraph.co.uk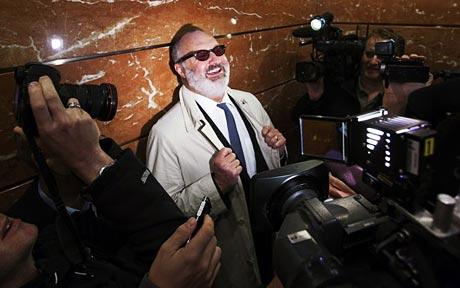 Randy Quaid and his wife are seeking refuge in Canada, claiming they are targets of a shadowy network Hollywood "star whackers" that murders for money

He is an Oscar-nominated Hollywood veteran, with more than 90 films to his name and acclaimed for his roles in box office blockbusters such as Brokeback Mountain and Independence Day.

But Randy Quaid now believes he is ensnared in plot so fiendish that not even the most imaginative scriptwriter could have conjured it up. For the actor and his wife Evi say their lives are at risk from a cabal of "Hollywood star whackers"

Mr Quaid, 60, is due tomorrow to appear back before an immigration board in Canada after he and Evi, 47, fled north of the border and made an eyebrow-raising claim for refugee status.

In an emotional interview from Vancouver, they last week named three prominent actors as victims of the same shadowy group and issued a warning to Britney Spears, Lindsay Lohan and Mel Gibson that they were also in danger.

The deaths of Heath Ledger (from an accidental drug overdose), David Carradine (apparently killed by auto-asphyxiation in a Bangkok hotel room) and Sean Penn's brother Chris (heart disease, according to a coroner) were cited to back their claims that Los Angeles lawyers and financial planners were "whacking" celebrities for their money.
"They follow us, they tail us, they tag our cell phone, they hack our computer," Mr Quaid said. "We believe there to be a malignant tumour of star whackers in Hollywood. It's possible for people to gain control of every facet of your life. We're not faking it.

"I am being embezzled by a monstrous ring of accountants, estate planners and lawyers who are mercilessly slandering me and trying to kill my career and, I believe, murder me in order to gain control of my royalties."

His wife added: "We are refugees. Hollywood refugees. I genuinely feel these people are trying to kill us. They are businessmen. It's the mafia, it's organised crime." In a startling public meltdown, the Quaids face a slew of lawsuits, allegedly unpaid bills and failing careers back in the US where they swapped appearances on the red carpet for handcuffed arrests and court summonses.

A Californian judge last week issued a fresh arrest warrant for Mrs Quaid, 47, a former model, and ordered that she forfeit a $500,000 bond after she failed to appear in court on charges of breaking into and damaging a property where the couple once lived.

But however outlandish the conspiracy theory and dire their financial straits, friends say the couple is genuinely convinced that they are victims of a terrifyingly sinister intrigue.

Mr Quaid, the older brother of the better known Dennis – a leading man who most recently played President Bill Clinton, alongside Michael Sheen as Tony Blair, in The Special Relationship this year – said about $40 million in lifetime earnings had been stolen from him. As a result, the couple was often so short of cash that they on some days could not afford to eat.

The current convoluted chain of events started to unfold last September [2009] when the Quaids were arrested in Texas for allegedly failing to pay a $10,000 California hotel bill. Although the bill was later reimbursed, the incident resulted in a series of missed court appearances.

The case against Mr Quaid was eventually dismissed while his wife pleaded guilty to defrauding an innkeeper and was given probation and community service.

Then this August, the couple sued their former lawyer and estate planner for allegedly defrauding them. Part of the complicated lawsuit centred on ownership of a property they bought in Montecito, California, when they married in 1989.

And in September, they were charged with breaking into and damaging the guesthouse of the same property - which they insist was still theirs - saying sales documents were forged. They were bailed but missed another court hearing last month after fleeing instead to Canada.

Amid reports they were being pursued by bounty hunters, the couple were arrested in a Vancouver shopping mall on Oct 22. They both initially applied for refugee status, saying they feared for their lives at the hands of the "Hollywood star whackers".

But in another twist, it emerged that Mrs Quaid now has the right to Canadian citizenship as her father was born there. In later life he lost his Canadian nationality, under a previous law which said he could not have dual American-Canadian citizenship.

Mr Quaid's immigration lawyer Catherine Sas is currently still pursuing his refugee claim based on his fear of persecution in the US. But he may drop the refugee case if his newly Canadian wife sponsors him to remain there.
Although the Quaids' claims sound remarkable, friends and psychiatrists say they are convinced that the plot exists. Others are not so sure.

"It is clear that they are in the throes of a paranoid and psychotic delusional state," David McDowell, a New York psychiatrist who has handled several celebrity cases, told this newspaper.

"What is particularly unusual about this case is that they are so high profile so it is playing out so publicly. And they seem to share a disorder, known as folie à deux syndrome, and hence reinforce their irrational beliefs."

Mr Quaid, a divorcee, met the then Evi Motalanez, a production assistant who once modelled nude for famed photographer Helmut Newton, in 1989 on the set of Bloodhounds of Broadway, a film that was quickly forgotten despite featuring Madonna and Matt Dillon in the cast. They married the same year in a ceremony attended by Dennis Quaid and his then wife Meg Ryan.

Randy Quaid's first major role was playing a harshly-sentenced young US Navy sailor alongside Jack Nicholson in The Last Detail in 1973 in a performance for which he was nominated for an Oscar.

He later won a Golden Globe for his portrayal of a young President Lyndon Johnson in LBJ: The Early Years, appeared in the hugely-successful Independence Day and starred as Cousin Eddie, a clueless figure with money troubles, in the National Lampoon Vacation films – the role for which he is best-known in the US.

He was again nominated for a Golden Globe in 2005 for his role as Elvis Presley's manager "Colonel" Tom Parker in a television miniseries about the singer. And the same year, he played a redneck rancher in the homosexual cowboy love story Brokeback Mountain starring Heath Ledger and Jake Gyllenhaal.

He later sued the producers, claiming he was duped into a working for a low fee for "a low-budget, art house film with no prospect of making any money".

The case was subsequently dropped amid disputed reports of a financial settlement.

The Quaids have had long-running issues over finances and lawsuits. Evi Quaid had directed her husband in The Debtors, a 1999 film that also starred Michael Caine. Ironically, given its title, the costs the couple incurred in the production were blamed in media reports for them filing for bankruptcy a year later. And in 2004, the Internal Revenue Service pursued a case for unpaid tax bills.

In 2008, the Actor's Equity Association fined and banned Quaid for life for "physically and verbally abusing his fellow performers" in a production of Shakespeare's The Merry Wives of Windsor, in which he played the lead role of Falstaff. The actor rejected all the charges, arguing he was driven out in a financial dispute.

As this strange saga plays out, some of Mr Quaid's comments from previous interviews take on an added poignancy. He once observed: "When I was a kid and the carnival would come to the shopping centre, I'd go down and talk to all the people running the rides. I like that whole lifestyle, moving from town to town in a nomadic existence."

And of his favourite roles, the 6' 4" actor said: "I love playing characters that are bigger than life and maybe have a darker side that they present to the world. Those are good characters."

Source: telegraph.co.uk