Researcher finds way to calm fears during sleep


While these therapies could bring hope to those who suffer from conditions such as anxiety or post traumatic stress disorder, we must be mindful of the repercussions of eliminating all worries, uncomfortable memories, and reality-based fears.

Removing memories of WWII or 9/11 might be comforting, but would we still recall, or find important, the lessons learned from such events?

Baseless or irrational fears can cripple us, but becoming totally fearless makes us blind to the real dangers out there.

NBCNews reports on the neuroscience study...

---
Researcher finds way to calm fears during sleep
By Brian Alexander | TodayHealth

Fear may be the most powerful of all human emotions, but according to a study released today in the journal Nature Neuroscience, sleep can be its enemy.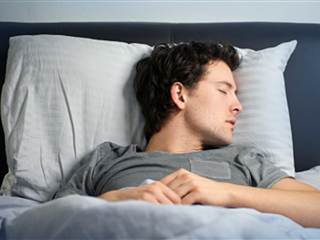 In a first-of-its-kind experiment, specific emotional memories of human beings were deliberately altered during sleep. The complicated small study, which involved 15 test subjects, found that sending a sensory cue associated with a fear to a sleeping person could significantly reduce that fear when the person was awake and facing the source of their fear.

The experiment, led Katherina Hauner, assistant director of the Cognitive Neuroscience Laboratory of the Rehabilitation Institute of Chicago at the Northwestern University Feinberg School of Medicine, worked like so: Fifteen people looked at pictures of faces while they were monitored for skin conductance (basically, sweat) – a standard measure of the physiological response to fear – and their brains were imaged in an fMRI machine. Half the time two specific faces appeared, the test subjects received a mild electric shock.

That's a standard method of "fear conditioning," teaching somebody to be afraid of something. But Hauner added another cue: scent. For example, "Face 1" might always be accompanied by the odor of mint while "Face 2" was always accompanied by lemon.

So, each person received two fear contextual cues: pictures of faces and the aromas that accompanied them.

And the conditioning worked. The skin conductance measures and fMRI images showed that the test subjects did indeed learn to fear the faces and aromas that often came with a shock.

Next, test subjects were asked to take a nap while still attached to the skin conductance device as well as an EEG machine, which measured their brain waves. As soon as they entered slow wave sleep, Hauner exposed them to one of the two smells associated with the fear conditioning – only lemon, say, or only mint.

At first, even though they were asleep, skin conductance measures showed a strong fear response. But the longer they slept in a slow wave state and the longer they smelled the odor, fear decreased.

After the test subjects woke up, they were again exposed to the pictures of faces in the same set up as before, in the fMRI machine. This time, however, their fear of the specific face associated with the odor they'd been given while asleep was diminished. The longer they slept in slow wave mode, and the longer they smelled the aroma, the more powerful the effect.

Their fear of the other face, on the other hand, remained unchanged.

What's the significance of this research?

Phobias are usually treated with "exposure therapy" which involves exposing somebody to what they're afraid of over and over again until they finally learn not to fear it. It's not erasing the fear; it's creating a new memory stronger than the memory of the fear. The process is known as fear extinction.

Research has shown that sleep helps consolidate new memories and some studies of standard fear extinction treatment have indicated that sleeping after therapy can produce a strong effect.

"But to my knowledge specific emotional memories in humans have never been modulated during sleep before," Hauner said in an interview, adding that her study was small, with just 15 people who did not have a fear disorder, and that more work needs to be done before applying her findings to actual patients.

Others were more enthusiastic about the results, though.

"This is extremely exciting," Edward Pace-Schott, an assistant professor of psychiatry at Harvard Medical School who often uses spiders to study fear acquisition and extinction, told NBC News. "While it's hard to interpret, it suggests that if you can get contextual information into the brain during sleep, some sort of learning process can take place. The fact that it gets into the brain during sleep is remarkable."

[...]

Read the full article at: today.com




---
READ:
The Neuroscience of Fear and Loathing
---
Tune into Red Ice Radio:
Anthony Peake - Hour 1 - The Infinite Mindfield: The Mystery of Consciousness
Neil Sanders - The Dark Art of Mind Control
Anthony Peake & Tom Campbell - Consciousness Creates Reality
Anthony Peake - Mystery of the Brain, Precognition, Time Dilation & Déjà vu
Peter Russell - The Primacy of Consciousness
Jim Elvidge - Are we Living in a Simulation, a Programmed Reality?
Penney Peirce - Frequency, Intuition, Time & Dreams
Hillary Raimo - State of Control, Spiritual Health & Freedom
Carol de la Herran - Robert Monroe & Altered States of Consciousness