Roswell, UFOs and Project Pandora
Well, now, this is interesting. In fact, it's very interesting.

Over at the Department of Defense's website you can find a file that has been declassified via the Freedom of Information Act on the subject of Project Pandora (which, to a significant degree, was focused on Cold War secrets, and how microwaves can affect the mind and body).

It's a fascinating file that dates back decades. It's a lengthy file, too; it runs to nearly 500 pages and is comprised of a number of notable documents. But, here's the weird thing, if you scroll down to page 449, you'll see that it contains a copy of the controversial "MJ12/Eisenhower Briefing Document" on the Roswell UFO affair of 1947!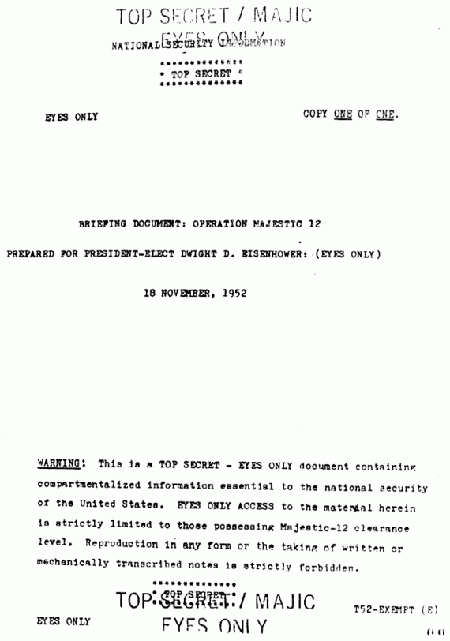 Of course, as most people within Ufology know, the document is one that has been the subject of much debate regarding its authenticity or otherwise. Indeed, the copy of the EBD in the Pandora file has a hand-written note on it stating that: "This cannot be authenticated as an official DoD document."

Well, that's fair enough, and something that most people within Ufology would agree with – it has not been authenticated. But, here's the issue, what is a copy of the EBD doing in a DoD file on Project Pandora?

Let's look at what we know.

[...]

Read the full article at: mysteriousuniverse.org




---
Tune into Red Ice Radio:
Kevin Randle - UFO Crashes, Sightings, The Roswell Incident & Majestic 12 Documents
Kenn Thomas - Octopus, Wilhelm Reich, Flying Saucers, JFK & MJ-12
Nick Redfern - The Men in Black & Mothman
Richard Dolan - Hour 1 - Privatized UFO Knowledge & The Grand Distraction of the New Age Movement
Joseph P. Farrell - Hour 1 - Clash of Breakaway Civilizations & Secret Space Program
Mark McCandlish - Hour 1 - Sequestered Technology & Offworld Exploration
Michael Schratt - Hour 1 - Man Made UFOs: Deep Black Budget Military Aerospace Vehicles
Catherine Austin Fitts - Hour 1 - Secret Space Program & The Black Budget
William Lyne - Hour 1 - Occult Science Dictatorship
Richard Dolan - The Secret Space Program & Breakaway Civilization
Paul A. LaViolette - Electrogravitics, Advanced Space Travel, Pulsars & Breakaway Civilization
Peter Levenda - Secret Space Program & NASA's Nazis
Timothy Good - Secret Space Program, UFOs, ET & Coverup