Security firm to hold zombie crisis scenario
Forget the H1N1 pandemic. Could a future crisis arise from an outbreak of viruses that destroy brain cells and render people violently catatonic, like zombies?

The far-fetched scenario of a government grappling a zombielike threat — think movies like "Night of the Living Dead" or, more comically, "Zombieland" — has captured the attention and imagination of Brad Barker, president of the security firm HALO Corp.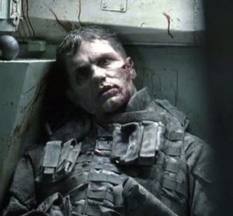 Next month, his outfit will incorporate — no kidding — zombies into a disaster-crisis scenario at the company's annual Counter-Terrorism Summit in San Diego, a five-day event providing hands-on training, realistic demonstrations, lectures and classes geared to more than 1,000 military personnel, law enforcement officials, medical experts, and state and federal government workers.

HALO will take over the 44-acre Paradise Point resort in the city's popular Mission Bay and create a series of terrorist scenarios, with immersive Hollywood sets including a Middle Eastern village and a pirates' haven. Retired Air Force Gen. Michael Hayden, a former CIA and National Security Agency director, and Mexico Interior Secretary Alejandro Poiré Romero will speak during the summit, which runs Oct. 30 to Nov. 2.

Barker calls the scenario "Zombie Apocalypse." That phrase took off last year after the Centers for Disease Control and Prevention unveiled a campaign aimed at underscoring the importance of being prepared for major emergencies, natural disasters and pandemics.

In the CDC's Preparedness 101 program, fictional zombies are used to drive home the message that Americans must be ready for any emergency — even the kind that, hypothetically, could stem from a brain-eating virus pandemic. Zombies also star in a 40-page comic book the CDC published, a tongue-in-cheek take on the serious scenario of a mutated virus that quickly spreads as the government dispatches its military to maintain order while infectious disease specialists scour for a vaccine.

[...]

Beyond the zombies, the HALO event will weave in lessons learned from real disasters and terror events, including attacks in Iraq and Afghanistan and the deadly 2008 bombing in Mumbai, India. Cyber terrorism will have a leading role in sessions and courses throughout the summit, as well.

"The new battlefield is cyberspace, for sure," Barker said.

That means that during the summit, participants' cellphones and email accounts could be hacked, said Tim McAtee, a former Marine now working as HALO's tactical operations director. Some, he said, might be rattled when they realize how easy it is for a hostile force to compromise their personal information and what the broader national-security implications of a cyber attack can be.

"The awareness," he said, "is going to be monumental."

HALO is composed of former military special operators as well as intelligence and national security experts. They train military units and federal and state agencies in security, counterterrorism, force protection, emergency response and disaster management.

Read the full article at: militarytimes.com