Shape-Shifting Jesus Described in Ancient Egyptian Text
A newly deciphered Egyptian text, dating back almost 1,200 years, tells part of the crucifixion story of Jesus with apocryphal plot twists, some of which have never been seen before.

Written in the Coptic language, the ancient text tells of Pontius Pilate, the judge who authorized Jesus' crucifixion, having dinner with Jesus before his crucifixion and offering to sacrifice his own son in the place of Jesus. It also explains why Judas used a kiss, specifically, to betray Jesus — because Jesus had the ability to change shape, according to the text — and it puts the day of the arrest of Jesus on Tuesday evening rather than Thursday evening, something that contravenes the Easter timeline.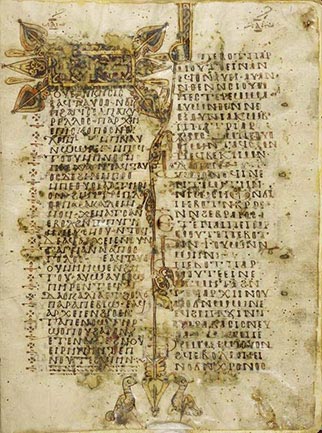 Part of the text from the manuscript holding the newly deciphered Passion story of Jesus. Found in Egypt in 1910 it was purchased, along with other manuscripts, by J.P. Morgan in 1911 and was later donated to the public.


The discovery of the text doesn't mean these events happened, but rather that some people living at the time appear to have believed in them, said Roelof van den Broek, of Utrecht University in the Netherlands, who published the translation in the book "Pseudo-Cyril of Jerusalem on the Life and the Passion of Christ"(Brill, 2013).

Copies of the text are found in two manuscripts, one in the Morgan Library and Museum in New York City and the other at the Museum of the University of Pennsylvania. Most of the translation comes from the New York text, because the relevant text in the Pennsylvania manuscript is mostly illegible.

While apocryphal stories about Pilate are known from ancient times, van den Broek wrote in an email to LiveScience that he has never seen this one before, with Pilate offering to sacrifice his own son in the place of Jesus.

Pontius Pilate has dinner with Jesus

"Without further ado, Pilate prepared a table and he ate with Jesus on the fifth day of the week. And Jesus blessed Pilate and his whole house," reads part of the text in translation. Pilate later tells Jesus, "well then, behold, the night has come, rise and withdraw, and when the morning comes and they accuse me because of you, I shall give them the only son I have so that they can kill him in your place."

In the text, Jesus comforts him, saying, "Oh Pilate, you have been deemed worthy of a great grace because you have shown a good disposition to me." Jesus also showed Pilate that he can escape if he chose to. "Pilate, then, looked at Jesus and, behold, he became incorporeal: He did not see him for a long time ..." the text read.

Pilate and his wife both have visions that night that show an eagle (representing Jesus) being killed.

In the Coptic and Ethiopian churches, Pilate is regarded as a saint, which explains the sympathetic portrayal in the text, van den Broek writes.

The reason for Judas using a kiss

In the canonical bible the apostle Judas betrays Jesus in exchange for money by using a kiss to identify him leading to Jesus' arrest. This apocryphal tale explains that the reason Judas used a kiss, specifically, is because Jesus had the ability to change shape.

"Then the Jews said to Judas: How shall we arrest him (Jesus), for he does not have a single shape but his appearance changes. Sometimes he is ruddy, sometimes he is white, sometimes he is red, sometimes he is wheat coloured, sometimes he is pallid like ascetics, sometimes he is a youth, sometimes an old man ..." This leads Judas to suggest using a kiss as a means to identify him. If Judas had given the arresters a description of Jesus he could have changed shape. By kissing Jesus Judas tells the people exactly who he is.

[...]

Read the full article at: news.discovery.com




---
---
Tune into Red Ice Radio:
William Henry - The Secret of Sion & The Dwellers at the Center of the Galaxy
Joseph Atwill - Caesar's Messiah, The Roman Conspiracy to Invent Jesus
Shannon Dorey - The Nummo & The Dogon
Acharya S - The Christ Conspiracy
David Icke - The Cosmic Firewall, The Moon Matrix & Saturn
Stewart Swerdlow - The Montauk Project, Mind Control, The Illuminati & The Alien Agenda
David Icke - Global Conspiracy, The Reptilians & The Peru Experience