Swedish Feminists Drink Blood


Swedish Feminists drink menstrual blood to fight the Patriarchy!

Here is the story from alltomstockholm.se as translated by Google (English not 100% correct)



A feast to celebrate the woman - and your period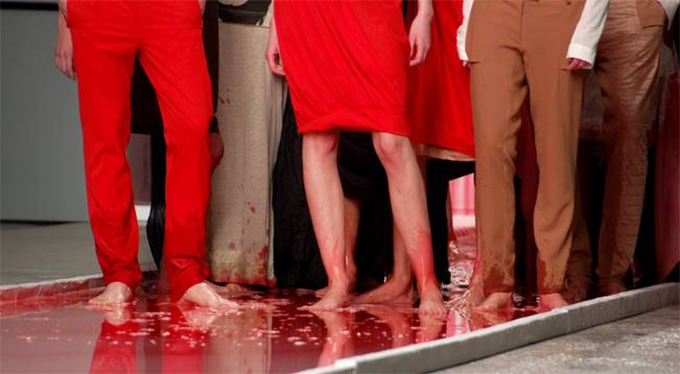 Menstruation - and this year's celebration.

Theatre Bristol salute month's bloodiest weeks and cause menstrual celebration of International Women's Day.

- We will offer menstrual drinks, says Daniela Kullman.

On International Women's Day on 8 March is the time. This takes Theatre Bristol in Sundbyberg to the menstrual party. The party must both pay tribute to my period but also serve as an educational event. Both knowledge, dancing and frolics promised.

- We will have speakers and it will go to buy menstrual cups and other matters related to menstruation to do. Then open the bar and there will be a concert and celebration. The evening will go from the seriousness of nonsense, says Daniela Kullman, the theater's artistic director.

"Want to enlighten about endometriosis"

One of mens topics that will be addressed is the chronic disease endometriosis. Many women suffer from the disease but it is nevertheless relatively unknown among both physicians and the public endometriosis affect your period and allows you to get extreme stomach pains before, during and after the bleeding.

- I am extremely educated and read a lot, but had never heard of endometriosis. When I read that ten percent of all women have the disease, I thought it can not be true. It is sick that more don't know about it! People usually supposed to tease sometimes and say 'you have your period or what?' but this is a completely different thing. It is a chronic disease and I have not known that it is serious. We want to create an understanding of this disease.

Blood Cocktails with lumps

Although the theater's bar hooks on menstrual theme and theater staff have suggested that blood cocktails will be served.

- They're in for it, to serve different menstrual drinks. Once when we had a ghost walk for children we served alcoholic free blood drinks . It wasn't so popular, but adults are perhaps a bit more brave.

How is a blood drink?

- It is not quite runny, but rather a bit thick. I've donated blood plasma so perhaps one could also have some drinks with lumps in it, with some kind of jelly, haha!

Is it just girls who can come to the party?

- No, of course not! Guys may also attend. Everyone needs the know this stuff. And the music do well all?

Video from> youtube.com/RamzPaul & text from alltomstockholm.se translated by Google.