The Bush-Clinton Dynasty in charge of America for 28 consecutive years? (Video)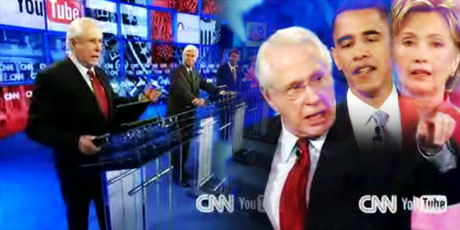 There was one decent question (from the selected ones) at the CNN/YouTube democratic "debates". The question was for Hillary Clinton, she didn't answer, but Senator Mike Gravel did.

(See the clip below)

Question for Hillary Clinton:
"With Bush (Sr), Clinton (Bill) and Bush (Jr) again serving as the last three presidents, how would electing you, a Clinton constitute the type of change in Washington so many people in the heartland are yearning for and what your campaign has been talking about? I was also wondering if any of the other candidates have a problem with the same two families being in charge of the executive branch of government for 28 consecutive years if Hillary Clinton where to potentially to be elected and then re-elected."
Hillary doesn't address the topic, instead recoils to some Bush Bashing and then jokes away the fact that the election was stolen in 2000 by Bush. (Everybody Laughs!)

The only one addressing the question was Senator Mike Gravel:
"The Democratic Party used to stand for the ordinary working man but the Clinton's and the DLC sold out the Democratic Party to Wall street. Look at where all the money is being raised right now: for Hillary, Obama and Edwards. It's the hedge funds, it's wall street bankers, it's the people who brought you what you have today! Please Wake up! Just look at the New York Times of the 17th of July that analyses where the money is coming from, it comes the Bankers on Wall street and of course hedge funds which is code for Bankers on Wall street and their Lock, Stock, & Barrel in their pockets."
In an effort to end the dead silence on stage and in the audience, Obama steers it away and goes off on a tangent about cynicism while the producer cut's to footage of Mike Gravel.



More: Obama, Clinton Draw Wall Street Donors Amid Bush Disenchantment

Read more about the Bush-Clinton Dynasty

In an earlier question Mike Gravel mentions a few things about lobbyist money.


More: New York City Investment Banks Give More Money to Obama Than to Clinton