The Chris Dorner Enigma – What Really Happened and Why
Finally unraveling one of the most bizarre and high-profile murder-fugitive stories in US history.

Robert Singer
21st Century Wire

We are told that a terrorist is a person who uses terrorism in the pursuit of political aims.

There is neither an academic nor an international legal consensus regarding the definition of the term "terrorism." Various legal systems and government agencies use different definitions of "terrorism." These difficulties arise from the fact that the term "terrorism" is politically and emotionally charged. [From Wikipedia]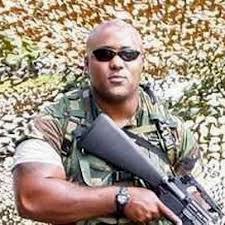 According to the authorities, Christopher Jordan Dorner (photo, left) is a violent domestic terrorist.

Dorner, a former LAPD cop and honorably discharged Navy reservist, was accused of killing four people in February 2013 . The Police also claim Dorner is the author of numerous versions of a rage-filled "manifesto" where he vows to "bring unconventional and asymmetrical warfare to those in an LAPD uniform whether on or off duty." Later Dorner is quoted in the LA Times: "I don't want to hurt you, I just want to clear my name." Does this sound like something a violent domestic terrorist would say?

Where is the evidence that Dorner killed anyone?


- A photo of .308 sniper rifle and a handgun that has not been connected to the murders.

- Numerous versions of a manifesto written by someone with a 2nd amendment agenda rather than a policeman writing to expose police corruption and trying to clear his name.

Note there is absolutely no proof Dorner killed anyone especially Monica Quan and Keith Lawrence.

According to the official story, at 9:10 P.M on February 3, 2013 a couple, walking through the upper floor (roof level) of the parking garage at 2100 Scholarship, Irvine CA, spotted a man and woman [Monica Quan and Keith Lawrence] slumped over inside a car that reportedly belonged to Keith Lawrence.

Here is what the public is expected to believe. In a million dollar neighborhood, in a racist area of the country, a large black man breaks into a secured garage and is allowed by a police officer (who theoretically knows he's hostile) to walk up to the officer's car under a bright light and shoot the officer and his girlfriend (also from a police background) while nobody hears any shots and then departs, going both in and out of the garage in front of a video camera. Of course, the police (who want us to believe this) have failed to release the video footage that would show they were right about it being Chris Dorner who did all this.

What Really Happened to Monica Quan and Keith Lawrence By Ruth Hull

The largest manhunt since 9/11; involving the FBI, SWAT teams, over 10,000 officers, tightened Border Patrol [including checkpoints in Big Bear], drones, helicopters and aerial search teams with thermal imaging technology finally barbecued their man in a cabin in Big Bear.

How do we know it was Dorner?

Dorner's California Driver's License was found near a burned corpse in the basement area of the burned building cabin. Is that possible?

[...]

Read the full article at: 21stcenturywire.com