The Lost Boys: Corey Feldman on Predators and Sexual Abuse in Hollywood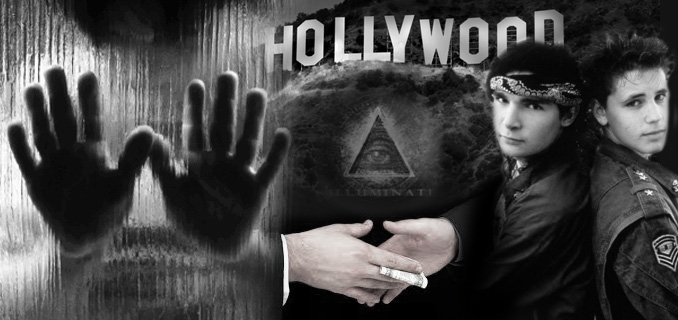 Corey Feldman has been coming forward over the past few years with details on his life as a child star in Hollywood, and the terrible and tragic fate of other kids in the business, especially his longtime friend and fellow actor Corey Haim.

His newest book reveals details that may horrify but not surprise those who already have looked into the dark underbelly of Hollywood paedophilia.

---
Corey Feldman details sickening Hollywood sexual abuse
By Caroline Goddard | SheKnows

Corey Feldman has talked about the ways he and childhood pal Corey Haim were abused before — but never in such shocking detail.

Corey Feldman speaks out frequently about rampant child sex abuse in Hollywood, but the details he revealed in his new book are just downright jaw-dropping.

In his new tome Coreyography: A Memoir, the '80s teen idol describes how he and his BFF Corey Haim were groomed for abuse by predators.

Feldman said Haim revealed his own suffering when the two grew close shooting the 1986 flick Lucas, saying, "…an adult male convinced him that it was perfectly normal for older men and younger boys in the business to have sexual relations, that it was what all the guys do. So they walked off to a secluded area between two trailers… and Haim allowed himself to be sodomized."

[...]

In another passage, Feldman discusses a photo from his 15th birthday party where he and Haim are flanked by five men — all of whom he claims were sexually abusing them.

"Slowly, over a period of many years, I would begin to realize that many of the people I had surrounded myself with were monsters," he says.

Read the full article at: sheknows.com

---
Corey Feldman Reveals How 'Dangerous' Stage Mom 'Sucked The Life From' Him During Torturous Childhood
From: RadarOnline

Corey Feldman's sordid life of drug abuse and sexual assault are revealed as never before in his new memoir, Coreyography. But was his mother to blame for it all? In a book excerpt obtained by RadarOnline.com, Feldman describes how his "dangerous" stage mom "sucked the life" out of him through calculated, controlling, and disturbing behavior.

Corey's mother Sheila Feldman shoved him into commercial acting at the age of 3, sending him following in the footsteps of his older sister, Mindy, who was a cast member on The All-New Mickey Mouse Club.

"As the family breadwinner, Mindy was granted a wide berth by my parents," Corey writes. Unfortunately, he was not so lucky.

Trapped at home with his mom while his older sister worked, Feldman describes how Sheila "was down, relegated to the confines of her bedroom, suffering from a mysterious range of maladies. In those days, I was too young to anticipate the high-highs and low-lows of someone with a depressive disorder, or to successfully navigate the unpredictable, violent swings that are born of substance abuse. I just thought she needed my help."

Sheila often called Corey in to rub her feet or brush her hair, he claims. "She would cry and fidget and whine and sometimes scream and fume and kick …." he writes. "Those were the worst days, when her moods became like black holes, sucking the life from every corner of the house into that cold, dark, room."

He admits, "She was beautiful, but as I sensed even then, somehow dangerous."

Banned from having friends over and from leaving the house, Corey says he often zipped himself inside a leather suitcase to avoid her wrath. But sometimes he couldn't escape.

Corey describes the painful experience of having Sheila bleach his hair with peroxide so he could hopefully get more roles. "My mother is alternately scrubbing my scalp with her fingers and shoving my face under the faucet of the bathroom sink," he remembers. "The peroxide burns and the smell is making me nauseous, but apparently, I was supposed to have been a blond-haired, blue-eyed child. Instead, she got stuck with me … 'This is who you were supposed to be,' she keeps telling me …"

Further attempts to mold Corey into a perfect child star included locking him in his bedroom to learn songs, he claims. "'You're going to sing a song and they're going to go, isn't he cute?' she tells me, before locking me in my room with Mindy's record player and instructions not to come out until I have learned every word," Corey writes. But his efforts did not impress, and Sheila let him know it.

"It's clear that she enjoys making fun of me," he remembers. "It's obvious that she finds pleasure in making me feel inadequate."

Even as Corey booked more and more jobs, the critiques continued, with his mother focusing in on his weight. He claims she hid his favorite cookies, crackers, snacks, and cereals on high shelves, allowing only Mindy to eat them. And when Corey questioned why, he says she answered, "Because Mindy isn't fat."

"I do have round, chubby, cherubic cheeks, but I always thought that I would grow into them," he writes. "Now she tells me that if I'm not careful, I'll grow up to be a fat, disgusting pig … She lifts my shirt and pinches a fold of skin between her fingers." He also claims she even force-fed him diet pills at one point.

[...]

Read the full article at: radaronline.com

---
Hollywood's pedophilia and debauchery problems still ongoing
By Henrik Palmgren | Red Ice Creations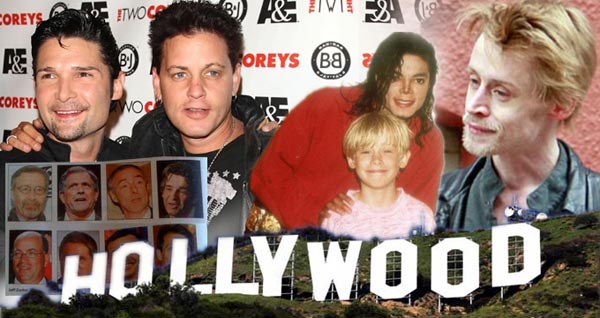 Do you remember the story Paedophilia is Hollywood's Biggest Problem, Explosive Claim by Former Child Star Corey Feldman and Casting Couch Nightmares: What Does It Take to Make It in Hollywood?

The following video was about 6 months ago:



Is Corey ready to name names now?

I hope so! I also hope that it will help to destroy Hollywood, the anti-human propaganda arm of the globalists.

Garbage is what Hollywood mostly produce. So many people around the world suck it up though. They love it, they want it and they support it.

Yes, there are some exceptions. There are good movies that get's made there, but most of these are from fresh new people with ideas that just accidental didn't get too corrupted and perverted along the way. Talented people with a clear vision do not need Hollywood to make a movie. The film industry doesn't begin and end with them.

We've now learned that paedophilia and the Casting couch (trading sexual favors for a role), according to Megan Fox and many others, is at the core of this rotten institution.


Corey Feldman has sensationally vowed to name the Hollywood movie executives he claims abused him when he was 14 years-old.

The 80's actor made the shocking confession to The Sun as he lifted the lid on the assaults he says happened when he was just a child.

"When I was 14 and 15, things were happening to me," he said. "These older men were leching around like vultures. It was basically me laying there pretending I was asleep and them going about their business.

"I will write a book - I will put all the information forward."



[...]

Read the full article at: redicecreations.com





---
READ:
Paedophilia is Hollywood's Biggest Problem, Explosive Claim by Former Child Star Corey Feldman
---
Tune into Red Ice Radio:
William H. Kennedy - Satanism, Ritual Abuse & Pedophilia in the Roman Catholic Church
Richard Hamlin - Mind Control, Mk-Ultra & Satanic Ritual Abuse
David Icke - Limitations of Belief & Awakening
David Icke - Hour 1 - The Manipulation of Humanity
Anne Greig & Robert Green - Sexual Abuse of Hollie Greig, The Scottish Establishment Peadophile Ring & Case Cover Up
David Icke - The Hollie Greig Case & The Scottish Elite Connections to the World Wide Satanic Pedophile Network
Ben Singleton - Pseudoccult Media
Nick Bryant - The Franklin Scandal, Child Abuse & Cover-up