The Nightwatchman: Crime-predicting robot aims to patrol our streets and schools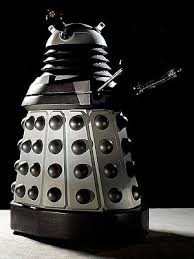 Get Ready. They'll be watching.

These new robots that are an unnerving mix between Star Wars' R2-D2 and Doctor Who's Daleks, are being touted as the new way to "monitor, map, and secure" the humans around them.

The robots are purported to replace security guards and watchmen, in a bid to reduce labor costs and streamline surveillance.

A company in California has developed a mobile robot, known as the K5 Autonomous Data Machine, as a safety and security tool for corporations, as well as for schools and neighborhoods.

"We founded Knightscope after what happened at Sandy Hook," said William Santana Li, a co-founder of that technology company, now based in Sunnyvale, Calif. "You are never going to have an armed officer in every school."

Indeed. Who needs armed guards when you have killer robots instead?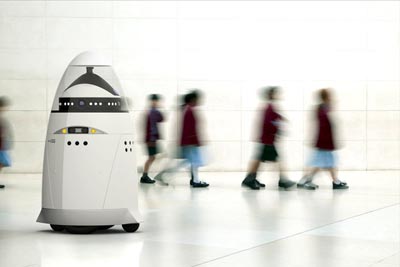 EXTERMINATE!


More on the suspicious sentinel from The New York Times...

---
A Night Watchman With Wheels?
By John Markoff | NYTimes

[...]what is for some a technology-laden route to safer communities and schools is to others an entry point to a post-Orwellian, post-privacy world.

"This is like R2D2's evil twin," said Marc Rotenberg, the director of the Electronic Privacy and Information Center, a privacy rights group based in Washington.

And the addition of such a machine to the labor market could force David Autor, a Massachusetts Institute of Technology economist, to rethink his theory about how technology wrecks the middle class.

The minimum wage in the United States is $7.25, and $8 in California. Coming in substantially under those costs, Knightscope's robot watchman service raises questions about whether artificial intelligence and robotics technologies are beginning to assault both the top and the bottom of the work force as well.

The K5 is the work of Mr. Li, a former Ford Motor Company executive, and Stacy Dean Stephens, a former police officer in Texas. They gained some attention in June for their failed attempt to manufacture a high-tech police cruiser at Carbon Motors Corporation in Indiana.

Knightscope plans to trot out the K5 at a news event on Thursday — a debut that is certain to touch off a new round of debate, not just about the impact of automation, but also about how a new generation of mobile robots affects privacy.

The co-founders have chosen to position the K5 not as a job killer, but as a system that will upgrade the role of security guard, even if fewer humans are employed.

[...]

Read the full article at: nytimes.com






California-based Knightscope has designed a 5-foot-tall, 300-pound automaton to combat crime and provide for public safety. Oh yeah, and it'll work for just $6.25 an hour. Officially dubbed the K5 Autonomous Data Machine, the 300-pound, 5-foot-tall mobile robot will be equipped with nighttime video cameras, thermal imaging capabilities, and license plate recognition skills. It will be able to function autonomously for select operations, but more significantly, its software will provide crime prediction that's reminiscent, the company claims, of the "precog" plot point of "Minority Report."

[...]

Crime prediction is one of the more eye-popping features of the K5, but the bot is also packed to the gills with cutting-edge surveillance technology. It has LIDAR mapping -- a technique using lasers to analyze reflected light -- to aid its autonomous movement. "It takes in data from a 3D real-time map that it creates and combines that with differential GPS and some proximity sensors and does a probabilistic analysis to figure out exactly where it should be going on its own," Li explained.
Source