To Di For: Occult Jam made from Princess Diana's Hair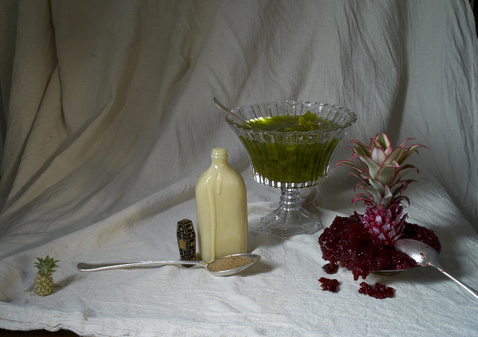 "Interestingly occult and esoteric practices have lead to some of the most significant developments in cooking techniques of the past millennia. The process of distillation used to manufacture spirits was discovered by the alchemists in their quest to turn base metal into gold.

Since the dawn of time man has struggled to unlock the secrets of eternal life. Occult Jam is a small triumph over mortality. Base ingredients are preserved through their transformation into jam and enhanced with powerful artifacts. Occult Jam launches at The Surreal House exhibition at Barbican Art Gallery on 24th June. The jams include:

Milk Jam
Ingredients: Milk, sugar, Hendrick's gin infused with a speck of Princess Diana's hair

Absinthe and pineapple
Ingredients: Pineapple, sugar, Pernod Absinthe infused with sand from the Great Pyramid

Plum and Oak
Ingredients: Plums, sugar, Courvoisier cognac infused with wood from Nelson's ship The Victory

Occult jam will be available to purchase from the Barbican Art Gallery Shop."

Occult Jam unites the twin Surrealist concerns of the occult and food. Fresh fruit is given extended life through transformation into jam, enhanced with alcohol and enchanted with strange artifacts. The mundane pot of jam, an icon of domesticity, becomes a surreal object.
Qype.co.uk
Image: Occult Jam by Bompas & Parr for the Barbican (photo credit Beth Evans)
'The most mundane food of all is jam ... We chose [Diana] because she has real resonance.' ~Caterer Sam Bompas





Artist Claims To Have Made 'Surreal' Condiment From Royal's Hair


By Sylvia Hui | HuffingtonPost.com

The royal hair? Jam made from what its maker claims is one of Princess Diana's hairs is up for sale at an art exhibition in London.

The preserve, called "occult jam," is part of a surrealist art show at London's Barbican Art Gallery that includes exhibits by Salvador Dali and Rene Margritte. The 5-pound-a-jar ($7.60) jam is both art and food, Sam Bompas, who founded catering company Bompas and Parr, said Sunday.

He said the preserve is made by infusing a tiny speck of the late princess of Wales' hair with gin, which is then combined with milk and sugar to create a product with a taste resembling condensed milk.

The hair was bought on eBay for $10 from a U.S. dealer who collects what he says is celebrity hair and sells it in extremely tiny parts.

The art show's organizers asked his company to come up with a response in food to the exhibition's surrealist theme. Bompas said he decided to make the bizarre product to provoke people into thinking about food marketing and how language enhances the everyday eating experience, he said.

"We thought about it and the most mundane food of all is jam. So we made it a surreal object," he said.

Self-styled "food architects," past projects included a banquet consisting entirely of gelatine molds shaped like architectural landmarks.

In another, they gave audiences at a screening of Peter Greenaway's film "The Cook, The Thief, His Wife and Her Lover" scratch-and-sniff cards that evoked smells from key scenes in the movie.

Article from: HuffingtonPost.com