UK recognizes Assange cannot be extradited to Sweden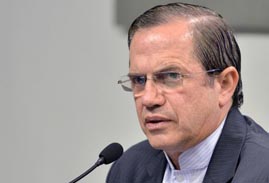 Ecuadorian Foreign Minister Ricardo Patiño [left] met with UK Foreign Secretary William Hague during the UN General Assembly. Patiño says that Britain now recognizes that due to Assange's asylum status with Ecuador, he cannot be extradited to Sweden.

Patiño and Hague met on the sidelines of the UN General Assembly on Thursday. A summary of the talks held between the two officials is that Patiño says he has received written confirmation from Britain that the country recognizes the validity of its 1880 extradition treaty with Ecuador. Under this agreement a person, like Assange, who has been granted political asylum in Ecuador, cannot be extradited to a third country.

However he did state that high-level talks will continue as the UK is still apparently determined to find a diplomatic way to do so.

During the meeting, Patiño reminded Hague that Assange is currently under Ecuador's jurisdiction and asserted his country's determination to protect him. Both ministers have agreed to hold a further meeting, but in the meantime Hague has requested Patiño and the Ecuador government to "study closely" the UK extradition law, which he said provides "extensive human rights safeguards."

A UK Foreign Office spokesman said that, "The concept of 'diplomatic asylum,' while well-established in Latin America, did not feature in UK law."

"On the case of Mr. Julian Assange, the foreign secretary told Minister Patiño that the UK was under an obligation to extradite Mr. Assange to Sweden," he added.

[...]

Read the full article at: digitaljournal.com





---
Julian Assange: Hague says Britain is obliged to extradite WikiLeaks founder
The British government stressed to Ecuador today that it was under an obligation to extradite the WikiLeaks founder Julian Assange to Sweden, where he faces questioning over sex crimes allegations.

The foreign secretary, William Hague, held talks with Ecuador's foreign minister, Ricardo Patino, in New York, where ministers have gathered this week for a United Nations meeting.

Assange has been in Ecuador's London embassy since June as part of his bid to avoid extradition to Sweden. He fears being sent to the United States if he travels to Sweden, to face interrogation over the whistle-blowing website.

He has been granted political asylum by Ecuador but faces arrest if he leaves the embassy after breaking his UK bail conditions.

The Foreign Office said: "The foreign secretary said he wanted to see close and productive bilateral relations between the UK and Ecuador, including in the areas of trade and investment, higher education, and counter-narcotics co-operation.

"On the case of Mr Julian Assange, the foreign secretary told Minister Patino that the UK was under an obligation to extradite Mr Assange to Sweden.

"The concept of 'diplomatic asylum', while well-established in Latin America, did not feature in UK law.

"The foreign secretary described the extensive human rights safeguards in UK extradition law. He requested the government of Ecuador to study these provisions closely in considering the way ahead.
Source: Guardian.co.uk