US scientists working on mind-controlled drones for military use
University researchers in Texas say they are designing a new type of drone – one that could be controlled simply and only with a soldier's mind.

If successful, the project would allow soldiers to command future drones in ways beyond simple navigational commands. While troops would be able to order a drone to "move left" and "move right," it would potentially enable them to command the vehicles to travel over specific geographic installations and send critical data back to their operators.

According to My San Antonio, the project is currently underway at the University of Texas at San Antonio, where graduate students recently demonstrated a hovering drone operated via a cell phone app while one researcher sat – his head covered in sensors – and focused intently on the unnamed aerial vehicles' activity.

While the goal of controlling vehicles by way of the mind is still ways off, the hope is that by studying the brain signals and magnetic waves captured from graduate student Mauricio Merino, the researchers will be able link the activity to specific commands that can eventually be received by an advanced drone.

These commands would be relayed by sophisticated electroencephalogram systems (EEG) that can process brain signals.

Once developed, mind-controlled drones would significantly reduce the amount of supplies that troops have to carry into combat zones, the chairman of the university's electrical and computer engineering department, Daniel Pack, believes.

"It becomes more burdensome to ask them to carry more things," he told My San Antonio. "You have to have a computer or a mechanism that you use to control the UAVs. But if you can do this without having them actually carry additional equipment … then you are helping our soldiers."

While the project is primarily funded by the Department of Defense and the Office of the Secretary of Defense, the researchers also think the technology will have important uses for those with disabilities.

"For people who don't have motor skills, for people in wheelchairs, this could be so helpful," graduate Prasanna Kolar said to the outlet.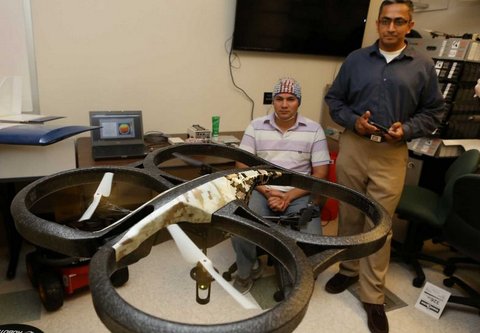 UTSA researchers seek to develop brain-operated drones





[...]

Read the full article at: blacklistednews.com




---
Technology used for telepathy and remote viewing