Vast Oceans of Water Trapped Beneath Earth's Mantle?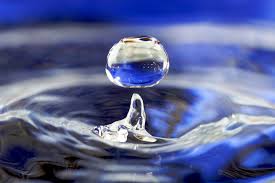 Water, necessity of life. We look all over the earth, and even reach into space in our search for water on other planets and satellites.

Now scientists are suggesting that vast amounts of water resources may be hidden right here, within the earth's mantle.

As reported by Nature World News:

Large amounts of ocean water could be transported through deep-sea fault zones in volumes much greater than previously believed, according to new research from the University of Liverpool, which focused on the subduction zone that led to the 2011 Tohoku earthquake in Japan.

The research supports the theory that there could be vast amounts of water buried deep beneath the Earth's mantle.

Understanding how much ocean water is delivered to the mantle is important because it helps explain how the mantle bows and arches and how it melts, which helps solidify theories on the origins of plate tectonics and how the continental crust was formed.

[...]Based on their research, University of Liverpool seismologists suggest that over the age of the Earth, the Japan subduction zone alone could transport as much as three and a half times the water contained in all of Earth's oceans to the mantle. Some of this water gets cycled back out of the mantle, but some gets trapped deep within it.

[...]"These hydrated fault zones can carry large amounts of water, suggesting that subduction zones carry much more water from the ocean down to the mantle than has previously been suggested," Garth said. "This supports the theory that there are large amounts of water stored deep in the Earth."

In 2013 scientists discovered a pocket of water 1.5 miles below the earth's surface in Canada. It was reportedly 1.5 billion years old:

[...]Based on an analysis of the isotopes of natural gases in the water, scientists believe it to be the oldest isolated water ever studied, at least 1 billion years old and maybe as old as 2.64 billion, slightly younger than the rocks that encased it.* For maybe half as long as the Earth's entire existence, this water has been sealed away, unexposed to the atmosphere.

The next question: Is it drinkable? The answer: Not really, but a sip won't kill you. According to an interview in the Los Angeles Times, one of the paper's authors, Barbara Sherwood Lollar, has tasted it, and it was "terrible," she reports. "It is much saltier than seawater."


By Red Ice Creations




---

Tune into Red Ice Radio to hear more from guests on what ELSE may be hidden under the earth's surface:

Richard Sauder - Ayahuasca Visions, The AI Machine's Nuclear War on Humanity & Fuk-u-shima

Kathleen McErlain - Too Many Secrets, Humanity's Fight to Expose The Secret Underground Worlds

Richard Sauder - Underground Bases, Tunnels & Richard's Nuclear Missile Silo Protest

Kenn Thomas - JFK & The Maury Island UFO Incident, PROMIS Software & The Octopus

Stephen Ruback - Beware: the Aquarian Age, The Masculine & The Feminine

Peter Lindberg - The Mysterious Baltic Sea Object

Antoine Gigal - Pyramids, Ancient Egypt, Boat Pits & The Flood