World's oldest fossils: Researchers claim bacteria existed on Earth before OXYGEN
Fossils of bacteria found in Australia are the oldest yet discovered anywhere on Earth and predate the formation of oxygen on our planet, new research claims.

The fossils found in north-west Australia's Pilbara region are thought to be nearly 3.5billion years old and caused by bacteria which existed just one billion years after the Earth formed.

Now Old Dominion University's Nora Noffke, one of the researchers who worked on the project, says the discovery could help inform Mars rover Curiosity's searches for traces of life on the Red Planet.

She told the Washington Post the bacteria traces 'are the oldest fossils ever described. Those are our oldest ancestors.'

The fossils are spider web-like imprints on the surfaces of sandstone which are thought to have been sculpted by once-living organisms interacting with sediment.

In a process that still takes place in some parts of the world today, thick mats of bacteria are thought to have trapped and glued together sand particles beneath them and protected them from erosion.

Sand stuck in this way gradually turned into rock with its particular texture shaped by the living organism that once covered it.

The ancient rocks in Western Australia's Pilbara region are some of the oldest anywhere on earth. Once shoreline, the sedimentary rocks in the area piled up billions of years ago and are now exposed for examination.

Scientists have discovered older rocks, but Professor Noffke told U.S. News that those rocks have eroded to the point traces of life are all but impossible to find.

'I can confidently say the structures we're working on cannot be found on older rocks — until now, there has been bothing that is this well preserved,' she said.

'There are some that are much older, but they experience metamorphosis - anything that's on them has been overprinted and it's difficult to reconstruct what was there.'

The patterns found by Professor Noffke and her colleagues are ridges which criss-cross the rocks like strands in a spider's web, hinting that primitive bacteria linked up in sprawling networks.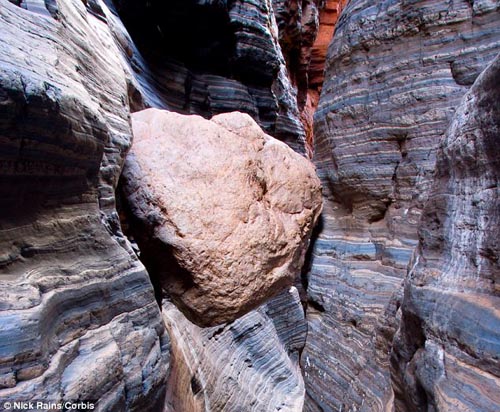 .A boulder trapped in the Knox Gorge, Pilbara: Researchers examining sedimentary rocks in this region of Western Australia claim they have found the world's oldest fossils which date back 3.5billion years.



[...]

Read the full article at: dailymail.co.uk