Yet Another Oil Spill In Alberta
Crews were scrambling Friday to contain and clean up a pipeline spill that is believed to have sent up to 475,000 litres of crude oil flowing into a rain-swollen Red Deer River system in west-central Alberta.

Plains Midstream Canada says when the spill was discovered Thursday night it closed off its network of pipelines in the area.

Tracey McCrimmon, executive director of a community group that works with the industry, said it was rural homeowners who first raised the alarm about an oil pipeline spill.

She said people who live just north of Sundre phoned in reports Thursday night of smelling rotten eggs — the telltale odour of sour gas or sour oil.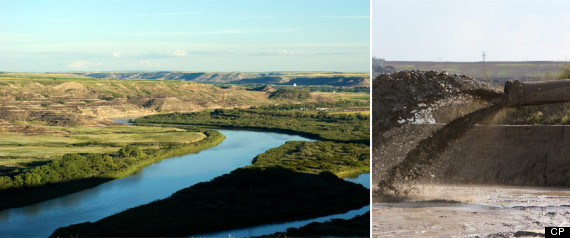 (Left) File photo of The Red Deer River, seen here running through Alberta Badlands formations near the town of Drumheller, Alta. (The Canadian Press Images/Larry MacDougal), and (right) oilsands tailings (sand and water) are pumped into a settling pond at Syncrude Canada's oilsands upgrader facility near Fort McMurray, Alberta. (CP PHOTO/Larry MacDougal)



[...]

Read the full article at: huffingtonpost.ca





---
Alberta residents angry after oil spills into nearby lake