Derailed Train Filled With Crude Oil Destroys Core of Quebec Town with Firey Blast, Spills Oil into River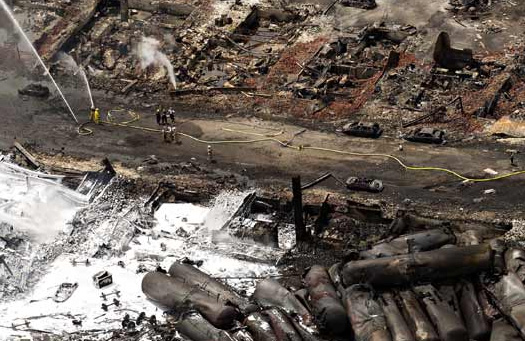 The official death toll has grown to five in Lac-Mégantic, Que., after a derailed train carrying crude oil exploded in the town's core, levelling buildings and forcing as many as 2,000 people from their homes.

Quebec provincial police said two more bodies were discovered Sunday morning, in addition to the three that were found the night before in the hardest-hit area in the centre of town.

A spokeswoman for the coroner's office said the bodies were found with advanced burns.



Police say about 40 people have been reported missing by immediate family members in the town of about 6,000 people, located roughly 250 kilometres east of Montreal.

The number of missing people continues to fluctuate, as some of those reported missing are reunited with their families.

Police say will continue to search the area for victims and officials fear the death toll will rise in the days to come.

[...]

Read the full article at: cbc.ca