2012 Olympics: Fanfare and Symbolism of the Closing Ceremonies
The audience at the Olympics closing ceremony were treated to a taste of Britain's comedy heritage tonight when Monty Python star Eric Idle appeared onstage.

The actor led the 80,000-strong crowd through a singalong rendition of Always Look on the Bright Side of Life, while a bizarre troupe of dancers performed around him.

They included jigging Morris Dancers, a choir of rugby players and skating nuns and when the song finished, a human cannonball was launched across the stadium.

He was followed by a performance by pop icons Queen, including vocals from Jessie J and from beyond the grave, by the band's late singer Freddie Mercury.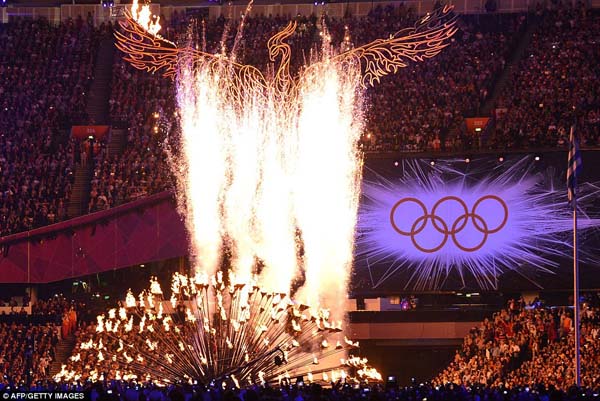 As the flames in the Olympic cauldron get weaker, the phoenix flies higher over the crowd in the stadium below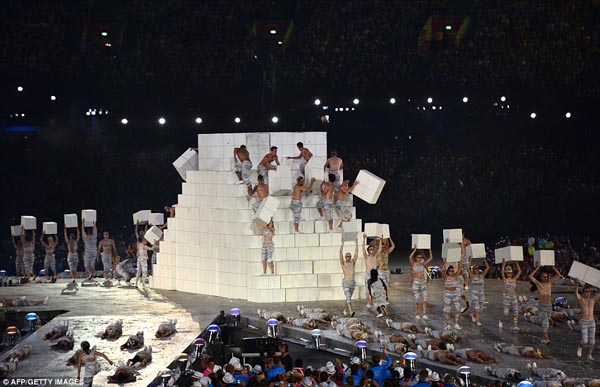 Artists arrange white boxes within the Olympic Stadium. The boxes represent the 303 events that took place during London 2012. The boxes form a pyramid.



[...]





---


[RIC Ed Note: The festivities also included a phoenix rising from the ashes of the Olympic torch, a step pyramid being assembled before the crowd, golden goddesses parading, the undead, iconic deceased singers rising from the grave, and more...]

For the full article and photo gallery, visit: dailymail.co.uk