Anders Behring Breivik's "Manifesto Video": Knights Templar 2083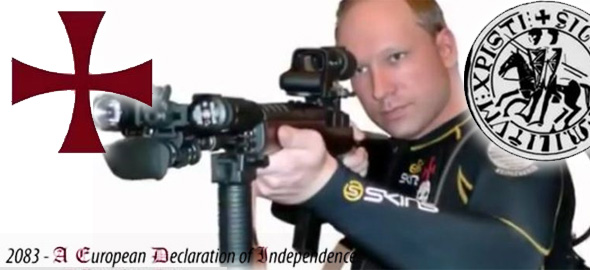 TV2 Norway have reported that a video has been uploaded to YouTube on July 22, containing a "manifesto" by the Norwegian suspect Anders Behring Breivik who is accused of being behind the explosion in Oslo who killed 7 people, and the shootings in Utøya that killed about 90 youth.

The video is calling for conservatives to "embrace martyrdom."

It's not confirmed yet, but the video is allegedly made by Anders Behring Breivi. The YouTube user "BerwickAndrew" appears to have posted the video originally, it's believed the name is an anglicized version of Anders Breivik.

This video is called "Knights Templar 2083".

Here it is:



Update: YouTube keeps deleting the video. Search YouTube here if it's taken down again.

Well, well, well ...this is getting more and more interesting as more details are being revealed about the motives of the accused.

Yesterday we detailed that Anders Behring Breivik is a freemason.

He is a member of the John lodge St. Olaus TD Three pillars of the Norwegian Masonic Order. He has 3 degree status, where the peak is ten degrees.

"We have no way to express an opinion on individuals or incidents related to any members", a spokesman of the Norwegian Freemasons order Helge Qvigstad told Dagbladet.

It's also been reported that on what appears to be Breivik's Facebook profile page he has mentioned his favorite books: George Orwell's "1984″ and Kafka's "process".

How convenient!

Anders is fascinated by the Knights Templar and martyrs like Jacques De Molay. According to the video, he is a supporter of what only can be called a "new crusade" against Islam.

Even if Anders really is behind the video. It's obvious that this is an attempt to further polarize and stir up "cultural" tensions in a European that is struggling with multiculturalism and immigration.

These are concerns that have been made recently by Angela Merkel, Nicolas Sarkozy and David Cameron.

What are they up to?

How is this tragedy going to be used by the powers?

If Anders Behring Breivik truly is "anti-Islam", behind these acts and is calling for a new crusade - why would he kill over 90 young Norwegians?

It just doesn't make sense.

If he believes in nationalism and European ideals - why would he bomb his own country's capital?

How is killing "fellow Europeans" helping to bring serious consideration to his ideas about European heritage and what he calls "destruction of Europe"?

It just doesn't make sense.

Understandably, he has been targeting the "left government" and aspiring young politicians in his own country - which he probably feels is a big part of the problem - but still, how is terrorism on his own soil going to help his cause?

Can "frustration" alone explain someone slaughtering over 90 young people?

I'm not suggesting that we can't appeal to rationality in this case, but it seems more plausible that he's been mind controlled or brain washed by someone who has a different agenda.

Anders has also allegedly authored a document manifesto. The "long version" of the video. It's over 1,500 pages. It can be downloaded here.