Carbon Dating Indicates the Bosnian Pyramid Built Over 10,000 Years Ago
As reported by Bosnian-Pyramid.com:

Radiocarbon dating confirmed: Bosnia's Moon Pyramid was built about ten thousand years ago!

Who says there are no pyramids in Bosnia? Radiocarbon dating method confirmed that the Bosnian Pyramid of the Moon was built about ten thousand years ago!


The Bosnian Pyramid of the Moon at nighfall.



SLAVONSKI BROD, CROATIA - Dr. Sam Osmanagic, one of the most controversial anthropologists of modern days, held in Slavonski Brod a lecture on the Bosnian Valley of the Pyramids.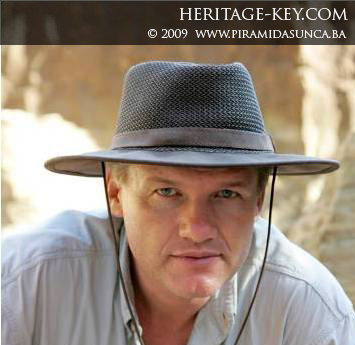 Principle Investigator Semir Sam Osmanagich discovered the pyramids, and led a four-year excavation project to uncover them. Image: Source


The research project of the Bosnian Valley of the Pyramids is the largest archaeological project in the world. Last year we were the most active archaeological site with 500 volunteers and 45 professional archaeologists coming from several countries (Italy, Spain, France, Hungary, Croatia, Malaysia etc.) - declared Dr. Sam Osmanagic. Over the past seven years we spent 340.000 working hours excavating the pyramids, and some 700 people from 42 countries/ six continents applied for positions as volunteers in 2011.

People from all over the world want to be part of the historical process of discovering the first European pyramids, which are also the largest in the world, said Dr. Osmanagic whose opposition felt silent after being confronted with a growing body of evidence.

Critics whom often ferociously attacked the research project in 2005 and 2006 seem completely withdrawn and its almost impossible to hear publicly anyone saying that the Bosnian pyramids are a natural phenomena.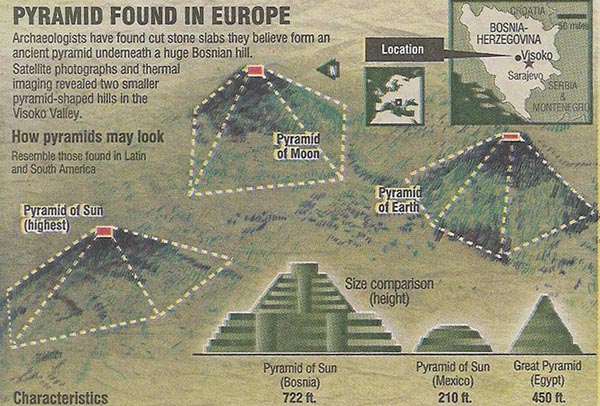 Image: Bosnian-Pyramid.com



Backed by experts from other countries like Italy, Russia and Egypt, who unanimously confirmed the existence of the Bosnian pyramids, the attacks of those who spoke out against the project seem to have ceased - Osmanagic said.

The hardheaded pyramid researcher got these days yet another important confirmation, whether anyone likes it or not. During the past years Osmanagic feverishly sought some organic material on the pyramids for radiocarbon dating in order to be able to determine the approximate age of the structures.

Finally, the organic material was found during summer excavations 2010 at Sonda 20 on Bosnia's Moon Pyramid. The organic remains were found in the surface layers of the stone blocks that had been uncovered and were sent afterwards to labs for radiocarbon dating at the Silesian University of Technology in Gliwice, Poland.

Radiocarbon dating showed the organic material to have an age of 10.350 years, which means the terrace of the pyramid has been built approx. 10.000 years ago. It completely changes our knowledge of European history and first advanced civilizations – Osmanagic said.

Article from: bosnian-pyramid.com


---



Video from: YouTube.com


---

Also tune into:

Sam Osmanagich - The Bosnian Pyramids Update: Pyramid Energy

Semir Osmanagic - The Bosnian Pyramids

Carmen Boulter - The Pyramid Code, Band of Peace, The Migration of the Nile & Cosmic Cycles

Klaus Dona - Unsolved Mysteries, Giants & Out of Place Artifacts

Patrick Heron - The Nephilim and the Pyramid of the Apocalypse

Joseph Davidovits - The Construction of the Pyramids & Reconstituted Limestone

Joseph Davidovits - Egyptian Building Techniques, The Israel Stele & Amenhotep, son of Hapu

Alex Putney - Human Resonance, Sacred Sites, Pyramids & Standing Waves

Andrew Collins - Beneath The Pyramids, Giza Cave System Rediscovered