Is Morgellon's Disease real, or imagined?
Valerie Swanson remembers it all started with a rash. Then loss of energy. Then blisters covering her whole body.
Then it got weird.

Strange fibers appeared to be growing out of her hands. And tiny black specks resembling seeds, she said, began appearing mysteriously on her wrists and fingers as she was washing dishes one day at her Vallejo home.

"It was terrifying," said Swanson, 60, adding she felt as though a plant had taken hold of her body and wouldn't let go.

That was a little more than a year ago, shortly before Swanson became convinced she had Morgellons disease after reading about a condition similar to hers on the Internet.

Problem is, the disease may not even exist. It could all be in her head.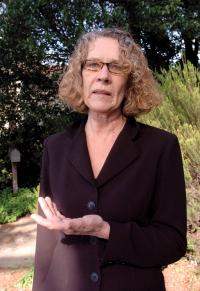 Valerie Swanson, left, has a mysterious ailment which leaves her fatigued and feverish, and sometimes manifests itself in strange fibers or growths emerging from her body. Sufferers refer to it as 'Morgellons disease,' which has yet to be confirmed as a disease by the CDC. (Mike Jory/Times-Herald) (Mike Jory/Times-Herald)

Most doctors, including dermatologists and psychiatrists, think Morgellons -- the name given in 2002 to the proposed condition -- is a purely psychological disorder. They insist sufferers are imagining the symptoms and scratching lesions into their own skin, similar to patients with delusions of bugs crawling on them.

Some experts believe the disease is a delusion that's become more prominent in recent years due to information spread through the Internet.

But some researchers -- and the federal government -- are keeping an open mind about Morgellons, currently referred to by the U.S. Centers for Disease Control and Prevention as "unexplained dermopathy."

Results from a CDC investigation launched in 2006 are still pending.

That's left Swanson and other self-diagnosed Morgellons sufferers with little relief, often wondering if they're insane or suffering from an infectious disease that hasn't been confirmed.
"They can't help you if they don't know what it is," said Swanson, whose symptoms have puzzled a string of doctors since April 2008. "Most doctors just think you're crazy, because that's the closest thing."

Real or imagined, the disease has affected Swanson's life in ways all too real. She said she's stopped working, gone on disability, drained her savings, declared bankruptcy, lost her social life and is losing her home to foreclosure.

She used to be a real estate agent, selling homes in Napa while also working at a furniture store in Emeryville.

"I've lost everything," Swanson said. "I have to go somewhere, but I don't know where I am going. Plus I have no money."

She said her family has offered to help her buy a home in Sacramento.

She's afraid to let people in her home, fearing she may have a contagious disease.

"I can't have any social life. I don't want to be around anyone," said Swanson, who agreed to be interviewed at a Vallejo restaurant. "I don't want anybody to come over to my house."

Her family doctor initially thought she had a skin condition known as scabies. But when treatments didn't work, he told her she had a mysterious skin disease, and prescribed a tranquilizer to minimize her scratching.

Swanson then sought second opinions from doctors at University of California medical centers in San Francisco and Davis.

Dr. Sepideh Bagheri of the U.C. Davis Medical Center said she was unable to come up with a diagnosis after examining Swanson in July. A previous battery of tests at U.C. San Francisco could not find the cause of Swanson's symptoms.

Reached by phone, Bagheri said Swanson's skin lesions might go away "if she would stop picking at it."

Swanson, however, insists she hasn't been excessively scratching herself.

Is she going crazy? Are doctors taking her seriously? Swanson wonders.

One doctor who's not convinced she's crazy is her brother, Philip Swanson, a Dallas surgeon.

"You have something wrong with your body, you go see an expert, and they say you have a psychological condition," he said. "You go see another and get the same answer. And pretty soon, you begin to think nothing can be done and you must be crazy.

"There are lots and lots of people who describe the same physical findings," her brother added. "If you have people describing the same things, how could they be imagining it?"

That's the question that motivates the work of Dr. Randy Wymore, director of the Center for the Investigation of Morgellons Disease at Oklahoma State University in Stillwater.

"Very little is known about the disease," he said. "To the best of my knowledge, we are the only academic institution working on Morgellons."

Wymore's team is working on the first Morgellons case study for publication in a medical journal, which could help doctors diagnose or rule out Morgellons.

About 13,000 people -- from as far away as Hong Kong and Australia -- have registered on a Web site for self-reporting the disease. But since most of them have not been diagnosed, there is no way of knowing how many may actually have Morgellons.

"It could be a small percentage, or nearly 100 percent of those registered," Wymore said. "Again, keep in mind that these are all self-reported registrations."

The symptoms often include itching, burning sensations, slow-healing skin lesions and the presence of small fibers, black specks and sand-like granules. Neurological signs include muscle weakness, pins-and-needles, difficulty focusing thoughts, memory lapses and sometimes changes in behavior.

"There also seems to be a component of extreme fatigue," Wymore said.

Swanson said she has exhibited all these symptoms.

What might cause Morgellons remains a mystery. Theories have included environmental toxins, bacterial and fungal infections or worms or other parasites. But there has been little evidence to suspect any of those ideas over others.

Confusing things even more is the idea that the disease may have neurological side effects, perhaps causing some patients to hallucinate, some researchers say. That could lend credence to Morgellons being viewed as psychosis.

Swanson has her own theory: An unknown plant has attached itself to her body, and is spreading around her house. She said the plants resemble tiny tumbleweeds.

But when she submitted a sample to a U.C. Davis lab in July, the results raised more questions than they answered.

"(The lab) did find plant material in the specimens she had submitted, but there is nothing to say what the source of that is," Bagheri said. "It could be cotton."

So far, no doctor has suggested she see a psychiatrist, Swanson said. If they did, she said, she'd go.

She acknowledges the plant theory sounds like "science fiction." She said she knows she may be wrong.

"The frustrating thing is not knowing what's wrong with me," Swanson said.

Given the right circumstances, that could be enough to drive anyone crazy.

Article from: TimesHeraldOnline.com

---
Sofia Smallstorm - Chemtrails, Nanotechnology & The Artificial Environment (Subscription)