Italian archaeologists find lost Roman city of Altinum near Venice
The bustling harbour of Altinum near Venice was one of the richest cities of the Roman empire. But terrified by the impending invasion of the fearsome Germanic Emperor Attila the Hun, its inhabitants cut their losses and fled in AD452, leaving behind a ghost town of theatres, temples and basilicas.

Altinum was never reoccupied and gradually sunk into the ground. The city lived on in Venetian folk tales and historical artefacts but its exact position, size and wealth gradually faded into obscurity.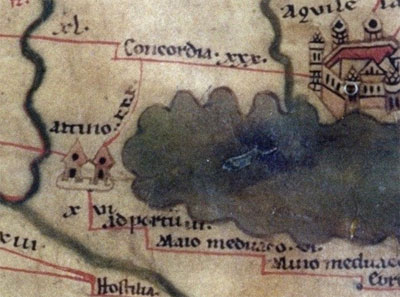 Ancient Map: EuroAtlas.net

Now, using aerial photography of the region, Italian archaeologists have not only located the city, but have produced a detailed map revealing its remarkably intact infrastructure and showing it to be slightly larger than Pompeii.

The abandonment of the city and its subsequent preservation makes it an archaeological time capsule, a unique find in Roman heritage. "It's extremely unusual for a town to go out of use like this and that is what makes it absolutely invaluable for achaeologists. It gives a full profile of what the town looked like without the imposition of modern infrastructure," said Dr Neil Christie, a specialist in the Roman empire at the University of Leicester.

The team behind the study located the ancient city by studying hundreds of aerial photographs of the region, mostly taken by private companies for cartography purposes.

In July 2007, during a particularly dry summer, crops were suffering from drought and were highly sensitive to the subsurface presence of stones, bricks or compacted soil. On the image taken by the mapping company Telespazio, the lighter crops indicated stonework, while the darker patches revealed depressed features such as pits and canals.

The team, reconstructing the town using the aerial images and knowledge of Roman architecture, was able to identify temples, theatres, a basilica, the marketplace and city walls as well as hundreds of smaller structures. Also visible is a large canal, which would have been used for the transportation of oils, wines and foreign luxuries inland to the Roman capital of Milan and other powerful cities such as Verona.

"Everything is just as it was. When we saw the picture we couldn't believe it," said Alessandro Fontana, an archaeologist at the University of Padua and a co-author of the paper, which is published today in the journal Science.

He added that as flights from Venice's San Marco airport fly directly above Altinum, it was surprising that no one had spotted the traces of the city before now.

The team behind the study hopes to carry out carefully planned excavations in the future, but is first collecting more aerial images. It is taking pictures every ten days, as different conditions will show up different features more clearly. By the end of 2009 the experts aim to have compiled all the data and produced an even more detailed map of Altinum.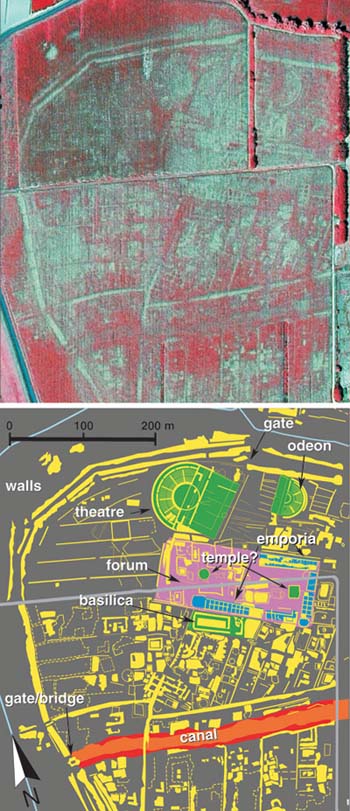 Behold! Aerial images of the ancient city of Altinum were processed by a team at the University of Padua to reveal the layout of a Roman trading center.

CREDIT: ANDREA NINFO ET AL., SCIENCE (31 JULY 2009)
TimesOnline.co.uk
---
Gary Biltcliffe - The Legacy of the Etruscans & The Mysterious Pelasgi
Gary Biltcliffe - The Spirit of Portland & The Spine of Albion [Subscription]
Daniel Tatman - The Bath Mystery's: Geomancy, Lay Lines & Organic/Fractal Architecture
Michael Tsarion - Irish Origins Part 1 - The West to East Movement of Civilization, Land Bridges & Age of Catastrophe