Lee Harvey Oswald's coffin goes on auction block
Presidential memorabilia collectors: Another piece of history has been dug up for your collection, but this one is a macabre memento.

The original coffin in which suspected Kennedy assassin Lee Harvey Oswald was buried will go on the block on Dec. 16, with bids starting at $1,000. Auction officials anticipate it will sell for much higher.

"A lot of people have been calling me off the hook, saying they intend to bid on it," Nate Sanders, founder of California-based Nate D. Sanders auction house, told msnbc.com.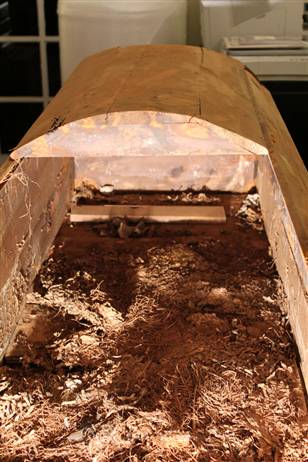 The coffin of suspected assassin of President John F. Kennedy, Lee Harvey Oswald, will go on the block on Dec. 16. Nate D. Sanders Auctions/Reuters


Oswald was arrested about an hour after President Kennedy was shot to death in Dallas on Nov. 22, 1963. He himself was shot two days later, and was never brought to trial.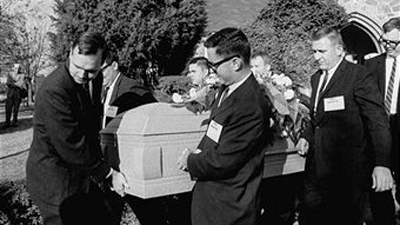 The coffin of Lee Harvey Oswald being carried to the gravesite.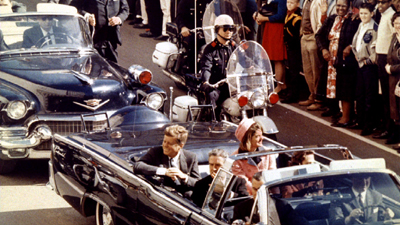 President Kennedy and his wife, Jackie, minutes before his assassination.



Oswald was buried in the casket until 1981, when a legal dispute between his widow and brother led to an exhumation.
"We got a call from the funeral home that this was a coffin that Mr. Oswald's brother had disposed of after Lee Harvey was exhumed. I never expected that call, but I got it," Sanders said. His auction house is one of the best-known for JFK assassination memorabilia and other historical collectibles, he said.

The Los Angeles auction will also include embalming instruments that were used on Oswald, among other items.

"We have his first death certificate," Sanders said. "I don't think it's ever been seen. It's handwritten, whereas the death certificate that's legendary is typed. We have the table that Oswald's body was on. We have the funeral register. We have anything that came with that day in history."

A section of the seat from the car Kennedy was in when he died will also be auctioned off, the BBC reported.

Conspiracy theories have circulated about who killed Kennedy and why Oswald was shot dead. One theory, that a lookalike Soviet agent stole Oswald's identity to carry out the assassination, led to Oswald's 1981 exhumation. Once it was confirmed the body was in fact his, Oswald was buried again in Shannon Rose Hill Memorial Park in Fort Worth, Texas, this time in a new casket.

His original coffin had extensive water damage, the auction house's website said. It will be accompanied by a letter of authenticity by funeral director Allen Baumgardner, who assisted at the original embalming of Lee Harvey Oswald, the site said.

Article from: msnbc.msn.com


---


Bill Hicks - JFK

Video from: YouTube.com