Media Reports "580 attacks" on Invader Centers
A new secret police report leaked to the far-left German media has revealed that there have been 580 attacks on invader centers in Germany in the first three-quarters of this year, up from "only" 198 for all of the previous year.

The report appeared as yet another attack, this time unsuccessful, was reported from Ludwigshafen overnight.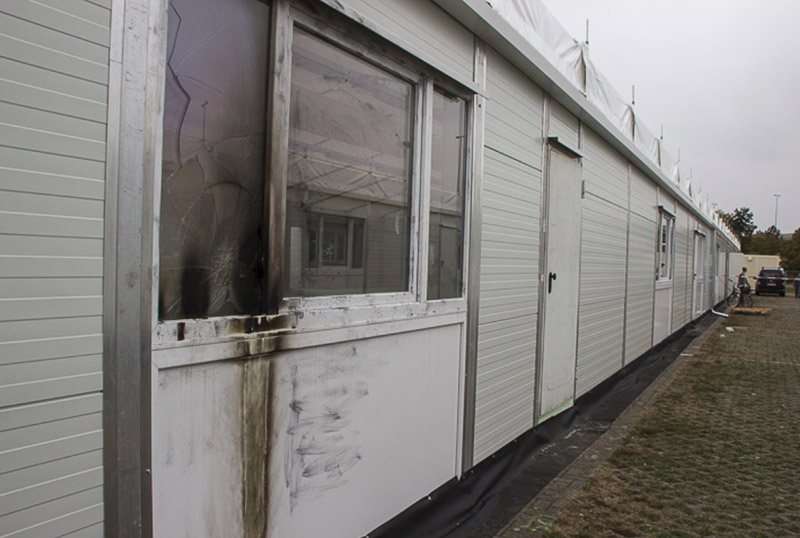 The unsuccessful attack on the invader center in Ludwigshafen.



According to Police in Ludwigshafen am Rhein—a city in Rhineland-Palatinate, located on the Rhine river opposite Mannheim—a planned invader center at the Messplatz was slightly damaged after an incendiary device failed to detonate properly after being thrown at the buildings.

Damage was estimated at about €2,000. The city council had earlier reported that the buildings were going to house 240 invaders for "up to two years." The damage inflicted in the attack was not serious and the first invaders will be moved in as planned on November 2.

A report in the far-left Spiegel magazine, quoting a Bundeskriminalamt (BKA, Federal Criminal Police Office) report, gave slightly different statistics, and said that the number of attacks on invader accommodation had increased to a total of 505 in the first three quarters 2015. Of these, the BKA report said, at least 461 cases have been classified as "politically motivated."

The extent of the increase over the same period for the previous year is marked, the BKA report said. In all of 2014, there were "only" 177 attacks, in 2011 there were "only" 18.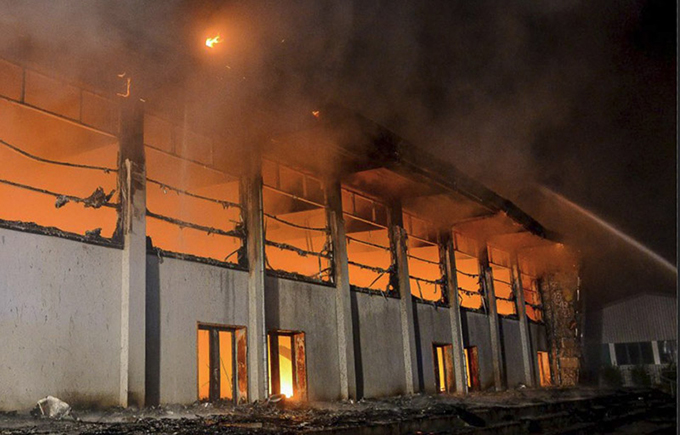 An earlier successful attack in Brandenburg.



The BKA report also revealed that most of the attacks (121) occurred in North Rhine-Westphalia. The majority of recorded offenses were classed as "criminal damage" (147), followed by "propaganda" (97), "sedition" (61), assault (29), and arson (28).

The BKA report said that its analysis of the trends indicated that "future attacks could be more directed against people" rather than buildings.

"In particular, politicians and accommodation operators could fall into the spectrum of possible targets," the BKA said. Those at risk include those who are financially benefitting from providing the invader facilities.

The BKA report went on to point out that the invasion of Germany by "asylum seekers" was providing an "ideological consensus" among the divided "right wing," and that this was also providing a unifying factor in the "establishment political spectrum" as well. This in turn, the BKA said, was "increasing [right wing] mobilization possibilities."

To date, however, no direct relationship between mass anti-invader demonstrations and physical attacks on invader centers could be made, the report continued. However, it is possible, the BKA added, that "public incitement can develop a catalysing effect."

So far, the BKA have identified some 228 suspects in the attacks. They are almost always males between the ages of 18 and 35 years. Of concern to the authorities was the fact that two-thirds of these suspects had no prior involvement with any "right wing" activities, and so far only a minority of the suspects could concretely be linked to any existing "right wing scene." ("Scene" is the peculiar German parlance for a specific political spectrum of activity.)

However, the BKA said there is no evidence that the attacks are commissioned or controlled—in other words, they are largely impromptu "lone wolf" attacks.

"The increase of attacks on refugee homes is worrisome," the chairman of the Federal German Police (BDK), André Schulz, told the Spiegel in his reaction. "The Federal authorities fear that as the numbers of refugees increase, so will the number of attacks," he said.

A report in Die Zeit newspaper said that three German patriots were arrested this week on Wednesday in Bamberg, Bavaria, during an intelligence-driven search of twelve properties.

The arrests were linked to an interception of a large shipment of fireworks from Eastern Europe to one of the accused. The police claimed that these "were not considered to be fireworks in the traditional sense, but so-called 'ball bombs' that if let off in confined areas, could be deadly."

In addition, the investigators presented seized weapons, including swords, a crossbow, a gun, and a machine gun.

Source: newobserveronline.com