US dispatches 3 warships to occupied Palestine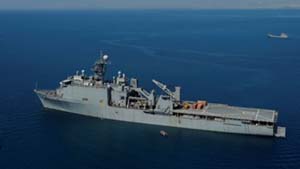 The United States has dispatched three warships to the occupied Palestinian territories to evacuate US citizens caught up in the Israel-Gaza conflict in the event of need.

The three ships, USS Iwo Jima, the USS New York and the USS Gunston Hall are returning from Gibraltar to eastern Mediterranean to remain on standby to assist Americans leaving the occupied lands, according to two US officials.


The officials stressed the evacuation remains a remote possibility and the Obama administration has no plans for the evacuation of the US citizens for the time being.


"This is due diligence. It is better to be prepared should there be a need," one official said.

The American officials reiterated that the US citizens willing to leave the volatile region can use commercial flights.

On Monday, US President Barack Obama held a telephone conversation with Egyptian President Mohamed Morsi and Israeli Prime Minister Benjamin Netanyahu to explore the possibility of reaching an agreement on a ceasefire.

Israeli airstrikes and shelling have left at least 109 Palestinians dead and over 900 others injured since November 14. Some of the injured are in critical condition.

The Israeli military said on Monday that it had conducted more than 1,350 aerial and sea attacks against the Gaza Strip since the beginning of its aggression on the coastal enclave.

Article from: presstv.ir