Vatican 'Cash Only', Blocks Credit Cards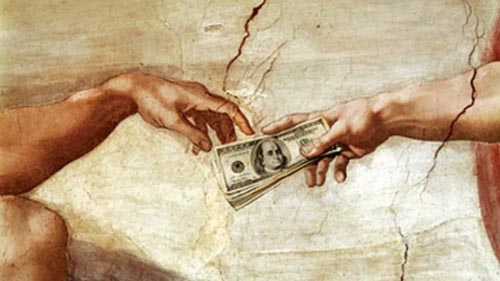 In God We Trust - All Others Pay Cash

A money laundering crackdown by the Bank of Italy has caused the Vatican to abruptly go to 'cash only' for tourists. Credit card and debit card purchases are being declined, and on-site cash machines have been shut down or removed.

This is apparently in an attempt to hold the notorious Vatican Bank accountable to their inadequate money-laundering controls.

The Globe and Mail reports:


Some commentators have mused on the paradox of telling people to use cash when trying to monitor money-laundering activities. The Vatican has played down the episode, passing it off as a temporary glitch after the expiration of an agreement between some Holy See offices and the current provider of its electronic point-of-sale services.

The Vatican spokesman, Federico Lombardi, told reporters this week that discussions with other providers were under way, and that the interruption of credit card and debit card sales "would be short-lived."

But the Bank of Italy's actions underscore larger concerns about the transparency of the Vatican's finances, something that Pope Benedict XVI has promised to fix.

The Bank of Italy – which monitors the activities of Italian banking institutions, even in foreign states – did not issue a formal statement. But financial experts said the bank's decision reflected concrete concerns over banking and financial legislation at Vatican City state, as well as an inadequate system of independent supervision.

While the Holy See has traditionally been tight-lipped about the dealings of its primary financial institution, the Institute for Works of Religion, also known as the Vatican Bank, the Vatican has worked in recent years to comply with international transparency and money-laundering standards, with mixed results.


From EuroNews:


The cash-only measurements come after implications of money laundering and scandal have shaken the Vatican Bank (Institute for Works of Religion), including the dismissal of the former Director, Ettore Gotti Tedeschi. This, plus countless child abuse investigations, and the Pope's personal butler leaking papers which allegedly highlighted corruption, has left the Vatican reeling and struggling to secure the power and influence it once maintained.

By Elizabeth Leafloor, RedIceCreations.com





---


To hear more indepth discussion of the history of the Vatican Bank, murder, coverup and corruption, tune into Red Ice Radio:

Philp Willan - The Last Supper, Vatican, Masons, P2, Mafia & the Murder of Roberto Calvi

William Dean A. Garner - Hour 1 - World Control, Gold & The Jesuits

Tom Horn - Hour 1 - Petrus Romanus: The Final Pope

Eric Phelps - Vatican Assassins

Santos Bonacci - Roman Ecclesiastical Law & Sovereignty

Top Image: Gloria.tv