13 years ago this man was accused of abusing 18 girls in Rotherham - so why are police only NOW acting on the claims?
Comment: As this story finally is getting more and more coverage, let's expose these sick perverts for what they are and get to the root of the problem that enabled horrors like this to not only go unnoticed for such a long time, but also to the heart of why people in law and government denied it and decided to knowingly look the other way. Let's break the climate of fear that caused people not to acknowledged the reality of the problem and dismantle the issues that stood in the way of these young girls getting the help they needed.



This is the man named as an alleged serial child abuser 13 years ago by victims of the Rotherham grooming scandal.

Yet despite being accused of vile crimes by 18 young girls, Arshid Hussain was never questioned by police.

Now, though, officers are investigating Hussain, who these days is confined to a wheelchair following a shooting.

The girls, some as young as 12, all allegedly named him as their 'boyfriend' in interviews with council workers in 2001.

But Hussain was not questioned about the allegations and police are only investigating the 39-year-old father in the wake of last week's report into the Rotherham scandal by Professor Alexis Jay. Yesterday one alleged victim said it was 'unbelievable' young girls had not been protected.

Katie – not her real name – got into a relationship with the violent man she knew as 'Big Ash' when she was 14 and he was 24.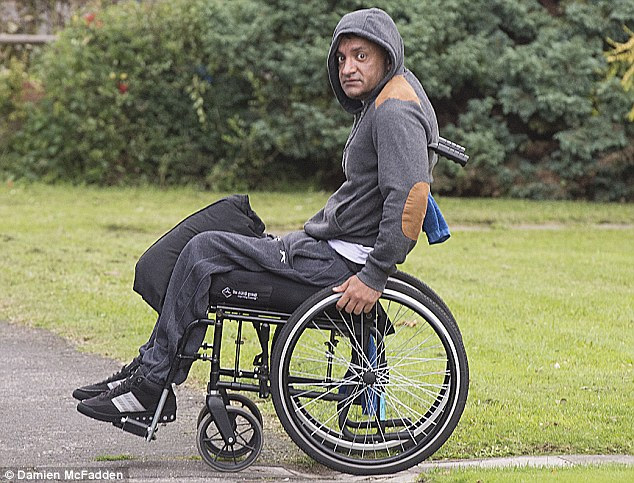 Oh my gods "a minority" in a wheel chair... for gods sake hasn't he been through enough!?

She claimed he was controlling and aggressive but police dismissed her concerns and those of her parents. They did not question him even after she made an official statement. She said: 'I just think it is disgraceful. It wasn't just me, there were so many of us and nothing was ever done.'

For two years she believed she was in love with Hussain, who had been married twice by the time she met him.

Her parents did everything they could to stop the relationship. They even put her into care in a bid to separate them – but carers openly allowed him to see her and she twice became pregnant by him.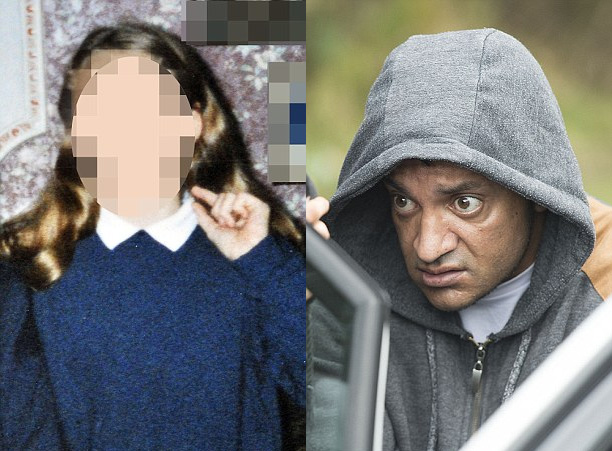 Victim: Katie (left), not her real name, thought she was in love with 'Big Ash' (right) when she was just 14



She went to police aged 16 after realising she 'couldn't take' any more, but said she was treated with derision.

On one occasion, she claimed, she called police saying she was scared because Hussain was sat outside her house in his car but was told because she lived on a main road he was allowed to be there.

Katie said: 'He should have been arrested and questioned and taken to court. To not even question him is just unbelievable.'

The former deputy leader of Rotherham Council, Jahangir Akhtar, is a cousin of Hussain and lives a few doors from his family home.

Mr Akhtar was accused in a report in The Times last year of helping to arrange a deal where Hussain returned one of his young alleged victims who had gone missing from home to police.

Mr Akhtar has denied protecting Hussain or knowing about any inappropriate relationships. Hussain was named as a 'boyfriend' by up to 18 girls who spoke to social workers as part of the Risky Business outreach group, aimed at youngsters who were at risk of being lured into prostitution.

The council-funded project, which has since been absorbed into the council's safeguarding team, allegedly passed his name to police in 2001. Professor Jay's report said Risky Business was often the only agency to take victims seriously but was 'too often seen as something of a nuisance, particularly by children's social care'.

Hussain was shot in the stomach in 2005 and now uses a wheelchair. He and his wife Fatima moved to a council bungalow near Goole, East Yorkshire, around a year ago.

Hussain refused to speak to the Mail and his solicitor Riyaz Shaikh did not respond to repeated requests for comment about the allegations. South Yorkshire Police said: 'A number of investigations looking at historical sexual offences in Rotherham are currently ongoing.

'These are large-scale investigations and are very much live and dynamic. We would be compromising those investigations if we were to provide any details at this stage.'

More apologies but South Yourkshire Crime Tsar Still Won't Quit

Crime tsar Shaun Wright defiantly repeated his refusal to quit yesterday in the wake of the Rotherham grooming scandal.

The South Yorkshire Police and Crime Commissioner insisted he will complete his term of office – but announced that he will not seek re-election to the £85,000-a-year post in 2016.

Mr Wright, Rotherham Council cabinet member for children's services between 2005 and 2010, apologised again for his role in the 'systematic failure' which allowed the scandal to go undetected for so long, adding: 'I wish I knew then what I do now.'

The 46-year-old has faced calls to step down from David Cameron, Theresa May and the Labour Party, and faces questioning by the Commons home affairs select committee over the scandal in the next few days.

He had refused interviews in the days after Professor Jay's damning report but broke his silence to tell the Mail: 'If I stepped down now, it would take two months to elect a successor and a by-election will cost £1.5million.

'Somebody will be elected without the knowledge I have. I came into public life to make a difference and I am still in a position where I can make that difference.

'I genuinely think I am the best person to take this forward. When I took over, there were just two or three officers working on child sexual exploitation. There are now 50.'

Source: dailymail.co.uk


Victims of Pakistani sexual abusers were nearly all white: pic.twitter.com/DpmXWOUOai #Rotherham #RotherhamAbuse @timothy_stanley

— HBD Bibliography (@HBDBibliography) August 27, 2014
pakistanis 3% of pop of #Rotherham (2011) but approaching 100% of groomers http://t.co/UN9TuPvJNA over representation? (cc @timothy_stanley)

— hbd chick (@hbdchick) August 26, 2014