A long-lost piece of King Tut
"What happens when you mix a piece of ancient mummy with your own blood?"
- Jo Marchant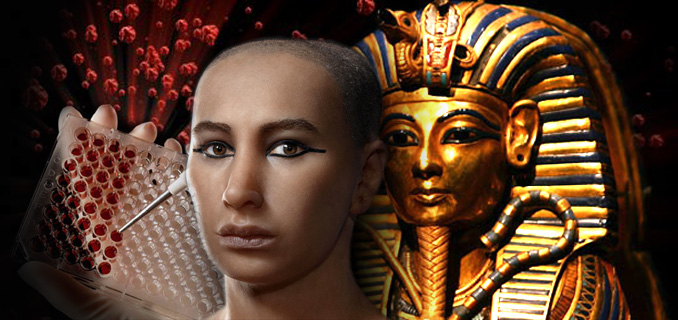 King Tutankhamun is famously the only Egyptian pharaoh who still occupies his original tomb in the Valley of the Kings, and since 2007 his mummy has been proudly displayed in a smart, glass case.

What's less well known, however, is that this isn't the whole King Tut: a tiny piece of his mummy was removed in 1968 and flown to Liverpool. When researching my book about Tutankhamun's mummy, The Shadow King, I couldn't resist tracking it down.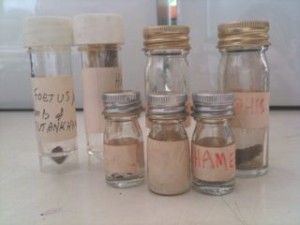 These pieces of royal mummies including Tutankhamun (bottom right), are sitting in a drawer in Liverpool

The man who took this royal morsel was Ronald Harrison, anatomy professor at Liverpool University, UK, who was leading a project to X-ray the mummy in an attempt to determine the king's cause of death. He was also interested in whether Tutankhamun was related to a mysterious royal mummy that had been found – dripping with gold but with the name scratched from its coffin – in a nearby tomb.

A few years before, Harrison removed a toe from this mummy (dubbed "KV55" after the tomb in which it was found). In what was groundbreaking work for the time, his Liverpool colleague, a young postdoc called Robert Connolly, used it to work out the mummy's blood group.

Repeating the trick on Tutankhamun might reveal whether the two mummies were related. Harrison scraped off a piece of skin from Tut's back, packed it into an envelope, and took it home with him.

But Connolly was dismayed when he saw the sample. To determine the blood group of a human sample required a gram of tissue, about the size of a sugar lump. The Tut sample was just 10 milligrams – a hundredth of what Connolly needed.

So he came up with an ingenious idea. He knew that the antigens that determine a person's blood group can be persuaded to attach themselves to red blood cells, if you mix the two together. He decided to stick the antigens from Tutankhamun's skin onto modern human blood cells, to give himself a larger sample to test. In effect, he would bring the pharaoh's blood group back to life.

It sounds simple, but it took months to make it work. Connolly himself was blood group O, meaning that his own cells would make the perfect clean slate for a mummy's ancient molecules. He tried out his idea on an anonymous mummy held at the university. In an experiment that sounds like the plot for a horror film, Connolly took a tissue sample from the mummy, purified the antigens from it, and mixed them with his own blood.

[...]

Read the full article at: jomarchant.com




---
The Shadow King, by Jo Marchant