A Thousand Meter Long "9" Found in the Barents Sea, North of Norway
Note, this article is translated by Google Translate and been slightly touched up. It's not a perfect translation.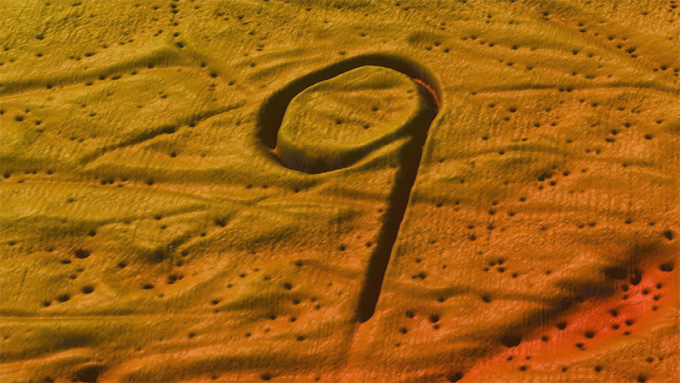 It looks like the number nine, it's about a thousand meters long (3280 feet), 60 meters wide (196 feet) and an 8 meter deep (26 feet). The character is one of many signs at the bottom of the Barents Sea, north of Norway.

Just 40 km from the Norwegian mainland, we find a number of mysterious clues and signatures of many different characters. "You could have some fun an find different characters on the bottom of the ocean floor. We have seen hearts, shapes similar to animals, arabic characters, or something that looks like an unreadable doctor signature," says Hanne Hodnesdal, project for mapping program MARANO. He continues, "most significant is probably the great "9," situated at about 250 meters deep in the ocean northeast of Vadsø."

"The patterns are formed by icebergs," oceanographer and glacier expert Lilja Run Bjarnadottir from the Geological Survey - said to VG yesterday.

This is evidence of icebergs. They were probably formed at the end of the last ice age, about ten thousand years ago. Glaciers are separating from glaciers and been led by currents and wind. Plowing grooves are then formed in the ocean floor. The bottom is soft - it consists mostly of fine-grained sediments, mainly gravel containing clay.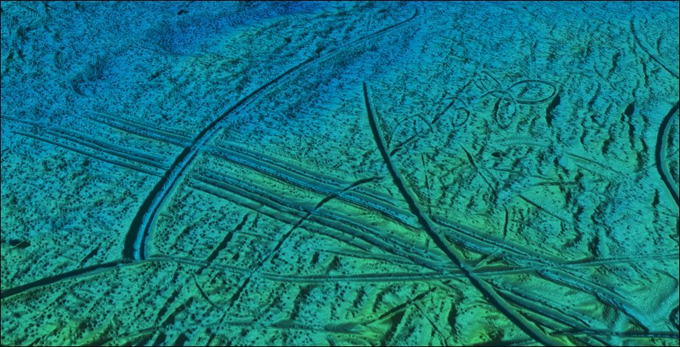 Hodnesdal says that nine-figure is about one thousand meter wide . - If you imagine that it was written with a pen, the pen would be sixty meters wide and the character is about eight meters into the bottom mass, she explains.

More background: Did giant tracks on the seabed? (not translated).

Norwegian economic zone
After many decades of strife could the Stoltenberg government, the then Foreign Minister Jonas Gahr Støre at the head, celebrate clarification about the Norwegian economic zone in the Barents Sea . An area the size of almost half of southern Norway - shaped like a huge arrowhead northeast of Vadsø - was suddenly a new piece Norway - offshore.

Soon afterwards enough money was allocated to make a full assessment of the area. - Yes , we knew nothing about this when the government allocated money for exploration of the area two years ago.

We had expected to find a relatively flat bottom area, says Hodnesdal to VG. With high-resolution lens the bottom was meticulously mapped. This is now the best mapped area, at least on the Norwegian side of the Barents Sea.

Terrain Model Hanne Hodnesdal think it is easy to distinguish between the trawl tracks and glacial traces in the bottom masses: "Trawl tracks will be so small that they will not appear. This mapping is done using pulses from a surface vessel, and these are used to create an accurate terrain model of the seabed with a resolution of 5x5 meters."

She believes that it is possible to interpret how the character has occurred to some extent: "Numerous icebergs have just a single pin that sticks down, and then makes a single track. Maybe they get stuck for a while, and turns around, and that's what we see the traces of. In some places they've also stopped in their tracks abruptly. We think then that part has broken off from the glacier, so it floats higher in the water.

Article from: vg.no