Again!? FBI foils supposed "planned terror attack"
Were it not so serious and have such weighty repercussions, all this FBI activity would be plain silly. How often are they going to 'foil' non existent terror plans, or set up terror plots only to intercede at the last minute, saving the day?

On Monday FBI officials say they disrupted a 'terrorist attack' in Minnesota, but gave zero details about any targets, or motives — they simply have paraded around the accused man who is alleged to have possessed explosives.

These actions are becoming SO commonplace that even mainstream media is being forced to question the agency's behaviour. Read: The New York Times Suggests "Terrorist Plots are Hatched by the F.B.I."

Are citizens really becoming radicalized in droves, or, as Red Ice Radio guest Patrick Henningsen suggests, are the security agencies 'addicted' to these manipulative operations and staged terror attacks to the benefit of governmental domestic policy and the security state?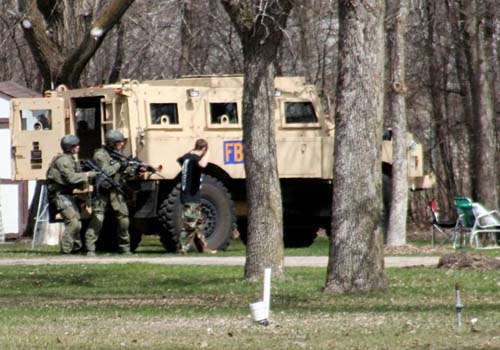 Amy Forliti for the Associated Press reports on this newest security-theater production: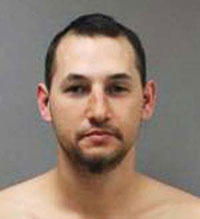 FBI officials said Monday they foiled a terrorist attack being planned in a small western Minnesota town, but they offered no details about the exact targets of the attack — or the motive of the man accused of having a cache of explosives and weapons in a mobile home.

The FBI said "the lives of several local residents were potentially saved" with the arrest of Buford Rogers, 24, who made his first appearance Monday in U.S. District Court in St. Paul on one count of being a felon in possession of a firearm.

Rogers, of Montevideo, was arrested Friday after authorities searched a mobile home he's associated with and found Molotov cocktails, suspected pipe bombs and firearms, according to a court affidavit.

"The FBI believed there was a terror attack in its planning stages, and we believe there would have been a localized terror attack, and that's why law enforcement moved quickly to execute the search warrant on Friday to arrest Mr. Rogers," FBI spokesman Kyle Loven said Monday.

He said the investigation is ongoing, and agents are looking at the case as one of domestic terrorism.

Loven said the investigation prohibits him from getting into details about Rogers' target, or his possible political or religious views, but he said the FBI is confident in calling this a "terror" situation. He also said the alleged target was believed to be in Montevideo, a city of about 5,000 people about 130 miles west of Minneapolis.

"We had information which indicated that Mr. Rogers was involved in a plot to conduct terror activities in and around the Montevideo area," he said. He declined to say whether Rogers was believed to be acting alone or as part of a group, or if other arrests were expected.

[...]

Dustin Rathbun, who lives next door, said he and other neighbors noticed a few months ago that the Rogers family was flying an upside-down flag from the side of their home. He said the owners of the park asked them to take it down.

Christopher, the Montevideo police chief, said officers were called to the Rogers' home about that flag.

"Residents were very upset by that. They felt it was really a disrespectful thing to the flag, but it's not illegal," Christopher said. He said the family told him the upside-down flag was a "sign of distress because the country is in distress." Source



By Elizabeth Leafloor, Red Ice Creations





---
Tune into Red Ice Radio:
Patrick Henningsen - Hour 1 - Boston Bombings & Third Way Control Mechanism
Holland Vandennieuwenhof & James Lane - Hour 1 - A Noble Lie: Oklahoma City 1995
Peter Dale Scott - Hour 1 - Norway's Massacre, Breivik & Deep Events
Kent Daniel Bentkowski - Anatomy Of A False-Flag Terror Attack
Jim Marrs - The Underwear Bomber, Chertoff, TSA, Socialism & Centralization
Joseph P. Farrell - Babylon's Banksters, Nazi International & Global Finanical Blackmail
James Evan Pilato - The Portland Patsy, Fake Terrorism, TSA & Starwhackers