Alabama Police Set Up Roadblocks To Take Blood, Saliva Samples of Drivers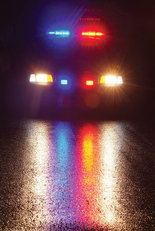 It is being revealed that recently in Alabama police blocked roads and detained volunteers to give samples of blood, breath and saliva samples. Some are raising red flags about the operation.

William Thornton of AL.com reports:

St. Clair and Bibb county authorities are confirming there were roadblocks at several locations in their counties Friday and Saturday asking for blood and DNA samples. However, the samples were voluntary and motorists were paid for them as part of a study, they said.

According to Lt. Freddie Turrentine of the St. Clair County Sheriff's Department, it isn't the first time such roadblocks have occurred in the area.

"They were here in 2007," said Turrentine, the supervisor in charge of the roadblocks, which took place in several locations in St. Clair County Friday night, early Saturday morning and Saturday night and early Sunday morning. "It's just with social media and Facebook now, word of it has just exploded."

Turrentine said the roadblocks were part of a study conducted by the Pacific Institute for Research and Evaluation, working with the National Highway Traffic Safety Administration. Source


Officials moved to stress the 'voluntary' nature of the roadblocks.

Thornton continues:

Here's how the road blocks worked, Turrentine said:

Off-duty St. Clair County deputies stopped cars at random at road block areas. The road blocks were marked with signs stating it was a paid survey. Cars stopped were asked for voluntary cooperation. Drivers were offered $10 for a mouth swab, and $50 for a blood test. If they refused, they were free to drive away. An official with the NHTSA said later that DNA was not collected as part of the survey, but only saliva and breath samples.


Can a roadblock be 'voluntary'?
Police physically detaining cars and drivers along a stretch of road at midnight and demanding a 'yes' or 'no' can hardly qualify as people 'volunteering'. Indeed, for many people it's difficult to say no to authority when put on the spot and presented with men in uniform and official vehicles. Further, because it was revealed to be part of a "nationwide study looking into how many drivers take the wheel with alcohol, prescription or illegal drugs in their systems", some residents might have been reluctant to opt-out, thinking they're implicating themselves.

In fact, that's exactly what happened in the case of Alabama resident Erika Skeivelas who said she "wasn't too comfortable with it."

It was a little bit after midnight, early Saturday morning, when Erika Skeivelas said she saw the flashing lights.

Her 8-year-old daughter, sitting next to her, thought it might be a wreck. Skeivelas, 32, said she was traveling on Alabama 34 toward her lake house to "check on the cats." She had worked until 10:30 that evening, but had stopped by the Hometown Block Party in downtown Pell City until it had ended.

What Skeivelas saw were two St. Clair County deputies cars, with flashing lights, stopping traffic on the highway. She was then asked to be part of what she was told would be a brief roadside survey. What she participated in was a national survey looking at blood alcohol and drug levels of drivers.

Skeivelas said she didn't think anything about taking part, because she hadn't been drinking. However, she said she didn't think it was clear the survey wasn't mandatory.

"I tend to do what an officer tells me to do," she said. "I wasn't too comfortable with it. I had a minor in the car. But the officer told me it was just a safety survey, so I said, 'OK, fine, whatever.' I don't like to blow smoke up the dragon's nostrils."

She was told to pull into a car wash at the side of the road.

[...]

The survey took about 10 minutes, 15 at the most she said. When she had parked beside the road, a man identified himself with the Pacific Institute for Research and Evaluation. He wore navy blue pants and a navy blue shirt with a reflector vest. He read her several questions: Do you drink and drive? Do you take over the counter medications? Do you take prescription medications? Do they have warning labels?

Later on, she was handed an iPad to answer about 25 questions, some of which were similar to ones she had already been asked.

"I didn't get the feeling these were certified people," she said. "They looked like they had been hired by a temp organization just to read the questions."

The man then asked her if she would be willing to undergo a breathalyzer test. After this and the iPad quiz, she was asked for a saliva sample, she said. She was then told, if she was willing, she could give a blood sample to a qualified phlebotomist. (Federal officials yesterday said samples gathered were not collecting DNA.)

"I figured OK, why not? I'm already out here anyway," she said. For the saliva sample, she was given $10 in cash. She received a $50 postal order for the blood sample, which she said has already cleared the bank. However, she said she never signed any consent forms. "I can say I definitely didn't sign anything," she said.

Skeivelas said, looking back, she wasn't entirely comfortable with the way the survey was conducted.

"As a citizen, I think at the end of the day in a way, it was somewhat entrapment," she said. "I don't think it felt all that voluntary. I mean, why didn't they ask people at Wal-Mart at 2 in the afternoon? What were they going to do if the deputies could clearly smell alcohol on somebody after midnight, because you know people have been drinking and are out on the road?" Source

By reports, this roadblock was less a scientific study and more a roadside dragnet used to identify (without probable cause or reasonable suspicion) and potentially arrest drunken drivers, mimicking 'sobriety' programs which occur all over North America. The legality of such programs is still in a grey area, and of continued debate.

READ: Sobriety Checkpoint Laws

Random Roadside Breath Testing Coming to Canada?

Police say taking blood samples will help curb drunk driving

Alarm over checkpoints and arbitrary roadside detentions has been growing, especially in light of the renewed debate of 'security' trumping personal rights in the western world. The boiling water is certainly scalding the public with the recent releases of the surveillance overreach by the NSA, the US government, and other intelligence agencies.

But there are few answers to the remaining questions involving what the study is for, what will be done with the data, or how frequent roadblocks of this nature will be.

Some might have no problem with the these roadblock pretend-'studies' in Alabama and other places since if you say 'no' you're apparently free to leave and so no harm, no foul. But let's hope the ability to say 'no' continues to be an option in these unchecked police operations.

Still others can make the argument that these operations act as a deterrent to drunk drivers. However if it's treated and announced as a 'voluntary scientific study' and not a sobriety program, how does that become a deterrent to those who might drink and drive? Is the goal is to scare everyone across the board into thinking that any roadblock for any implied reason may actually be a ruse to arrest you? Is constant fear and mistrust of authority really the solution to drunk driving?

These gradually implemented and questionable operations will only increase if not recognized for what they are. The laws that we value for our protection must be observed and upheld by the officials holding these roadblocks. And those laws which allow tyranny to creep into our lives must be struck down by vigilant citizens.

Let us not be boiled to death like the frog by inattention, fear or apathy.

By Elizabeth Leafloor , Red Ice Creations