Amazing Giant Megaliths in Russia: Natural or Man Made?
Newly found megalithic stones are causing excitement in alternative history circles, and, depending on the research that continues to be done on this, history may require a rewrite.

This most astounding discovery of a wall of granite stones has been found in the south Siberian mountains (Mount Shoria), and photographs are coming out showing gigantic blocks of granite, some approximated to weigh more than 3,000 tons. They're stacked neatly and precisely, 40 metres high, in what might be an unbelievable feat of human engineering. They look like a giant's building blocks and completely dwarf the researchers on site.

Michael Snyder from TheTruthWins.com rightly points out the inconvenient truths that mainstream history and archaeology would have to deal with if these stones are found to be man made: "According to the commonly accepted version of history, it would be impossible for ancient humans with very limited technology to accomplish such a thing. Could it be possible that there is much more to the history of this planet than we are being taught?"

The findings are from archaeologist John Jensen (blog) at Academia.edu, and the images from Valery Uvarov's Russian website.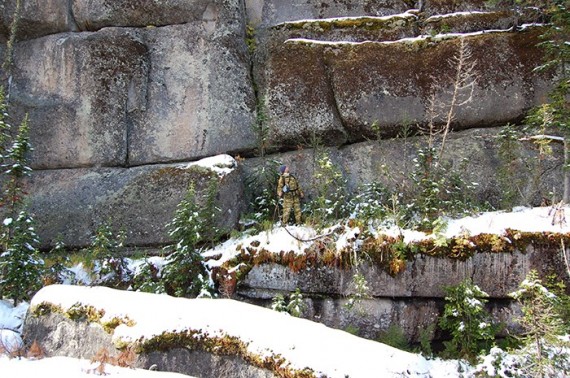 For scale, note the man in center.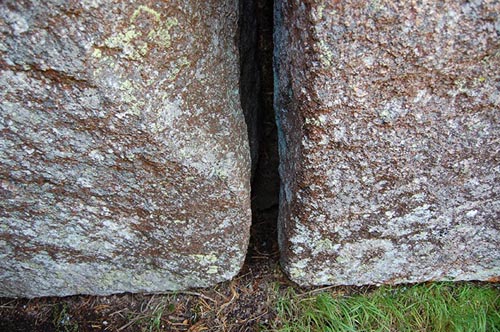 Straight edges, right angle forms.



Enormous megaliths and large stone structures can be found around the globe, some of the more well known being the still-mysterious "Stone of the Pregnant Woman" in Baalbek, Lebanon, and the "Thunderstone" in Saint Petersburg, Russia. To give a comparison to the heft of the 3,000 ton rocks in Siberia, the Baalbek unfinished monolith weighs 1,242 tons, and the Thunderstone is measured at 1,250 tons.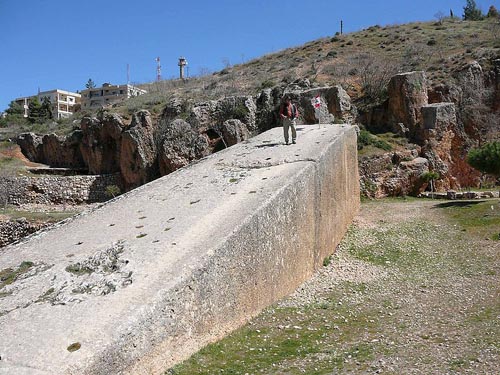 Ralph Ellis on the large stone at Baalbek, 2007, Wikimedia Commons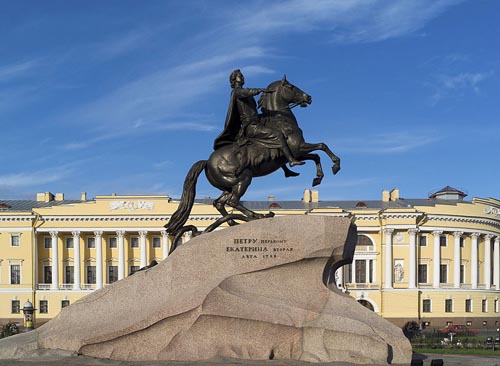 The pedestal under The Bronze Horseman is the Thunderstone, claimed to be the largest stone ever moved by man. It was moved 6 km overland for shipment, and cut from 1,500 tons to its current size during transport. Wikimedia Commons



There remains debate about whether the enormous Siberian slabs are megaliths created by the early hands of man and shifted into place with unknowable power, or if these are amazing yet recognizable examples of the natural process of erosion, realized as straight cracks and stacked stones.

Mysterious Universe reports on the various theories :

At the release of this story, some are excitedly claiming that the Shoria site is evidence of an ancient lost civilization; a civilization capable of incredible feats of engineering that even with our modern technology would be virtually impossible. Others though are wisely urging caution. The pictures are compelling, and the typical observer would be hard pressed to come up with a natural explanation, but there may be one.

In 1987 a group of recreational scuba divers stumbled onto another apparent super-megalithic site in Japan. The Yonaguni Monument, which sits off the coast of Yonaguni, which is the southern-most island of the Ryukyu Island chain, is considered by some to be the most compelling evidence for a lost civilization in our past. Others are less convinced, however.

Boston University geologist Robert Schoch believes that the features of Yonaguni are the result of natural geological processes. He cites well-defined parallel bedding planes and earthquake activity, and since there are similar formations in the region that are known to be completely natural, this seems a safe bet.

The Shoria site, however, isn't in an area that's prone to frequent earthquakes, and the stone involved is much harder than the sandstone of Yonaguni, but our weird world is known to have created some startling rock formations that defy explanation. [...]
Read more at: mysteriousuniverse.org

It's obvious more research must be done on this inspiring find.

By Red Ice Creations





---

Red Ice Radio has spoken at length with many archaeologists, historians and researchers on megaliths, ancient man, and alternative history:

Hugh Newman - Megalithic Sites of New England, Global Earth Energies & Lake Titicaca

Hugh Newman - Megalithomania(cs) & Megalithic Mesoamerica

Hugh Newman - Earth Grids, Earth Energy, Megaliths & Sacred Sites

Freddy Silva - Ancient Sacred Sites, Invisible Temples, Giants & Our Ancestors

Anton Mifsud - Malta's Ancient Megalitic Temples, Giants & Traces of the Lost Atlantis

Christopher Knight & Alan Butler - Civilization One, The Moon & The Megalithic Yard

James Swagger - Hour 1 - The Newgrange Sirius Mystery

Richard Merrick - The Venus Blueprint, Psychoacoustical Temples & Entheogenic Communion

Ross Hamilton, Jim Vieira & Hugh Newman - Hour 1 - Giants, Mound Builders & Etheric Energy

Josh Reeves - Hour 1 - The Lost Secrets of Ancient America

Ralph Ellis - Hour 1 - King of Edessa & The Omphalos Stone