Anger as Norway police drop internal investigation into Utoya mishandling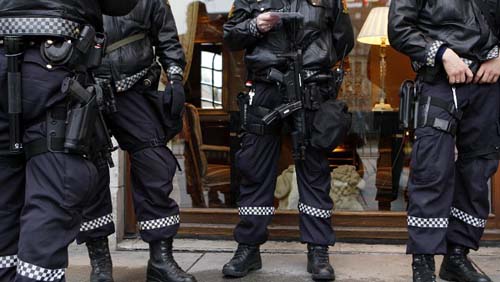 The family of a teenager killed by Norwegian mass murderer Anders Behring Breivik has reacted angrily after a probe into police's slow response to the July 2011 twin attacks was dropped.

"Apparently, no one will ever learn from the grave mistakes that were made on July 22, not the police nor anyone else," lamented Alf Vederhus who lost his son Haavard in Breivik's mass shooting on the island of Utoeya.

The Norwegian police's internal affairs unit said in a statement on Thursday that while there were serious shortcomings in the police's response, it had dropped its investigation into complaints filed by the families of two victims because there was no evidence police had broken the law.

"I think internal affairs looked too lightly on the mistakes that were made," Mr Vederhus told the daily Dagsavisen on Friday.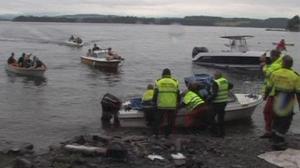 Breivik, a right-wing extremist, detonated a bomb outside the centre-left government's headquarters and then went on the rampage at a Labour Party youth camp on the island of Utoeya, killing a total of 77 people, many of them teenagers.

He was in August 2012 found sane and sentenced to Norway's maximum sentence of 21 years in prison, a sentence that can be extended indefinitely if he is deemed a continued threat to society.

Breivik confessed to the attacks, calling them "cruel but necessary" to protect his country from the multiculturalism his victims embraced and which he hates.

Less than two weeks before the verdict was rendered, a commission tasked with learning lessons from the attacks harshly criticised the Norwegian authorities, saying the bombing could have been prevented and Breivik's killing spree could have been stopped earlier.

Article from: telegraph.com.au





---



Many survivors of Utøya massacre both disappointed and troubled


By Elizabeth Lindsay and Nina Berglund| Views and News From Norway

Many survivors of the 2011 massacre on the island of Utøya are disappointed that police aren't taking any action against their own officers who failed to respond quickly enough to the shooting. A new study also shows that around half of those who were wounded or dodged the killer's bullets are suffering from depression and severe post-traumatic stress disorder.

Newspaper Dagsavisen reported Friday how the father of one young man killed on Utøya is deeply disturbed over a decision announced Thursday by the state police's internal affairs division that they won't bring any disciplinary action against officers who failed to reach the island in time to save more lives. Alf Vederhus, who son Håvard was among the 69 persons killed on Utøya, reacted angrily to the news.

"It's clear that no one is taking the consequences of the serious mistakes that were made on July 22, not within the police or otherwise," Vederhus told Dagsavisen. "I think Spesialenheten (the police's special unit for probing internal affairs) is taking the mistakes too lightly."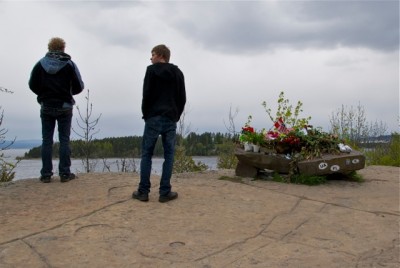 Mourners and survivors still visit a makeshift memorial set up on the mainland across from the island of Utøya, the site of a Labour Party youth camp where 69 mostly young persons were killed and hundreds injured during a massacre on [July 22, 2011].



Vederhus claimed that the facts, according to the government commission set up to investigate the emergency response to the terrorist attacks of July 22, show that the first police officers to arrive at the pier closest to the island "did nothing to try to get over to Utøya during 40 minutes of shooting." He noted that they also did too little to acquire boats for the special forces that arrived later.

"For me, it's disturbing that this doesn't spark any form of consequences for the police, not in the form of warnings, firings or other personnel action," Vederhus said. "What I'm reacting to is how the mistakes made that day aren't having any consequences for anyone."

'Can't see any purpose'
The police report released Thursday states that the internal affairs unit "can't see that any punitive measures would have a preventative effect." Jan Egil Presthus, leader of the police internal affairs unit, said the police don't disagree with the government commission's highly critical conclusions but don't see any purpose in further investigation aimed at getting those directly involved punished.

"There was so much that went wrong (on July 22) that it would hardly help to punish any individuals or police as a group," Presthus told Dagsavisen. He said he can understand the negative reaction from survivors, and that it's possible state prosecutors may still initiate punitive action.

Survivors suffering
Meanwhile, many of the young survivors are experiencing after-effects of the massacre such as flashbacks, intrusive thoughts, over-sensitivity to noise, sleeping difficulties and problems with concentration, according to child and adolescent psychiatrist Dr Grete Dyb. She is leading research for the so-called "Utøya Study" at the Norwegian Centre for Violence and Traumatic Stress Studies (Nasjonalt kunnskapssenter om vold og traumatisk stress or NKVTS).

325 survivors and 463 parents or carers have been interviewed for the study. One of its aims is to find out what kind of help to give those who lived through the worst massacre in Norwegian history.

Survivor Adrian Pracon has spoken out about how he suffers from suicidal thoughts and exhaustion, and has now sought treatment himself at an open psychiatric unit. Shortly before Christmas he updated the status on his Facebook page to say that "In the aftermath of the July 22 attacks, I am scared about who will become number 78." Gunman Anders Behring Breivik killed a total of 77 people during his attacks, 69 on Utøya and eight in his bombing of government headquarters of Oslo. He was sentenced last summer to Norway's longest possible prison term.

Calls for more openness
"Topics like suicide and mental health problems are taboo, but I want to be open about them," Pracon told newspaper Aftenposten. "I am not the only one who is suffering, and I have thought a lot about whether there will be someone who becomes terror victim number 78. I don't want it to be me, or one of the other survivors, or one of the bereaved."

Pracon, 23, who is of Polish descent, came face-to-face with Breivik during the massacre on Utøya, but the terrorist decided not to kill him. During his trail, Breivik said he spared Pracon because he looked right-wing and reminded him of himself.

Pracon made headlines during Breivik's trial for being involved in a fight outside a pub in Oslo and was found guilty of committing grievous bodily harm. He was ordered to carry out 180 hours of community service, and to pay NOK 10,000 in compensation to one of the victims. He has since apologized for his actions, which he says were stress-related.

Although those injured in the terror attacks have been awarded compensation, many felt let down after the massacre, when money transferred to local governments to fund follow-up health care and counselling for victims and their families, in some cases reportedly went to other projects like road-paving.

Other Utøya survivors have taken up prominent positions in Norwegian politics. Tonje Brenna was headhunted by the Prime Minister to become his top aide, while Labour party youth group AUF leader Eskil Pedersen is aiming for a spot in Parliament, representing the Labour Party. Prableen Kaur is also a high-profile political spokesperson.

Article from: newsinenglish.no





---

Also tune into RedIceRadio:

Rauni-Leena Luukanen-Kilde - The Norway Massacre, Anders Behring Breivik & Mind Control

Brit Dee & Tom Secker - Hour 1 - The Anders Behring Breivik Case & Trial

Brit Dee & Tom Secker - Hour 2 - The Anders Behring Breivik Case & Trial

Peter Dale Scott - Hour 1 - Norway's Massacre, Breivik & Deep Events

Holland Vandennieuwenhof & James Lane - A Noble Lie: Oklahoma City 1995 & False Flag Methodology