Another Nuclear Scientist Assassinated: Tehran Bomb
A remote-controlled bomb killed a Tehran University nuclear scientist on Tuesday, official media reported, in an attack which the state broadcaster blamed on U.S. and Israeli agents.

The blast which killed professor Massoud Ali-Mohammadi occurred at a time of heightened tension in the Islamic Republic, seven months after a disputed presidential election plunged the major oil producer into turmoil.

It also coincided with a sensitive time in Iran's row with the West over its nuclear ambitions, with major powers expected to meet in New York on Saturday to discuss possible new sanctions on Tehran over its refusal to halt its atomic work.

Such bombing attacks are rare in the Iranian capital.

The bomb which killed "Ali-Mohammadi, a nuclear scientist and a committed and revolutionary Tehran University professor, was detonated by a remote control," state broadcaster IRIB said on its website.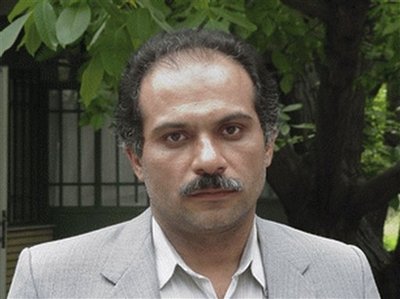 This undated file photo released by the semi-official Iranian Fars News Agency shows nuclear physics professor Masoud Ali Mohammadi, who was killed after a bomb blast in front of his house, in northern Tehran's Qeytariyeh neighborhood, Iran, on Tuesday, Jan. 12, 2010. (AP Photo/Fars News Agency)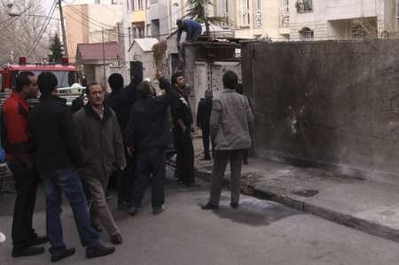 People stand around the scene of a bomb blast in north Tehran January 12, 2010. A remote-controlled bomb killed a Tehran University nuclear scientist on Tuesday, media reported, in an attack which the state broadcaster blamed on 'anti-revolutionary' elements linked to Iran's foreign foes. The official IRNA news agency said it was not yet clear how many people were killed in the blast, suggesting there may be more than one victim. Fars said two people were lightly injured. REUTERS/Stringer


"As a result of the bomb planted by Zionist and American agents two cars and a motorcycle were severely damaged and the windows in the surrounding residential units were shattered," it said. Iran usually refers to Israel as the "Zionist regime."

Western capitals suspect that Iran's nuclear program is aimed at developing bombs. Tehran denies this, saying it only seeks to generate electricity.

"Massoud Ali-Mohammadi was a professor in the nuclear field and there has so far been no arrests of those behind this incident," the semi-official Fars News Agency quoted Tehran's chief prosecutor, Abbas Jafari Dolatabadi, as saying.

The bombing follows the disappearance in June of Shahram Amiri, a university researcher working for Iran's Atomic Energy Organization, during a pilgrimage to Mecca.

Amiri vanished three months before Iran disclosed the existence of its second uranium enrichment site, near the city of Qom. In December Tehran accused Saudi Arabia of handing Amiri over to the United States.

NO CLAIM YET

The official IRNA news agency said it was not yet clear how many people were killed in Tuesday's blast, suggesting there may be more than one victim. Fars said two people were lightly injured.

Iranian universities have been the scene of rival protests by opposition campaigners and government supporters since the June poll, which the reformist opposition says was rigged to secure the re-election of President Mahmoud Ahmadinejad.

Student activists form the backbone of the Iranian reform movement.

English-language Press TV said Ali-Mohammadi, a 50-year old lecturer of neutron physics at Tehran University, was killed on Tuesday morning near his home in a northern part of the capital by a booby-trapped motorcycle.

It showed footage of broken glass and other debris at the scene, with what appeared to be the dead man in a body bag taken away on a stretcher. Another media report said windows were shattered within a distance of 50 meters from the blast.

A senior Interior Ministry official, Mehdi Mohammadifar, said the motive for the bombing was under investigation.

Press TV said no one had so far claimed responsibility, but that there might be a "handprint of Israeli intelligence services" in the incident.

Iran has been convulsed by its most serious domestic unrest since the Islamic revolution in 1979, as protests by opposition supporters against the election result have turned violent. Authorities deny opposition allegations that voting was rigged.

Eight people were killed in clashes between security forces and opposition supporters on Ashura, the day of ritual Shi'ite Muslim mourning that fell on December 27.

Article from: YahooNews.ca

(Footage)

Video from: YouTube.com