Anticipating Aurora and Beyond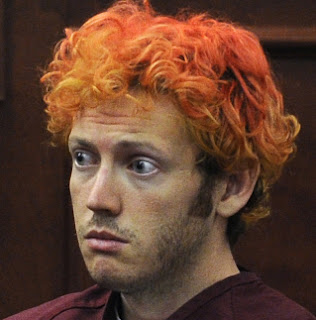 "What time is it?" ~ Dr. John Watson
"Dawn." ~ Sherlock Holmes
~ The Return of Sherlock Holmes,
"The Man with the Twisted Lip," 1986.




What is next in our dawns? As I have mentioned before, Aurora means "dawn." Unfortunately, I must predict a copycat outburst for Friday, July 27th. More on that in a moment.

First, Holmes appeared on the stage he desired today.


"My name is Sherlock Holmes. It is my business to know what other people don't know."
~ Sherlock Holmes, The Adventure of the Blue Carbuncle, 1892.


James Eagan Holmes' middle name meaning of "fiery" matched his dyed bright reddish-orange hair today, for his first post-massacre appearance. Holmes sat in Judge William B. Sylvester's court on July 23, 2012, in connection with the Aurora, Colorado movie theater massacre Holmes allegedly carried out on July 20th.

Judge Sylvester set July 30th for the filing of formal charges against Holmes. The former neuroscience student at the University of Colorado has been held since Friday in solitary confinement at the Arapahoe County jail in Centennial, about 15 miles south of Denver.

In the court appearance, Holmes seemed in a bizarre trance, nearly Sirhan Sirhan-like. Or Jared Loughner-like. Some felt the genius in the chair was acting. Others saw mind control programming. His hair was dyed an uneven red. The color was faded to a strange pink or an ugly orange in some spots, and, yet, natural brown was visible elsewhere.

When arrested, it has been reported, Holmes said he was the "Joker." In the comics and generally in the Batman and Dark Knight films, the Joker is shown as a green-haired figure.





Cesar Romero (Joker 1966-1968 on television) and James Holmes (2012)







Heather Ledger (Joker 2008)


However, the Joker's costumed henchman often wear orange-red wigs. The Washington Post also correctly pointed out today, "in The Dark Knight, the second film of a Batman series called the Dark Knight trilogy, the Joker character played by Australian actor Heath Ledger wore a nurse's uniform and a red wig in one scene as he destroyed a hospital. Ledger died in January 2008, six months before The Dark Knight was released."


The suspect's name translates as
James
= "he who supplants,"
Eagan
= "fiery," and
Holmes
= "holly" and/or "island in the river."
The suspect's genealogy goes back to the beginning of this nation. James' grandmother, Mary Jane Crawford Holmes was descended not only from the Mayflower Pilgrims (she was the governor of the Monterey Bay Colony of Mayflower Descendants), but also was from a member of the Ancient and Honorable Artillery Company of Boston, the first American militia.
[...]
Read the full article at:
copycateffect.blogspot.se
Don't miss Loren Coleman on Red Ice Radio on Tuesday the 31st
We're Hiring
We are looking for a professional video editor, animator and graphics expert that can join us full time to work on our video productions.
Apply
Tips
Send us a news tip or a
Guest suggestion
Send Tip