Archaeologists Discover 20,000 'Lost Souls of Bedlam' Under London Streets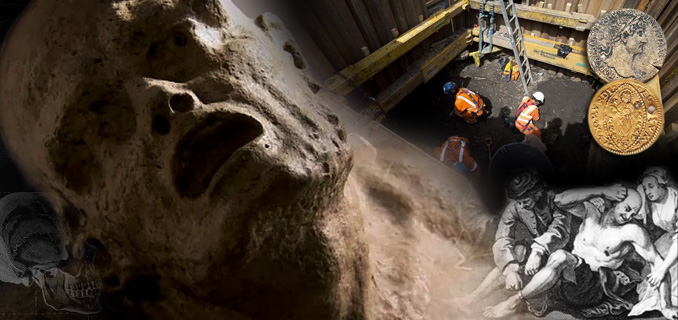 In a spectacular discovery, archaeologists have uncovered the asylum's ancient graveyard right in the heart of London, revealing as many as 20,000 skeletons

Established in 1247, the notorious Bethlem ("Bedlam") Royal Hospital was the first dedicated psychiatric institution in Europe and possibly the most famous specialist facility for care and control of the insane, so much so that the word 'bedlam' has long been synonymous with madness and chaos.

Now, in a spectacular discovery, archaeologists have uncovered the asylum's ancient graveyard right in the heart of London, revealing as many as 20,000 skeletons.

The 500-year-old graveyard was found during excavations to create a 13-mile high speed tunnel under Central London. Modern-day residents and visitors going about their busy daily lives have been oblivious to the fact that below them, under what is now Liverpool Street Station, the remains of thousands of Londoners including many patients from the Bedlam asylum were laid to rest.

"Everyone's been running around in Liverpool Street for years and not thinking that they've been walking around on bodies from one of the densest burial grounds in London," said Nick Elsden, a Museum of London archaeologist.

The 16th-century burial ground was built on the original site of the Bethlem Hospital and as well as serving the hospital itself, it was also used to relieve the pressure from overcrowded cemeteries throughout London. It was particularly associated with religious non-conformists, as it was not attached to a church. One of the more famous individuals thought to be buried there is Robert Lockyer, a member of the radical Leveller movement, who was executed by firing squad at St Paul's Cathedral after leading an army mutiny in 1649. Archaeologists are hoping to find his remains amongst the 20,000 other individuals buried there.

[...]

Read the full article at: intellihub.com





---



The lost souls of 'Bedlam' are found: Asylum's ancient graveyard is unearthed


By Fiona Macrae | MailOnline

They were the tortured souls incarcerated in the world's first mental asylum.

The uproar, chaos and barbarism that surrounded them gave the place its famous nickname, which has resonated for centuries as a byword for madness – Bedlam.

Now the 'lost souls of Bedlam' are giving up their dark secrets, yards from one of London's busiest railway stations.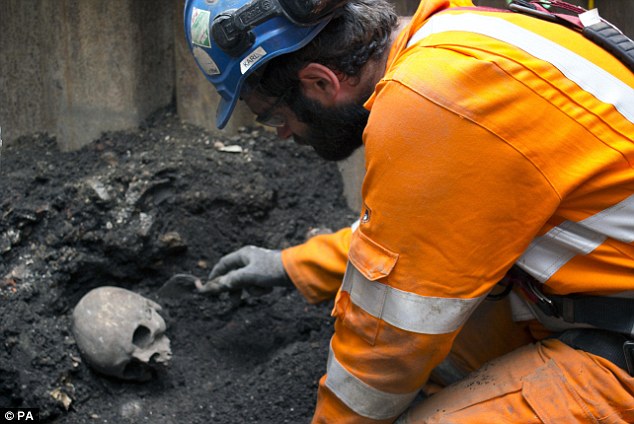 Taking care: Findings at Broadgate ticket hall at Liverpool Street as layers of London's history are uncovered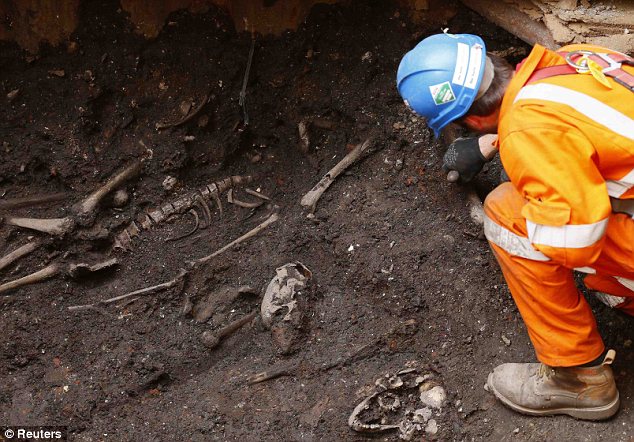 Graveyard: An archaeologist digs up skeletons from a burial ground near Liverpool Street station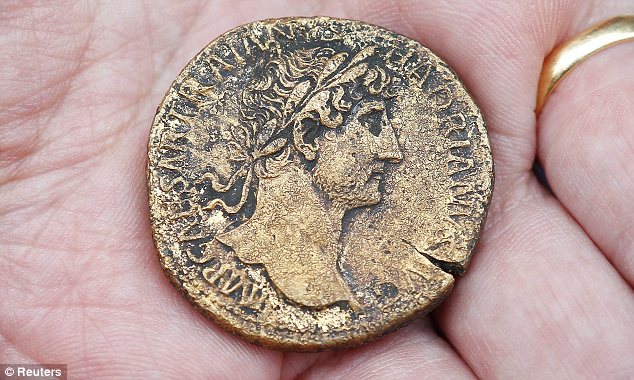 Roman: This brass sestertius coin from the site dates back to 30 AD and bears the image of Emperor Hadrian


It is thought the works, for the £15billion Crossrail project, will eventually yield up to 4,000 bodies, some dating back 450 years.

The graveyard, built on the Bethlem Hospital's vegetable patch in the 1560s after churchyards around the city started to overflow, was used to bury London's poor and religious non-conformists as well as inmates from the asylum.

Bethlem, whose name quickly became pronounced 'Bedlam' by Londoners, was founded in 1247 by Simon FitzMary, a wealthy former Sheriff of London, as a priory dedicated to St Mary of Bethlem.

By 1403, the majority of its patients were lunatics. Others suffered from epilepsy, learning disabilities and dementia.

Inside the squalid single-storey building that housed 12 cells, a kitchen, staff accommodation and an exercise yard, inmates were manacled and chained – and treated as a tourist attraction by Londoners who paid a penny to stare at them. Patients, usually poor, were given treatments including restraint, dousing with water, beatings and isolation.

[...]

Other finds at Liverpool Street include the project's first piece of gold – a 16th century Venetian coin. It had been pierced, so it is likely to have been worn as a pendant.

The site also holds earlier secrets. Some 11ft below the skeletons lie the remains of a Roman road studded with 2,000-year-old horseshoes – hoof-shaped 'sandals' made of metal and secured by leather strapping. Roman coins have also been found, one from around AD130 depicting the Emperor Hadrian.

Matthew Symonds, editor of Current Archaeology magazine, said: 'What's wonderful about this graveyard is that you are looking at a cross-section of society.

'Historical records will be from the more educated and better off sections, but this is something that tells us how everyday people lived their lives. That kind of glimpse into the past is invaluable.'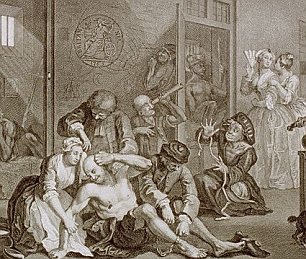 Bedlam: The scene inside the hospital as depicted by William Hogarth in The Rake's Progress



Read the full article and see the photo gallery at: DailyMail.co.uk




---
---
Bethlem Hospital: The history of the legendary institution for the mentally ill - Colin S. Gale