BBC Marketing the Microchip
The BBC wants you to consider the wonderful benefits of tracking implants.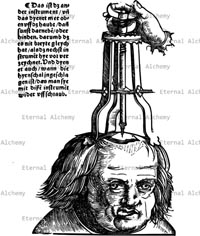 I mean, arguments can be made for almost anything, right? Why not explore the desire to have a hole in your head as well? It certainly has its advantages, as proven by medieval-era science: "Suffering Mental Illness? Extract the stone!"

In the BBC article "Why I Want a Microchip Implant", the author justifies RFID implants for their ease in identification and purchases or transactions: "It marks the beginnings of a slow move toward a world where everything will be accessed from a single RFID microchip. If that day comes, I can't think of a safer place to keep it than inside my own body."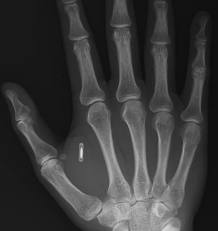 But this miracle of modern technology doesn't necessarily mean that you no longer have to carry your wallet around (which is somehow inherently 'unsafe')- it means you BECOME a wallet; A giant, walking, talking, machine-readable source of information and revenue.

More on the BBC's idea of the bright new future of RFID implants...

---
Why I want a microchip implant
From: BBC

With a chip under your skin, you can do everything from unlocking doors to starting motorbikes, says Frank Swain, who has been trying to get his own implant.

A few years ago, I perched on the edge of my bed in a tiny flat, breathing in a cloud of acetone fumes, using a scalpel to pick at the corner of an electronic travel card. More than 10 million Londoners use these Oyster cards to ride the city's public transport network. I had decided to dissect mine. After letting the card sit in pink nail polish remover for a week, the plastic had softened enough that I could peel apart the layers. Buried inside was a tiny microchip attached to a fine copper wire: the radio frequency identification (RFID) chip.

My goal was to bury the chip under my skin, so that the machine barriers at the entrance to the Underground would fly open with a wave of my hand, as if I was some kind of technological wizard. But although I had the chip and an ex-Royal Marines medic willing to do the surgery, I failed to get my hands on the high-grade silicone I'd need to coat the chip to prevent my body reacting against it. Since then, people have used the technique I helped popularise to put liberated Oyster chips in bracelets, rings, magic wands, even fruit, but the prize for first London transport cyborg is still up for grabs.

The person who does will find themselves inducted into the community of "grinders" – hobbyists who modify their own body with technological improvements. Just as you might find petrol heads poring over an engine, or hackers tinkering away at software code, grinders dream up ways to tweak their own bodies. One of the most popular upgrades is to implant a microchip under the skin, usually in the soft webbing between the thumb and forefinger.

[...]

This month at the Transhuman Visions conference in San Francisco, Graafstra set up an "implantation station" offering attendees the chance to be chipped at $50 a time. Using a large needle designed for microchipping pets, Graafstra injected a glass-coated RFID tag the size of a rice grain into each volunteer. By the end of the day Graafstra had created 15 new cyborgs.

For other people, though, the idea of implanting themselves with microchips may conjure up spectres of surveillance and totalitarian control. "Every Hollywood movie has told them that implants are for tracking people," says Graafsta. "People don't get that it's the same exact technology as the card in your wallet. When someone uses a credit card, wireless or not, they are tracked because several other corporations know who they are, when they purchased, how much they spent, and where they spent it."

Yet if that's true, what's the point of implanting it? Graafstra and his fellow cyborgs could just as easily use a chip inside plastic wallet to store data, and a key to open his front door or start a motorbike. "Yes, basically you've taken an RFID access card normally stored in a pants pocket and moved it to a skin pocket," admits Graafstra. Still, there are some advantages: one benefit is that you'll never lose the chip, and it makes physical theft impossible – at least unless a thief is prepared for some gruesome surgery.

Read the full article at: bbc.com




---
Tune into Red Ice Radio:
Katie Deolloz & Andrea Hernandez - RFID Spy Chip Tracking in Schools
Kevin Warwick - I, Cyborg, Implants, Cybernetics, AI & The Rise of the Machines in 2020
Mike Mitcham - Hour 1 - Dangers of the Smart Grid & the Artificial Biosphere
Nick Begich - Hour 1 - Controlling the Human Mind