Berlusconi 'hid ancient graves'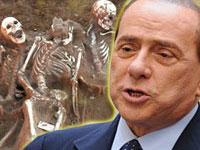 Italian PM Silvio Berlusconi has failed to declare the presence of 30 ancient tombs on his land, according to newly published recordings said to be of him.

The recordings allege Mr Berlusconi told escort Patrizia D'Addario of 30 Phoenician tombs at his Sardinia villa.

The tombs date from 300BC, a man said to be Mr Berlusconi was heard saying.

But officials say there is no record of him reporting any finds - a legal requirement for all Italians - and opposition MPs have called for a probe.

Ed comment: Please note that Silvio Berlusconi's residence has an interesting depiction on his lawn: A crowned reptile (Biscione) eating a human Click here for more.



In the conversations, said to be between Mr Berlusconi and Ms D'Addario, the man boasts to her about his sprawling villa in Sardinia, where Mr Berlusconi has his own ice cream parlour and artificial lakes.

"Here we found 30 Phoenician tombs from [around] 300 BC," the voice said to be Mr Berlusconi is heard to say.

The Phoenicians were merchants and traders based around modern-day Lebanon, whose maritime expertise helped them extend their reach into the Mediterranean.

Finding a collection of tombs from the Phoenician era would be of major archaeological significance, opponents of Mr Berlusconi said.

Under Italian law archaeological discoveries made on private property must be reported to the authorities for inspection.

Newspapers in Italy reports that Sardinia's Department of Culture has said it has no knowledge of any such tombs on Mr Berlusconi's land, the BBC's Duncan Kennedy reports from Rome.

"We want to know if they exist or not and if so, whether they have been reported," opposition parliamentarian Andrea Marcucci told Reuters news agency.

Rumbling on
The latest revelations from Patrizia D'Addario's audio recordings were published after a series of more intimate conversations between a man alleged to be Mr Berlusconi and Ms D'Addario.

The taped conversations are said to have been recorded by Ms D'Addario at Silvio Berlusconi's private residence in Rome and then leaked to Italy's left-of-centre press, who have published a series of stories about the prime minister's private life in recent months.

In conversations published earlier this week, Ms D'Addario discussed intimate sexual details with the man said to be Mr Berlusconi.

When questioned earlier this week on the sex allegations, Mr Berlusconi admitted he was "no saint".

"I am not a saint, you've all understood that," he said. "I hope those at La Repubblica also understand it," referring to one of the left-leaning newspapers publishing the tapes.

Patrizia D'Addario told L'Espresso magazine she had made the tapes during a visit to Mr Berlusconi's official Rome residence.

In one conversation, a man can be heard telling a woman to wait for him in "Putin's bed".

Mr Berlusconi - whose personal life has been under scrutiny since his wife filed for divorce in May - has not denied Ms D'Addario attended a party at his home, but insists he did not pay for sex.

However, our correspondent says accounting for ancient undeclared tombs may need a little more explanation.