"Better defence spending" needed to back up EU 'principles'
Europe needs to make better use of dwindling defence budgets if it is to properly take care of military problems in its own backyard as the US orients itself towards Asia, the EU commission said Wednesday.

In an ideas paper meant to feed into an EU leaders defence summit in December, the commission noted that Washington is "rebalancing its strategic focus towards Asia" while the recent Libya war highlighted European military "shortfalls."

"We will not have the weight we need in the world without a common defence policy. To support it, we need to strengthen our defence and security sector," said EU commission president Jose Manuel Barroso.

"We need to be able to back up our positions of principle with security and civilian missions that can help stabilize the situation in crisis areas around the world," he added.

EU states between them have about 1.6 million soldiers and spend €194 billion annually on defence - but this strength is diluted by overlapping capacities and spending at a national level.

Spending is down from €251 billion in 2001, while defence R&D spending declined by 14 percent between 2005 and 2010, to €9bn.

The commission points out that the US spends seven times more on research and development than all 28 member states put together.

Russia and China, for their part, are expected to double their defence spending by 2015 when compared to 2011.

"We want to support the defence industry for economic reasons but also for defence reasons," said industry commissioner Antonio Tajani.

[...]

Read the full article at: euobserver.com




---
READ:
Sweden Arming The World: The Neutrality that Never Was
---


Wikipedia:

The military of the European Union comprises the several national armed forces of the Union's 28 member states, as the policy area of defence has remained primarily the domain of nation states. European integration has however been deepened in this field in recent years, with the framing of a Common Security and Defence Policy (CSDP) branch for the Union's Common Foreign and Security Policy (CFSP) as well as the creation of separate international forces revolving around the EU's defence. A number of CSDP military operations have been deployed in recent years. The principal military alliance in Europe remains NATO, which includes 21 of all EU member states as well as other non-EU European countries, Turkey, the United States and Canada.

Several prominent leaders, including former French President Nicolas Sarkozy, German Chancellor Angela Merkel, Italian Foreign Minister Franco Frattini and former Belgian Prime Minister Guy Verhofstadt, have voiced support for a common defence for the Union.[2][3][4] This possibility, requiring unanimous support among the member states, was formally laid down in Article 42 of the Treaty on European Union upon the entry into force of the Treaty of Lisbon on 1 December 2009.[5]

Additionally, the Treaty of Lisbon extended the enhanced co-operation provision to become available for application in the area of defence. This mechanism enables a minimum number of member states to deepen integration within the EUs institutional framework, without the necessity of participation for reluctant member states.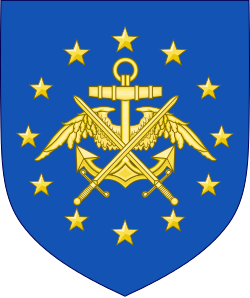 The coat of arms of the EU military staff