Bitcoin Just Completely Crashed As Major Exchange Says Withdrawals Remain Halted
Comment: It's obvious that the headline and language in this article is exaggerated. Nonetheless, here is the report:

Bitcoin just completely fell out of bed. The chart above, via BitcoinWisdom, shows the move.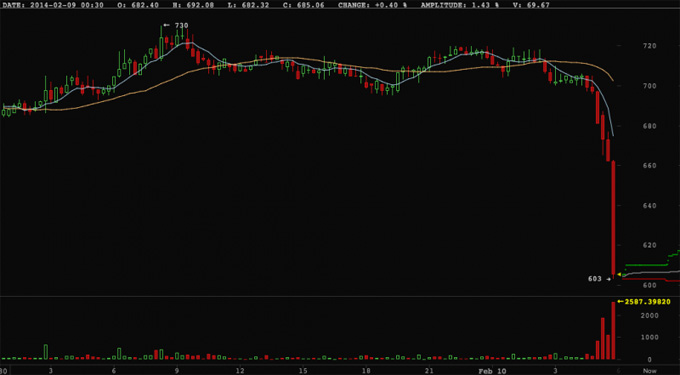 The news comes as major trading exchange Mt. Gox says in a new press release that bitcoin withdrawals remain halted. (On Friday, Mt. Gox issued a statement that amid the volume of withdrawals it was seeing, that it was suspending withdrawals until it could address a technical issue). Mt. Gox was at one point the foremost bitcoin market site, though its volume and share of bitcoin activity has declined considerably.

Withdrawals in actual currency are working, so traders can get cash out of the site, which is good news.

The bad news is that in addition to the direct matter of users not being able to withdraw bitcoins, they say the technical issue that they're dealing with is something that pertains to the broader Bitcoin community:


The problem we have identified is not limited to MtGox, and affects all transactions where Bitcoins are being sent to a third party. We believe that the changes required for addressing this issue will be positive over the long term for the whole community. As a result we took the necessary action of suspending bitcoin withdrawals until this technical issue has been resolved


The letter is long, but here's the conclusion:


To put things in perspective, it's important to remember that Bitcoin is a very new technology and still very much in its early stages. What MtGox and the Bitcoin community have experienced in the past year has been an incredible and exciting challenge, and there is still much to do to further improve.

MtGox will resume bitcoin withdrawals to outside wallets once the issue outlined above has been properly addressed in a manner that will best serve our customers. More information on the status of this issue will be released as soon as possible. We thank you for taking the time to read this, and especially for your patience.


Read the rest of the story here: businessinsider.com