Bizarre Vortex on Venus Changes Shape Every Day
A giant vortex at the south pole of Venus is actually a shape-shifter that changes form at least once a day, at times bizarrely taking on the appearance of a giant letter "S" or the number "8," a new study reveals.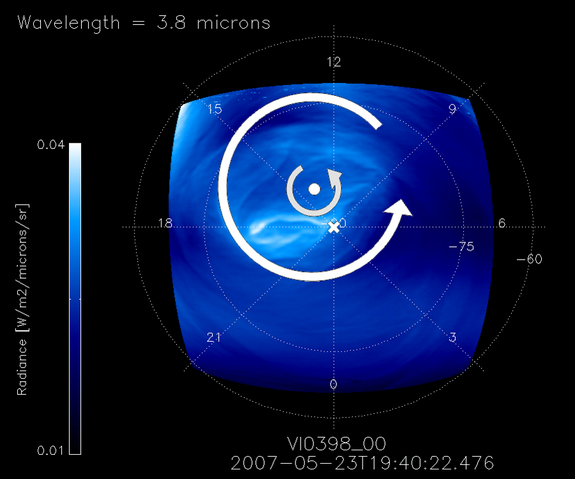 This image shows the polar region of Venus, at a wavelength of 3.8 microns. The arrows denote the motion of the atmosphere around a center of rotation (marked with a white dot). The center of rotation is found to be displaced on average by about 300 km from the geographic south pole.
CREDIT: ESA/VIRTIS-VenusX/INAF-IASF/LESIA-Obs. Paris/ Univ. Lisbon/Univ. Evora



Venus, the second closest planet to the sun, possesses giant, hot and essentially permanent vortexes of clouds whirling fast at its poles. These result from how Venus' atmosphere circulates much faster than any other rocky planet's in the solar system — the cloud-level atmosphere of Venus on average spins 60 times faster than the planet's surface.

The vortexes cannot really be called storms, as scientists have seen neither rain nor lightning in them.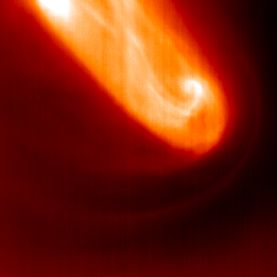 Venus Express has captured infrared images of a shape-shifting vortex near the Venusian south pole. The imagery reveals cloud structures about 65 kilometers above the surface of the planet.
Image: ESA/VIRTIS/INAF-IASF/Obs. de Paris-LESIA



Article from: livescience.com


---


The southern polar vortex on Venus

Video from: YouTube.com