Bomb blast kills 3 top Syrian regime officials, including Assad's brother-in-law
A bomb ripped through a high-level security meeting Wednesday in Damascus, killing three top regime officials — including President Bashar Assad's brother-in-law — in the harshest blow to Syria's ruling family dynasty and the rebels' boldest attack in the country's civil war.

Syrian state-run TV said the blast came during a meeting of Cabinet ministers and senior security officials in Damascus, which has seen four straight days of clashes between rebels and government troops.

The high-level assassinations could signal a turning point in the civil war as the violence becomes increasingly chaotic.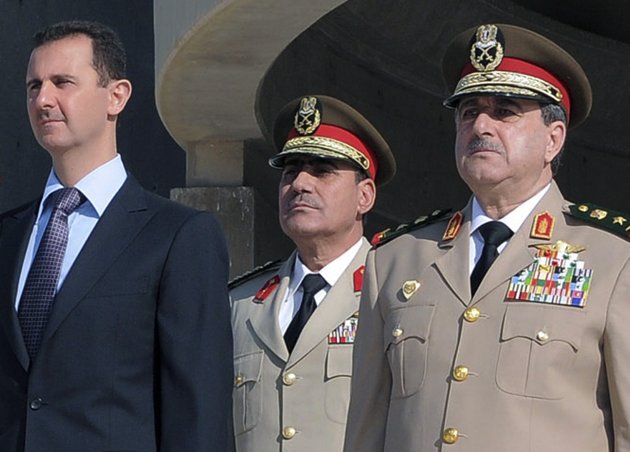 U.S. Defence Secretary Leon Panetta said the bombing showed that the bloodshed in Syria was "rapidly spinning out of control," and it was time for the international community to bring "maximum pressure" on Assad to step down and permit a stable transfer of power. The Obama administration also slapped new financial sanctions on Assad's government.

It was not immediately clear where Assad was. He gave no immediate statements on the attacks.

The Assad family has ruled Syria for four decades, creating an ironclad and impenetrable regime. Wednesday's attack was an unheard-of strike on the inner circle.

Syria's rebel commander, Riad al-Asaad, claimed responsibility, saying his rebel forces planted a bomb in the room and detonated it. All those involved in carrying out the attack are safe, he said.

State-run TV initially said it was a suicide blast but later referred to the attack as a bomb.

"God willing, this is the beginning of the end of the regime," al-Asaad told The Associated Press in a telephone interview from his base in neighbouring Turkey.

"Hopefully Bashar will be next," he added.

Syrian TV confirmed the deaths of Defence Minister Dawoud Rajha, 65, a former army general and the most senior government official to be killed in the rebels' battle to oust Assad; Gen. Assef Shawkat, the deputy defence minister who is married to Assad's elder sister, Bushra, and is one of the most feared figures in the inner circle; and Hassan Turkmani, a former defence minister who died of wounds suffered in the attack.

Also wounded were Interior Minister Mohammed Shaar and Maj. Gen. Hisham Ikhtiar, who heads the National Security Department. State TV said both were in stable condition.

[...]

Read the full article at: theprovince.com





---