Britain Forces Guardian To Destroy Hard Drives, Snowden Data
Britain forced Guardian to destroy copy of Snowden material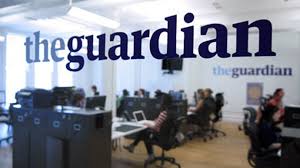 The editor of the Guardian, a major outlet for revelations based on leaks from former U.S. intelligence contractor Edward Snowden, says the British government threatened legal action against the newspaper unless it either destroyed the classified documents or handed them back to British authorities.

In an article posted on the British newspaper's website on Monday, Guardian editor Alan Rusbridger said that a month ago, after the newspaper had published several stories based on Snowden's material, a British official advised him: "You've had your fun. Now we want the stuff back."

After further talks with the government, Rusbridger said, two "security experts" from Government Communications Headquarters, the British equivalent of the ultra-secretive U.S. National Security Agency, visited the Guardian's London offices.

In the building's basement, Rusbridger wrote, government officials watched as computers which contained material provided by Snowden were physically pulverized. "We can call off the black helicopters," Rusbridger says one of the officials joked.

The Guardian's decision to publicize the government threat - and the newspaper's assertion that it can continue reporting on the Snowden revelations from outside of Britain - appears to be the latest step in an escalating battle between the news media and governments over reporting of secret surveillance programs.

On Sunday, British authorities detained for nine hours the domestic partner of Glenn Greenwald, a Guardian writer who met face to face in Hong Kong with Snowden and has written or co-authored many of the newspaper's stories based on his material.

The Guardian reported, and UK authorities subsequently confirmed, that David Miranda, Greenwald's Brazilian partner, was detained by British authorities under an anti-terrorism law as he was in transit from Berlin to Brazil and was changing planes at London's Heathrow Airport.

[...]

Read the full article at: reuters.com




---



Britain defends detention of journalist's partner


By Estelle Shirbon and Michael Holden | Reuters

The British government, accused of abusing media freedom, said on Tuesday police were right to detain a journalist's partner if they thought lives might be at risk from data he was carrying from fugitive U.S. intelligence contractor Edward Snowden.

Facing legal and diplomatic complaints after police held Guardian writer Glenn Greenwald's Brazilian partner for nine hours on Sunday - and accused by the newspaper of forcing it to trash computers holding copies of Snowden's data - the interior minister said officers were entitled to take security measures.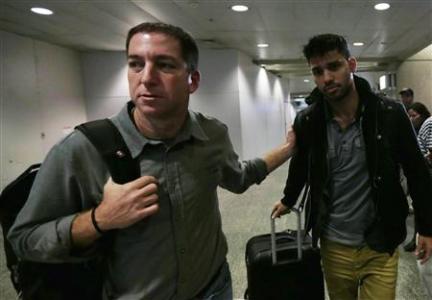 U.S. journalist Glenn Greenwald (L) walks with his partner David Miranda in Rio de Janeiro's International Airport in this August 19, 2013 file photo.


Home Secretary Theresa May said police held David Miranda at a London airport under anti-terrorism powers, which allow for action to prevent stolen data to aid terrorists. Material from Snowden, published by the Guardian, has revealed extensive U.S. and British surveillance of global communications networks.

"It's absolutely right that if the police believe that somebody is in possession of highly sensitive, stolen information that could help terrorists, that could risk lives, lead to a potential loss of life, the police are able to act - and that's what the law enables them to do," May told the BBC.

She added, however, that an independent reviewer was looking into the police conduct.

As interior minister, May said she was briefed in advance that Miranda might be stopped but she stressed that she did not decide whom the police detained. The United States said Britain gave it a "heads up" but it did not ask for Miranda to be questioned.

Snowden, who faces criminal charges in the United States, has been granted a year's asylum by Russia.

A British lawyer who launched an action on the Brazilian's behalf to question the legal basis of his detention said police seized a laptop computer, a telephone, memory sticks, a computer hard drive and a games console from him. He was released without charge after reaching a time limit on such detentions.

Miranda had been in transit at Heathrow airport, carrying material from Snowden that was being passed from Berlin-based American documentary filmmaker Laura Poitras to Greenwald, an American writer for Britain's Guardian who lives in Rio de Janeiro.

"These items contain sensitive, confidential journalistic material and should not have been seized," Miranda's London lawyers wrote in a letter to May and the police.

Brazil's government has complained to Britain. The action against Miranda also was denounced by British opposition politicians, human rights lawyers and press freedom groups.

The leaks by Snowden, a former U.S. National Security Agency (NSA) contractor, gave details of NSA and British surveillance of public telephone and internet traffic. The United States and Britain say their agencies acted within their laws and the leaks threatened their national security.

'YOU'VE HAD YOUR FUN'

On Tuesday, Guardian editors revealed how and why the newspaper destroyed computer hard drives containing copies of some of the secret files leaked by Snowden.

A timeline of events provided by the Guardian said initial British attempts to stop reporting on the files came two weeks after the newspaper published its first three stories based on Snowden's leaks.

These stories were about a secret U.S. court order obliging communications company Verizon to hand over data on customers' phone usage, Britain's secretive Government Communications Headquarters' (GCHQ) use of data from a NSA internet monitoring program, and British intelligence spying on allies in London.

Shortly afterward, two senior British officials arrived to see editor Alan Rusbridger to demand the newspaper hand over all its Snowden files, arguing the material was stolen, according to the Guardian's timeline. He refused.

Three weeks later, in July, after the publication of more articles, officials got back in touch with Rusbridger and told him, according to the newspaper: "You've had your fun. Now we want the stuff back."

The officials expressed fears that foreign governments, particularly Russia or China, could hack into the newspaper's IT network although the journalists stressed the documents were not stored on any Guardian system but held in isolation, according to the newspaper.

Between July 16 and 19, the Guardian said government pressure intensified and there was an explicit threat of legal action if the newspaper did not comply.

Rusbridger said he decided that if the government was determined to stop Britain-based reporting on the Snowden files, the best option was to destroy the London copy and to edit and report from the same material held in the United States and Brazil.

On July 20, two "security experts" from GCHQ visited the paper's London head office and watched as deputy editor Paul Johnson, executive director Sheila Fitzsimons and a newspaper computer expert used angle grinders and other tools to pulverize hard drives and memory chips storing encrypted files, according to the newspaper.

[...]

Read the full article at: reuters.com




---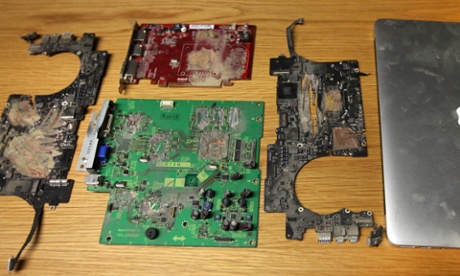 The remains of a computer that held files leaked by Edward Snowden to the Guardian and destroyed at the behest of the UK government.
---
Tune into Red Ice Radio:
James Bamford - NSA, U.S. Cyber Command & the Global Brave New World of Surveillance
Julia & BJ Davis - Hour 1 & 2 - Top Priority: The Terror Within
Dan Johnson - Hour 1 - People Against the National Defense Authorization Act
Patrick Henningsen - Hour 1 - Syria, Snowden, NSA & the Whistleblower Circus
Jon Rappoport - Hour 1 - The Surveillance State & War on the Individual
Tom Secker - Hour 1 - 7/7, State-sponsored Terrorism & Predictive Programming