Britons ARE being spied on: Using phone records and online data gleaned by US gov't
Britain's secret eavesdropping agency has been spying on UK citizens after cutting a backroom deal with US agents to share personal data mined from the world's biggest internet companies, according to leaked documents.

GCHQ has had direct access to the personal information of any Briton with a profile on almost all the mainstream social media sites since 2010 - all courtesy of America's National Security Agency.

The sensational disclosure comes after it emerged the NSA has been pulling individual data from the mainframes of nine top US tech giants, including Facebook, Google and Apple, as part of a top-secret initiative codenamed Prism.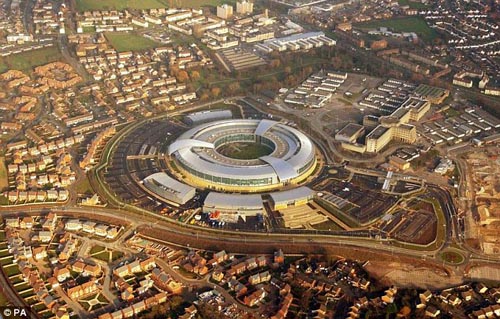 Sinister powers: Britain's Government Communications Headquarters, based in Cheltenham, Gloucs., is largely responsible for monitoring the phone calls and emails of terror suspects


But news that the scandal has bled across the Atlantic not only exposes the sinister lengths to which the British Government is prepared to go to spy on its own people but also raises serious questions over which politicians knew of the programme.

It means any Brit who sent an email, uploaded a photograph, shared a link or watched a video on one of the breached sites in the past six years, may have done so under the watchful eyes of government spies.


Indeed, it will also pile pressure on Prime Minister David Cameron to explain how much he knew about the intrusion as he prepares to attend the secretive Bilderberg conference, a closed-door meeting that conspiracy theorists already believe is where leaders plot world domination.

The nine firms infiltrated by the NSA are Apple, Facebook, Microsoft, Google, Yahoo, YouTube, Skype, AOL and PalTalk.

Twitter, which is known for zealously protecting its users' privacy, is conspicuous in its absence from the list of Internet companies involved in the data-mining program.

While the NSA is by far the biggest surveillance agency in the world, it regularly shares its work its British counterparts through a shady agreement that allows them to share classified information, bypassing official legal channels.

[...]

Read the full article at: dailymail.co.uk